12 of the Tallest, Most Epic Hawaii Waterfalls
A countdown of the most majestic waterfalls the Hawaiian Islands have to offer.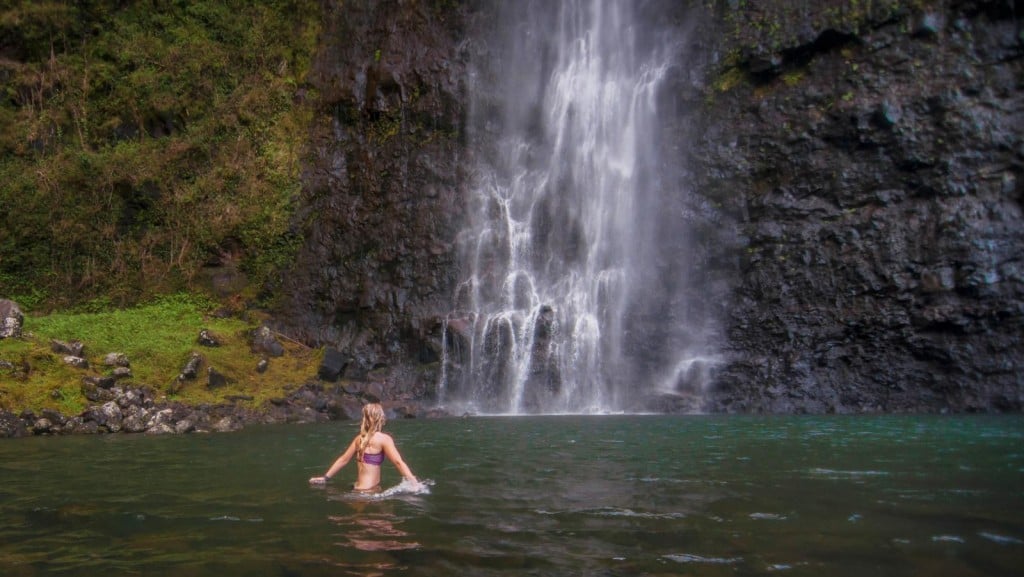 It's no secret that Hawaii has its fair share of incredible, awe-inspiring waterfalls.
For many waterfalls, the most mind-blowing feature of them would be their height. However, they're difficult to officially scale because there isn't a standardized way to classify them, let alone what defines a waterfall itself. Some people believe the criteria should include where it begins and ends, if it drops straight down as opposed to cascading down a mountain at angle. Others also insist considering how often one consistently flows year-round to count or its volume. Simply stated, waterfalls that make up any sort of Top 12 list involving measurements are subjective.
With that in mind, don't expect a comprehensive end-all-be-all list here, but rather some of our favorites and their corresponding heights. Keeping true to these waterfalls, we've listed them in descending order.
12. Wailua Falls
Height: 80 feet
Location: Kauai
One of Kauai's most famous waterfalls, this popular beauty is a drive-by attraction that can be easily viewed from the road, about 3 miles up Maalo Road, north of Lihue. "Fantasy Island" fans will recognize this fall from its opening credits right away—two tiers of water, sometimes three depending on the flow, that feed into the Wailua River, measuring at 80 feet, according to state officials (though some guidebooks claim it's double that). If you drive to it in the mornings, expect rainbows.
11. Manoa Falls
Height: 150 feet
Location: Oahu
The final leg of a popular Oahu hike, Manoa Falls is a favorite for its accessibility, a relatively quick 15- to 30-minute car ride from Waikiki. The waterfall rushes down a near vertical drop and into a small wading pool. It's an especially rewarding reminder that the Honolulu area isn't just all high-rise buildings.
10. Opaekaa Falls
Height: 151 feet
Location: Kauai
The number two is an important one for this waterfall. Located in the Wailua River (which in Hawaiian means "two rivers"), 2 miles up Kuamoo Road on Kauai, between Lihue and Kapaa, is one of the island's most famous waterfalls—a cascade featuring two drops. Measuring 151 feet in height, it can be viewed from the road and flows year-round.
9. Hanakapiai Falls
Height: 300 feet
Location: Kauai
Hike 2 miles inland on the beginning section of the Kalalau Trail on Kauai to discover this spectacular waterfall. Sought out for its remoteness at the back of Hanakapiai Valley, this waterfall is also the only one on the Napali Coast people can access without a permit.
8. Waimoku Falls
Height: 400 feet
Location: Maui
This waterfall is 400 feet of sheer awesomeness and one of the most unforgettable falls on Maui. Countless accolades have been placed on it (ourselves included; we recently hiked the Pipiwai Trail on Maui to this waterfall and were completely blown away) and let's just say it lives up to the hype. Accessible through Haleakala National Park in the Kipahulu area, the water flows triumphantly down a smooth lava rock wall.
7. Akaka Falls
Height: 442 feet
Location: Hawaii Island
Possibly the most recognizable Hawaii Island waterfall, Akaka Falls is the crown jewel of the 11-mile long Akaka Falls State Park. The 442-foot plunge can be easily viewed and accessed from several lookout points along the state park's loop trail. The vantage point it guarantees at one of its overlooks will have people thinking you took your photos of Akaka from a helicopter.
6. Waiilikahi Falls
Height: 1,080 feet
Location: Hawaii Island
One of the more difficult areas to visit on Hawaii Island is Waimanu Valley near Honokaa. Only experienced hikers attempt this trek into one of the wildest parts of the Islands where very tall waterfalls await. Once you're in, Waiilikahi Falls is the most accessible of them. With two drops, the plunge viewable from the base of Waiilikahi alone is about 300 to 400 feet.
5. Honokohau Falls
Height: Up to 2,900 feet
Location: Kauai
In Hawaiian, Waialeale means "rippling, overflowing water," which has inspired its English nickname the Weeping Wall—and for very good reason. Cascading down the majesty of Mount Waialeale—the remnants of a shield volcano, the second highest peak on Kauai and one of the wettest spots on Earth with a mean annual rainfall of 476 inches—a lei of multiple thin, sharp waterfalls are visible flowing down its side. Because of how varied they are, single waterfalls have yet to be measured but are believed to reach lengths of almost 2,900 feet. A visit by helicopter is the most suggested way to view them.
1. Oloupena Falls
Height: 2,953 feet
Location: Molokai
Located on the northeastern side of Molokai, Oloupena is unofficially labeled to be the tallest waterfall in Hawaii, accessible only by ocean and air, and the fourth tallest in the world measuring at an estimated height of 2,953 feet. For some reason this waterfall is often mistaken for the more recognizable Papalaua Falls (see No. 4), but Oloupena—a razor-thin waterfall that's difficult to distinguish against neighboring falls—releases directly into the ocean. It's less consistent than Papalaua with its light, seasonal flow, but falling off the side of Molokai's sea cliffs which are the tallest sea cliffs on the planet with heights of 3,000 feet makes it all the more noteworthy.