12 Ways to Feel Like it's Winter in Hawaii
Don those cable-knit sweaters and scarves.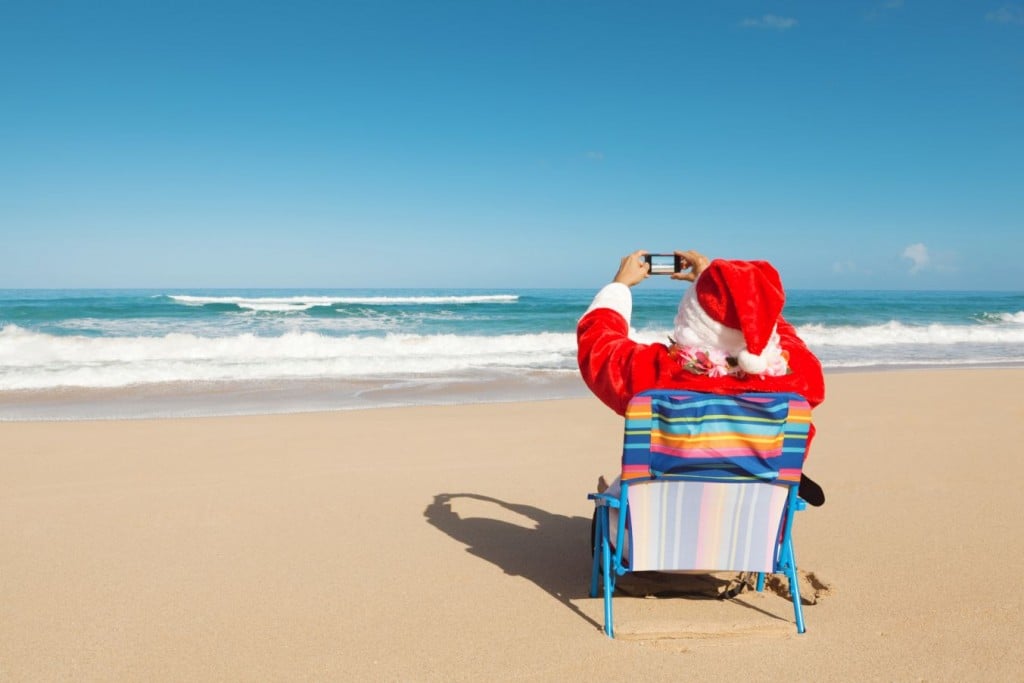 Who says there's no winter in Hawaii?
Here are 12 ways to make your Island vacation feel more like a winter wonderland.
1. See Sand-ta Claus at Sheraton Waikiki
Santa Claus may still be slaving away in his workshop at the North Pole, but Sand-ta Claus has already arrived in the lobby of the Sheraton Waikiki. The two holiday sand sculptures feature Santa in an aloha shirt, placing gifts around a Christmas tree, and Santa with his hardworking menehune, loading his sleigh for his final stop in Hawaii. It took Florida-based Sandsational Sand Sculpting more than 250 hours over nearly three weeks to complete these sculptures. They will be on display through early 2019. sheraton-waikiki.com.
2. Walk Through Norfolk Pine Trees at Helemano Farms
Walk through rows of hundreds of Norfolk pine, Murray cypress, Carolina cypress and Leyland trees at Helemano Farms in Wahiawa, Oahu. This family-run farm has been growing Christmas trees you can pick out yourself since 2002. The farm is open through Dec. 23. helemanofarms.com.
3. Drive to the Visitor Station at Mauna Kea
Need the chill to make it feel like winter? Head to the Maunakea Visitor Station on Hawaii Island. Located 9,200 feet above sea level, the temperature dips below 40 degrees during the day, even lower at night. It's not unusual to see snow at the summit, which looms at 14,000 feet. (FYI, the visitor station will be closed at 5 p.m.—instead of 10 p.m.—through January 2019, due to an infrastructure project to better protect the natural, historic and cultural resources in the area.) ifa.hawaii.edu/info/vis/.
4. Eat Shave Ice
There's nothing that resembles snow more than Hawaii's iconic frozen treat: shave ice. The offerings from JoJo's Shave Ice, with three locations on Kauai, definitely taste better than packed snow, too, in a variety of flavors, from lychee to lilikoi to mango. Or opt for one of its popular combos, including Tropical Breeze with guava-, lilikoi- and mango-flavored shave ice atop a mound of macadamia nut ice cream and topped with a house-made haupia cream. jojosshaveice.com.
5. Ice Skate at Ice Palace
Yes, you can actually ice skate in Hawaii! Open since 1982, Ice Palace on Oahu—located about 10 miles west of Waikiki near Aloha Stadium—is the state's only full-service skating rink. Admission is $11.50 and includes skate rentals. There's a snack bar offering pizza, hot dogs, nachos, popcorn and, of course, hot chocolate. Even Olympic champion figure skater Kristi Yamaguchi has double-axeled here. icepalacehawaii.com.
6. Buy Stollen Bread at The Kahala Hotel
The Kahala Hotel & Resort serves traditional stollen, a German loaf-shaped cake-bread made with dried fruits and nuts. The hotel adds a bit of Hawaii to this dessert by smothering the loaves with rich butter when they come out of the oven and sprinkling on Maui vanilla sugar. It's $27 a loaf, available through Dec. 31.
7. Get a Festive Cocktail at Mistletoe Tavern
A new pop-up bar in Chinatown is the perfect remedy to that yearning desire for all things Christmas. Mistletoe Tavern is all about the holiday, with a season-inspired cocktail menu with delights including Nativity Nog (eggnog with Captain Morgan's Spiced Rum, whipped cream and nutmeg) and Cocoa Christmas (hot chocolate with your choice of vanilla or peppermint vodka). There's photo props, an Elf cutout, a Naughty and Nice list you can write on and a gingerbread house kit you can buy and build while you're downing your Christmas cocktails. The pop-up bar is open from 11 a.m. to midnight daily through Christmas. Check out their Facebook page here.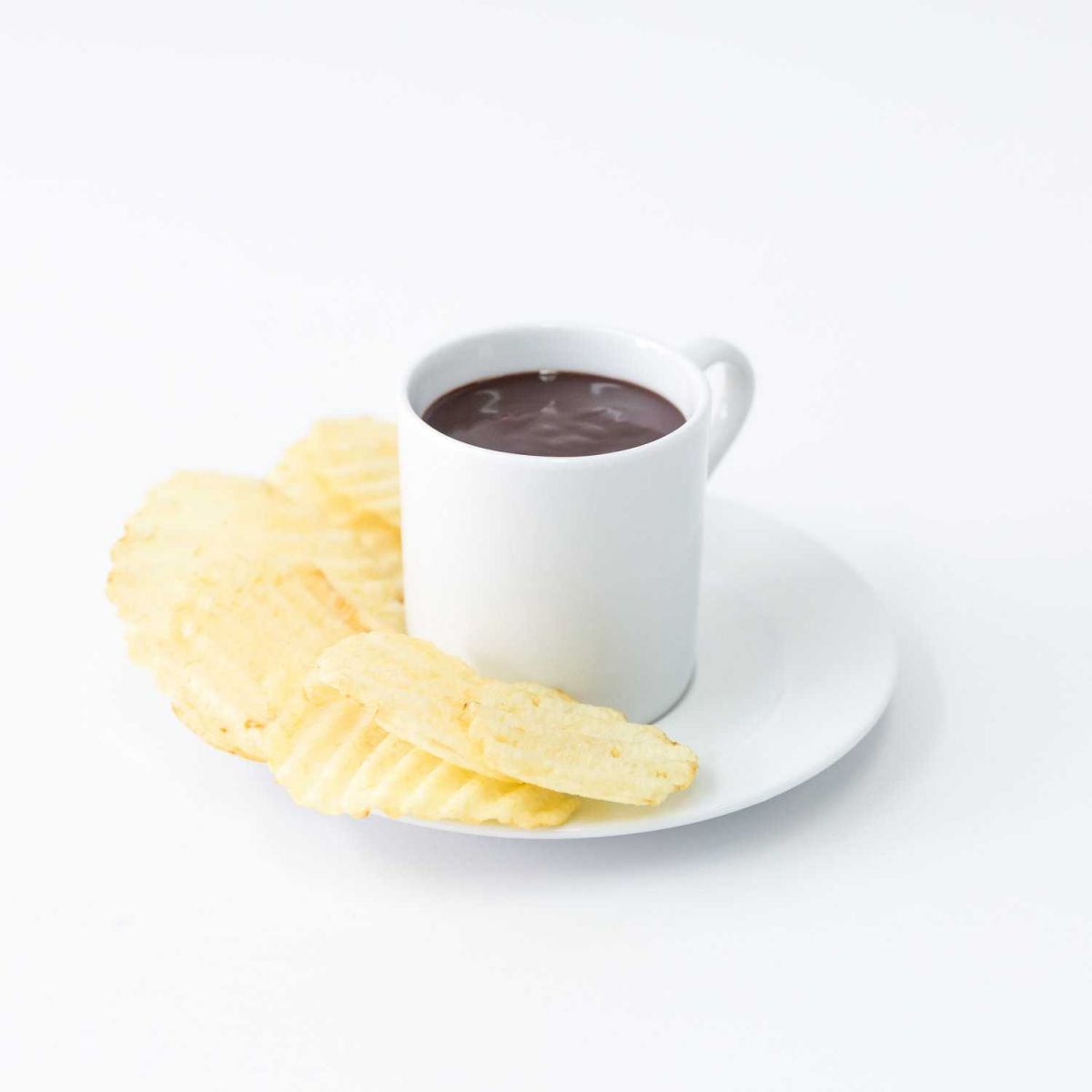 8. Drink Gourmet Hot Chocolate at Choco lea
It's always a bit colder in Manoa, a lush valley just 4 miles north of Waikiki. So it's the perfect location to sip gourmet hot chocolate. Choco lea, a charming chocolate shop, offers a decadent, European-style hot sipping chocolate on Saturdays only through December, accompanied by a small plate of salty potato chips. Sit outside for the full wintery effect. chocolea.com
9. See the Sunrise at Haleakala
If you need freezing temperatures—and, why not, a great view—to make it feel like winter in Hawaii, make the two-hour drive to the Haleakala Visitor Center on Maui. At 9,740 feet, the temperature at dawn is regularly below freezing. At the very least, it's about 30 degrees colder here than at sea level, so layer up. In winter, the sun rises as late as 6:55 a.m. And Haleakala never disappoints: The colors in the sky are breathtaking. (FYI, you need to make sunrise viewing reservations online, 60 days in advance of your visit, by calling 877-444-6777 or visiting recreation.gov.), nps.gov/hale.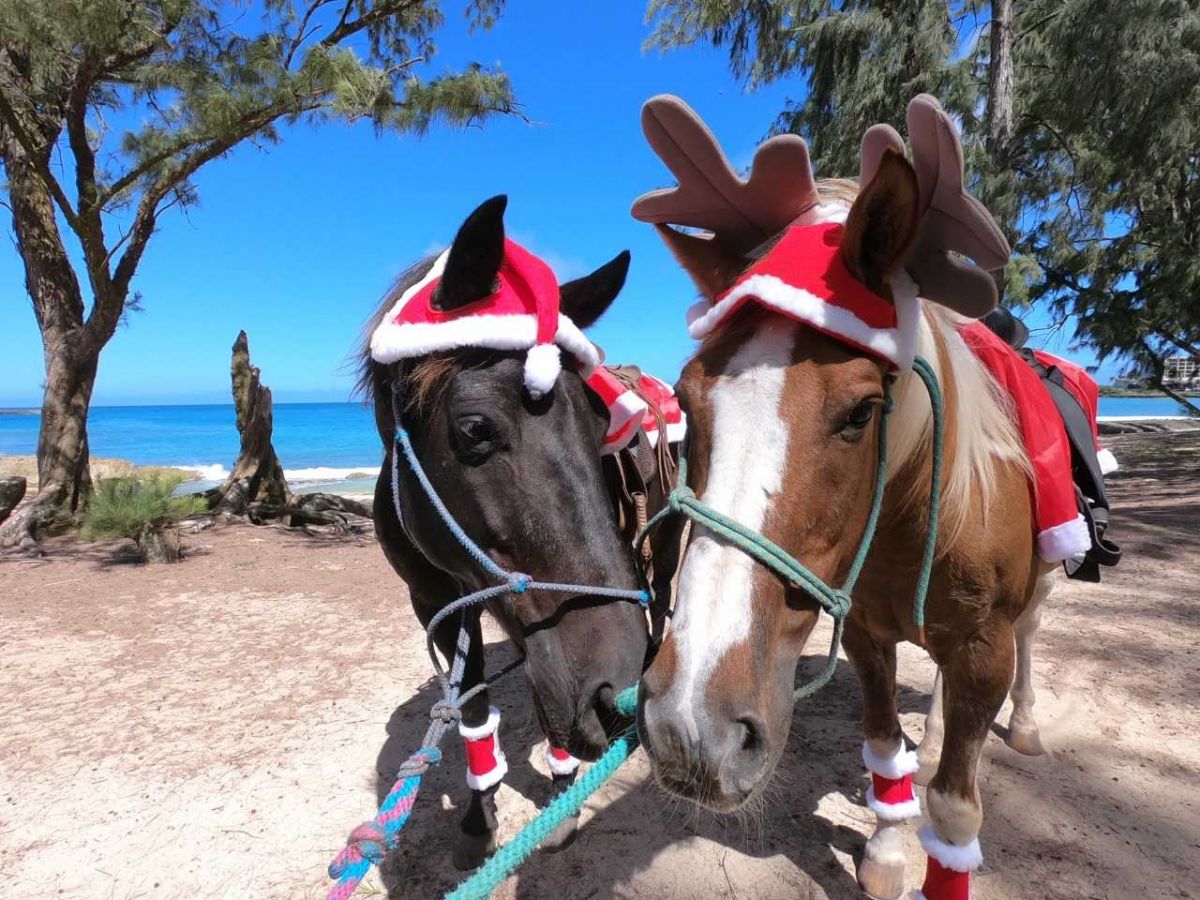 10. Ride a Reindeer at Turtle Bay Resort
There are reindeer in Hawaii? No, but Turtle Bay Resort on Oahu's North Shore has something very close. Ride one of Santa's Hawaiian "reindeer"—really horses dressed up like caribou—along a pristine beach. The 45-minute ride is only offered once a day from Dec. 20 to 27. And yes, you can snag a photo with your reindeer, too.
11. Walk in the Snow at T Galleria
It's snowing—literally!—at T Galleria by DFS in Waikiki. From now until Jan. 14, 2019, delicate flakes of snow swirl in the retail complex every hour from 7 to 10 p.m. The air conditioning helps with the ambiance, too.
12. Make a Hot Cocoa(nut) Drink
Add a little bit of Hawaii—meaning coconut—into your hot chocolate during the holidays. Whisk 2 tablespoons of unsweetened cocoa powder into ⅓ cup boiling water. In a saucepan, combine a 15-ounce can of coconut milk with ¼ cup dark brown sugar and a pinch of salt. Simmer and stir until the mixture is dissolved. Then whisk in hot cocoa and about ¼ cup of chopping bittersweet chocolate until smooth, then add a teaspoon of vanilla extract. You can top this with a meringue—to keep it lactose free—or whipped cream. (The recipe is from The New York Times.)