13 Gift Ideas for Anyone Who Loves Hawaiʻi
Love the Islands? Then you'll love these 13 locally designed gifts.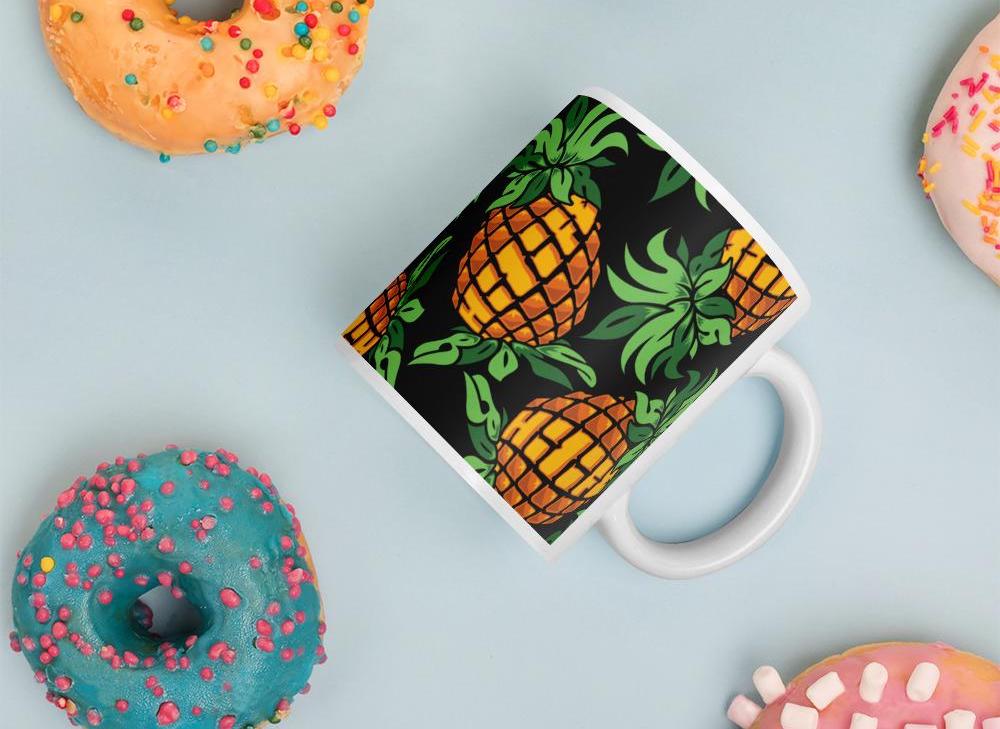 Since most of us aren't traveling this holiday season, here are 10 gifts to get you in the mood to plan your next visit to the Islands.
1. This Is My Happy Place Floursack Towel, SoHa Living
This kitchen towel will remind you where your happy place is. SoHa Living also sells a variety of other Hawaiʻi-related towels, including ones with pineapples, hula dancers and the Mokulua Islands in Kailua.
$10.80, sohaliving.com
2. Pineapple Cake Soy Candle, Jules + Gem
This 7-ounce soy candle features notes of pineapple, vanilla cake and brown sugar—like your favorite pineapple upside-down cake. All of the candles by Jules + Gem is hand-poured in Honolulu and made from a vegan blend of natural soy and coconut.
3. Diamond Head Large Spiral Notebook, Bradley & Lily
Daydream about Oʻahu with this spiral notebook—recycled pages!—by Honolulu-based designer Bradley & Lily. The family-run company boasts a line of island-inspired notecards, too.
$14, bradleyandlily.com
4. ʻApapane Pin, Laulima Hawaiʻi
Love Hawaiʻi endemic and endangered birds and plants? Then you'll love the enamel pins—oh, and patches, too!—by Laulima Hawaiʻi. This one features the ʻapapane, a Hawaiian honeycreeper endemic to the Islands. Sales of this pin supports the Maui Forest Bird Recovery Project.
$12, laulima.store
5. Mahalo For Removing Your Slippahs Decorative Tile, Banana Patch Studio
These 6-inch ceramic tiles are perfect for any Hawaiʻi—or Hawaiʻi-inspired—home. Hand-painted on Kauaʻi, this is one of Banana Patch Studio's most popular tiles: A nice reminder to guests to remove their shoes or slippahs before entering your home. It can also be used as a trivet.
$18.95 to $29.95, bananapatchstudio.com
6. Pineapple Summer Blanket, Island Bungalow
The beloved Kailua boutique—now with a second location in Kakaʻako—offers a range of great gifts, from perfume oils to sarongs. This summer blanket with pineapple prints is particularly special: Artisans hand-carve the pineapple design onto wood, then stamp the fabric. Each color in this design requires a separate wood block, making this a time-intenstive process. The print is sandwiched between two layers of fine cotton, creating a super-soft and light blanket. And it's machine washable!
$155, islandbungalowhawaii.com
7. 12×18 Travel Prints, Nick Kuchar Art & Design Co.
Oʻahu-based artist Nick Kuchar is known for his vintage-inspired travel art—like these 12×18 prints of Hawaiʻi's iconic places: Kailua, Hanapēpē, Mānoa, Haleʻiwa, Haleakalā, Diamond Head and, of course, Hanalei on Kauaʻi "This is one the of most beautiful places on Earth," Kuchar writes about this print. "The pier that juts out to sea is so iconic. Whether looking makai (toward the ocean) at the expansive Hanalei Bay or mauka (toward the mountains) at the lush mountain ridges, I love taking in the views of this place."
$25, nickkuchar.com
8. Āina Pūlama Mau Aloha Shirt and Blouse, Kāhala
Iconic aloha shirt brand Kāhala partnered with The Nature Conservancy, Hawaiʻi Chapter to create a special-edition aloha shirt and blouse that celebrates the great work the nonprofit has done in the Islands for the past 40 years. Kāhala artists worked closed with TNC scientists and Hawaiian cultural advisors to come up with a design that weaves together 30 native plants and animals, from the ʻiʻiwi (scarlet honeycreeper) to the beloved honu (Hawaiian green sea turtle). A portion of proceeds supports TNC, which has created partnerships to manage over 2 million acres of forests, watersheds, and restore Hawaiʻi's coral reefs and fisheries.
$108 for men's aloha shirt and women's blouse, kahala.com
9. Slippers, Matsumoto Shave Ice
What's more local than rubber slippers? And ones from Matsumoto Shave Ice in Haleʻiwa on Oʻahu's North Shore? That's next level!
$4.99, matsumotoshaveice.com
10. Aloooooha Tee, Dolkii
This online shop is known for soft, Hawaiʻi-inspired graphic tees, including this super-cute "Aloooooha" tee. It's all about aloha vibes and rainbow colors.
$45, dolkii.com
11. Pīkake Lotion, Ua Body
This lotion, crafted by Big Island-based Ua Body, boasts the light and delicate scent of pīkake (Arabian jasmine), a small white flower that you often seen strung into lei. Bonus: The company donates 1.5% of sales to the Hawaiʻi Conservation Alliance, whose mission is to preserve the culture, land, and oceans in the Islands.
12. HiLife Cannery Row Mug, HiLife
This ceramic mug celebrates the old Dole Cannery in Honolulu. It's fun, sturdy, and dishwasher and microwave safe.
$15, hilifeclothing.com
13. Aloha Pineapple Wood Coaster Set, CocoNēnē
CocoNēnē sells a variety of birchwood coasters, including this set with pineapples and the word, "Aloha." The Oʻahu-based company also makes fun, island-inspired door signs, trivets, wooden postcards and limited-edition holiday ornaments from iconic Hawaiʻi businesses. (There's even a HAWAIʻI Magazine one!)
$30 for four, coconene.com
Read More