15 Tasty Hawaiʻi Gifts for Food Lovers
From chocolate-flavored rum to mai tai mixes, these Island-inspired gifts are sure to please the foodie on your list.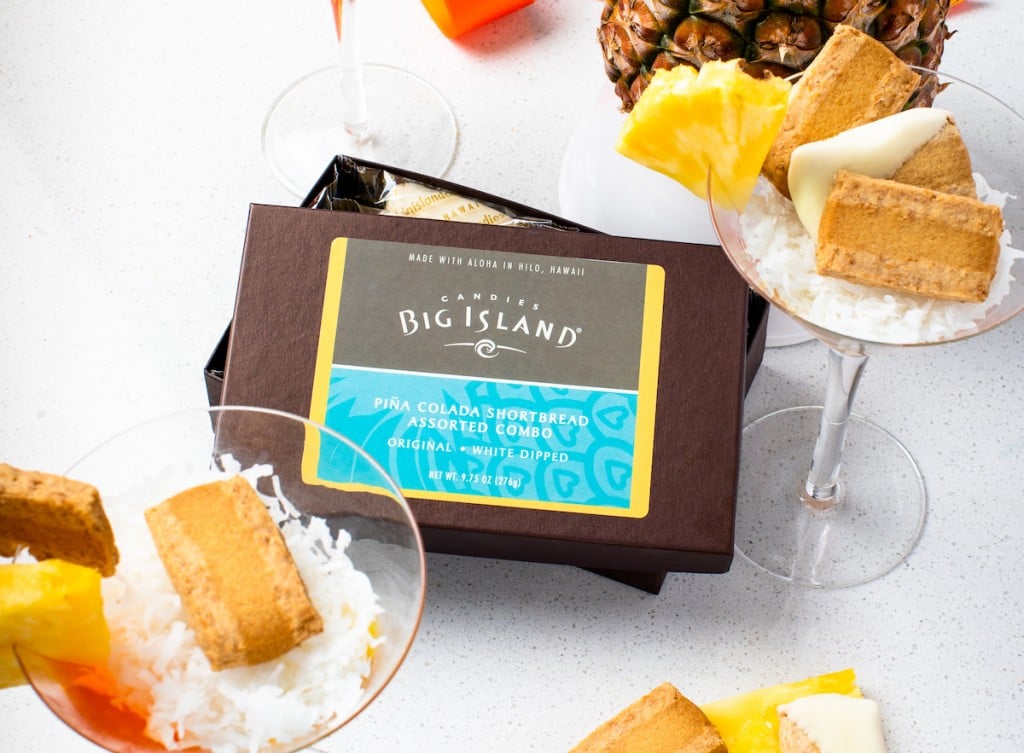 Who doesn't love food? So give the gift that anyone—but especially those foodies on your list—will cherish. Or at least eat.
1. Kōloa Kaua'i Cacao Rum, Kōloa Rum Co.
The award-winning Kōloa Rum Co. on Kauaʻi debuts its newest spirit: chocolate-flavor rum using locally grown cacao from Lydgate Farms, a fifth-generation farm on Kauaʻi. It's created by steeping the farm's roasted cacao nibs in Kōloa Kauaʻi Gold Rum for nine to 18 days, depending on the batch. During the process, the rum extracts natural flavor and color from the cacao to offer a distinctive chocolate rum with notes of rich, creamy mocha highlighted by subtle spice. It's the first new flavor to be released by Kōloa Rum Co. in five years. This initial batch is available in limited quantities. Find a retailer here.
2. Sweet and Salty Snack Mix, Big Island Candies
The Hilo-based company recently released new locally inspired treats, including a dark chocolate-covered coffee brownie, piña colada shortbread cookies and coconut mochi brownie. But we're addicted to its sweet and salty snack mix (above), a mix of pretzels, conical-shaped corn chips, chunky cheese snacks and sugary wheat squares. It's packed in resealable bags, but we doubt it'll last that long. Great stocking stuffer!
3. Mai Tai Cocktail Mix, SoHa Living
Make Hawaiʻi's quintssential cocktail anywhere with this mai tai mix. Just add water and rum—and start your virtual Hawaiʻi vacation.
$11.80, sohaliving.com
4. ʻŌlena Tea, Tea Chest Hawaiʻi
Local tea company Tea Chest Hawaiʻi boasts two new organic teas, both featuring organic herbs and Hawaiʻi-grown ingredients to boost wellness. (And we all need that right now!) The Mana blend feautres a blend of organic cinnamon, black tea, peppermint and spearmint, and Hawai'i-grown moringa and māmaki. The caffeine-free ʻŌlena (shown) is a tumeric-based blend that combats inflammation, with ginger, black pepper and lemongrass. Unique gifts for that tea lover on your list.
$7.95, teachest.com
5. Hawaiʻi Cookbooks, da Shop
There are tons of Hawaiʻi-based cookbooks out there—and we love the selection curated by da Shop, a brick-and-mortar bookstore in Kaimukī on Oʻahu. (It's run by local publisher Bess Press.) Sure, you can get most of these titles on Amazon, but why not support a local bookseller, too?
Various, dashop.com
6. Flavors of Hawaiʻi Artisan Gift Box, Mānoa Chocolate
This Kailua-based chocolatier has the perfect gift for the chocoholic on your list: The Flavors of Hawaiʻi gift box with Mānoa Chocolate's artisan bars and chocolate-macadamia-nut spread, Wai Meli's raw lehua blossom honey, exotic fruit jellies by Maui Fruit Jewels, kiawe smoke salt from Kailua Seasoning Co. and li hing pineapple crisps by Maui Crisps. Limited supplies, so order soon.
$90, manoachocolate.com
7. Mess Kit, Kealopiko
Known for its uniquely Hawaiian designs, Kealopiki offers this lunch kit—perfect for camping, too—with a stainless-steel container, set of wooden chopsticks and a Kealopiko fabric napkin.
$37, kealopiko.com
9. Hawaiian Style Chili Seasoning And Rub, Rainbow Drive-In
Can't feast on your favorite plate lunch from Rainbow Drive-In on Oʻahu? You can make its famous chili at home. The iconic drive-in off Kapahulu Avenue sells this spice packet—complete with recipe—to recreate its chili. (One packet calls for two pounds of ground beef, though you can make it vegetarian, too.) It doubles as a rub, great for fried chicken or ribs.
$5.95 for one, rainbowdrivein.com
10. Liliha Saimin, Sun Noodle Hawaiʻi
If you remember the old saimin stands that were common all over Oʻahu, then you'll love these new saimin kits from Sun Noodle Hawaiʻi. The Liliha Saimin kit features shelf-stable noodles, soup base and spices so you can whip up local-style saimin in your own kitchen. Don't forget to serve with some barbecue beef sticks and hambugers, too. Talk about comfort food!
$45, sunnoodlehawaii.com
11. Mele Keepsake Box, Honolulu Cookie Co.
Every winter Honolulu Cookie Co. releases its limited-edition, seasonal collection of pineapple-shaped shortbread cookies: peppermint macadamia, dark chocolate peppermint macadamia, white chocolate ginger spice and white chocolate pumpkin. But new this year is the Mele Keepsake Box, which features eight flavors (two cookies of each flavor) in a beautifully crafted box that doubles as a picture frame ornament that you can hang on your tree.
$20.95, honolulucookie.com
12. Button Magnets, TinyHearts808
This husband-and-wife design team has a slew of Hawaiʻi food-related magnents featuring everything from Spam musubi to dim sum. You'll get hungry just looking at them.
$12 for a set of six, etsy.com/shop/tinyhearts808
13. Estate Reserve 5-Pack Variety Gift Set, Kauaʻi Coffee Co.
Can't decide which Kauaʻi Coffee Co. coffee to order? Then get this variety pack, which features five 2-ounce bags of ground coffee including Kōloa Estate (dark roast) and Typica (medium roast).
$20, kauaicoffee.com
14. Aloha Grinder Variety Pack, Aloha Spice Co.
Got a would-be chef on your list? Consider this set of three of Aloha Spice Co.'s most popular salts: ʻAlaea Red Coarse Salt, Hawaiian Paradise Grind and Volcano Grind. Included is a recipe card to make Volcano Grind-crusted chicken and baby greens salad with a tropical vinaigrette.
$28.95, alohaspice.com
15. Organic Kula Calm Tea, Aliʻi Kula Lavender
Can't make it back to Aliʻi Kula Lavender Farm on Maui? The Kula Calm tea—an aromatic blend of spearmint, chamomile, lavender and lemongrass—will transport you back to the farm. Don't we all need that right now?
$18, aliikulalavender.com
Read More