15 Unique Gifts from Maui  
From fresh pineapple to wine crafted on the slopes of Haleakalā, these thoughtful gifts from the Valley Isle will bring a slice of paradise to everyone on your list.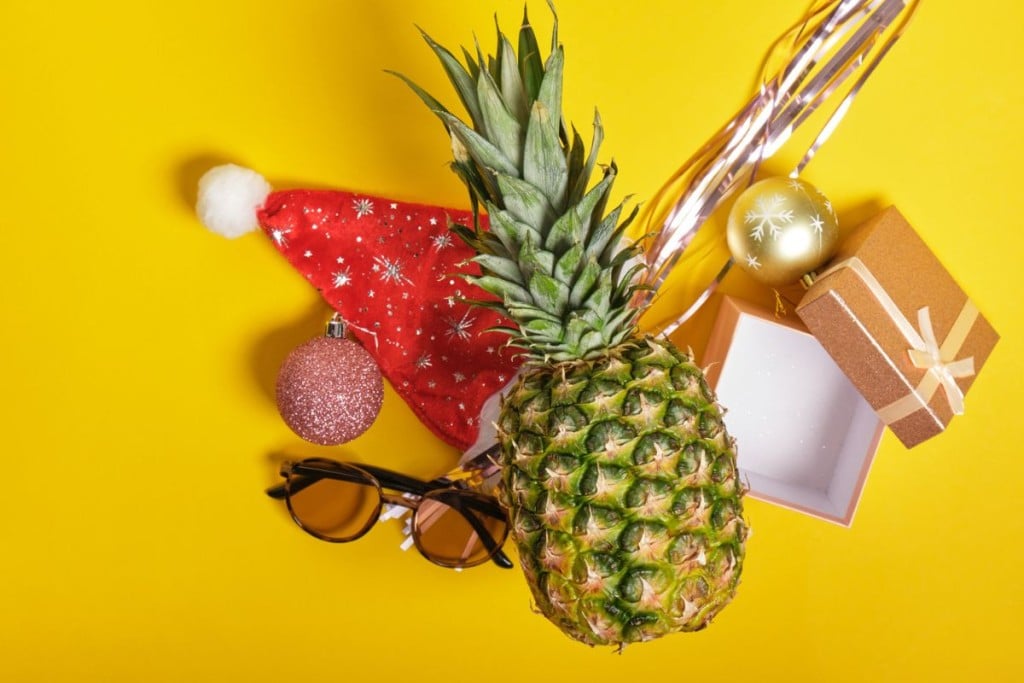 Nothing beats the warm, fuzzy feeling you get when family and friends unwrap your thoughtful holiday gifts. But it's not easy picking out the perfect present.
Fortunately, the Valley Isle is home to many creative makers whose exquisite products make for perfect gifts. Whether you're shopping for someone who loves Hawaiʻi or just the picky and eccentric people in your life, we've curated 15 gift ideas from Maui to help you get the holidays rolling.
1. Pineapple from Maui Gold Pineapple
A slice of pineapple is synonymous with a slice of paradise, and you can send a Maui grown fruit directly to family and friends. Maui Gold ships singles, two-packs and eight-packs to the continental U.S. Grown in Hāliʻimaile, these extra sweet pineapples will deliver bursts of tropical flavor wherever you send them. The unconventional present will certainly be a memorable one.
Starting at $39.95, maui.gold
2. Caramel Trio Gift Box from Hakeakalā Creamery
Caramel lovers will drool over this sweet sauce by Haleakalā Creamery. Akin to cajeta, a type of dulce de leche made with goat's milk, this caramel is rich and complex in flavor. The cajeta-style sauce is made with milk from Rebecca Woodburn-Rist's goat farm in Kula. Woodburn-Rist started the family farm because she wanted to make her own sweets with local ingredients. The farmer, with what she calls an insatiable sweet tooth, says the caramel is delectable drizzled over ice cream, stirred into coffee or just eaten by the spoonful.
3. Assorted Dark Chocolate Gift Box from Maui Kuʻia Estate Chocolate
This isn't just an ordinary box of chocolate. Inside this gift box are 6 bars of dark chocolate made with cacao grown at the Maui Kuʻia Estate farm. The chocolate is infused with flavors including blood orange, peppermint and lemon grass. The dark chocolate also checks off most dietary guidelines, being certified kosher as well as soy, nut and gluten free. And it's a gift that keeps giving. Maui Kuʻia Estate Chocolate donates 100% of its net profits to local organizations.
$46, mauichocolate.com
4. Crack Bacon from Maui Sweet N Spicy
This is for people on your shopping list who are obsessed with bacon. You can win over their carnivorous hearts with bacon from Maui Sweet N Spicy. After baking it to a crisp, Maui Sweet N Spicy coats its smoky bacon in mouthwatering spice rubs, which include a spicy chili mole blend, a sweet and peppery Creole mix and a unique chili chocolate combination.
$12, mauisweetnspicy.com
5. Chili Oil from Maui Chili Chili Oil
For the passionate home cooks and everyone else who appreciates a spicy condiment so hot it makes their eyes water, look no further than Maui Chili Chili Oil. Made with Sichuan chile peppers, peppercorns, crunchy garlic and bits of onion, a dash of Maui Chili Chili Oil will enhance any dish. We even recommend drizzling it over ice cream.
6. Māmaki Loose Leaf Tea from Maui Tea Farm
This herbal tea from Maui Tea Farm is made with māmaki grown on the slopes of Haleakalā. Māmaki is an endemic plant to Hawaiʻi and is brewed in tea for a slew of benefits like reducing blood pressure and boosting immunity.
$16, mauiteafarm.com
7. Wine from Maui Wine
Any vino connoisseur will know terroir, that taste of place, is vital in wine. So afficionados will appreciate a bottle crafted with grapes grown in 'Ulupalakua. The high elevation and Haleakalā's volcanic soil contribute to the layers of complex flavors in the 'Ulupalakua collection that includes wines such as Syrah and rosé.
Starting at $32, mauiwine.com
8. Kukui Lemon Grass Lavender Oil from Aliʻi Lavender Farm
Calming lavender and lemon grass are infused into this soothing blend from Aliʻi Lavender Farm. The cold-pressed kukui oil base helps to nourish and hydrate skin, while the essential oils evoke utter relaxation.
$28, aliikulalavender.com
9. Sunrise 3-Pack Bar Soap from Kula Herbs
From sweet pineapple to floral plumeria, Kula Herbs soaps bring the aromas of a dreamy Valley Isle vacation to any home. This popular three-pack includes sweet-smelling Haleakalā sunrise, floral-scented plumeria and fruity pineapple. In addition to their lovely scents, the soaps are beautiful, too.
$24, kulaherbs.com
10. Lokelani Rose Facial Blend Lokelani Essentials
Pamper family and friends (or yourself) with luxe facial oil from Lokelani Essentials. The oil includes extract from the Lokelani rose, also known as the damask rose, which is the official flower of Maui. The hydrating oil is a lavish addition to any beauty routine and helps to reduce the appearance of fine lines and scars. The vegan formula is also paraben and sulfate free.
11. Mini Tin Gift Island Collection from Artful Scents
These candles from Artful Scents are made in small batches in Kīhei with 100% soy wax and infused with Island-inspired scents. You'll smell plumeria and gardenia in Maui Nui, pineapple and coconut in Lahaina, hibiscus and tuberose in Island, and mango and rose in Breeze, which are all included in the Island Collection.
$40, artfulscents.com
12. Hawaiian Wildlife Educational Coloring Book from Advanced Wildlife Education
Maui resident Che Frausto started Advanced Wildlife Education to bridge the gap between the community and conservation groups. After years of working as a field biologist on Maui, he realized that people can't help what they don't know exists. So, he began designing educational coloring books that group animals based on geographical regions and species classifications. He even dedicated multiple books to Hawaiʻi, which are also translated in ʻōlelo Hawaiʻi (Hawaiian language). In the books, you'll find fun facts about animals, stickers and how we can all help protect these species on a personal level. These books are great for all ages.
$15, advancewildlifeeducation.org
13. Happy Musubi Keychain from Matsumoto Studios
Give a tasty piece of Hawaiʻi with this Spam musubi keychain. It's a great stocking stuffer from Maui's Matsumoto Studios.
$12, matsumotostudio.com
14. Prints from Paradise Now
You can shop online or head to Jaclynn Sabado-Eitel's colorful art and apparel emporium, Paradise Now, in the heart of Wailuku Town. Her island-inspired art and apparel are bright and whimsical—and tied to life in Hawaiʻi. You can check out Sabado-Eitel's collection of original prints and apparel as well as products by other local artisans.
Starting at $22, shopparadisenow.com
15. Bold Bangles and Bracelets from Keani Jewelry
Sleek bangles and bracelets pop with bold designs like jagged shark teeth and mermaid scales from Keani Hawaiʻi. The local company, which has three retail locations on Maui, has grown its following in recent years thanks to its pretty pieces and long-lasting jewelry.
Starting at $140, keanihawaii.com