16th annual Lantern Floating Hawaii ceremony tonight on Oahu. Watch it live online.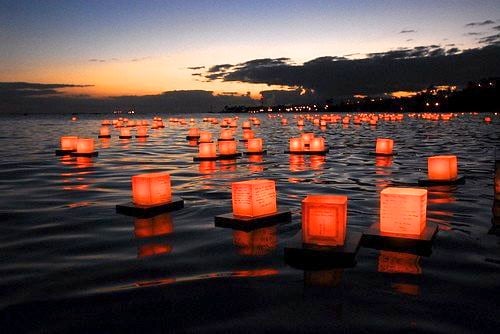 Craig Yamamoto remembers the first lantern floating ceremony, officiated by the Shinnyo-en Buddhist order, at Keehi Lagoon on Memorial Day in 1999.
About 3,000 people gathered at the Oahu park near Honolulu International Airport, most of from the temple's membership from Japan. And less than 800 illuminated lanterns were released in the waters there.
More than a decade later, the annual event, now at Ala Moana Beach Park and called Lantern Floating Hawaii, attracts more than 50,000 people with 6,000 candlelit lanterns floated into the beach's calm waters at sunset. It's also broadcast live on Hawaii television and streamed live online for the rest of the world.
"We didn't imagine it would be this big," says Yamamoto, Shinnyo-en Honolulu temple manager, laughing.
Lantern Floating Hawaii, has become one of Oahu's most unique and visually breathtaking annual events. Each Memorial Day at sunset, thousands of people gather at Ala Moana Beach Park to honor those who have lost their lives in war, loved ones who have passed away, and pray for a future of peace and harmony. The ceremony is the Shinnyo-en order's Hawaii version of Toro Nagashi, a Japanese tradition that translates literally as "lantern offerings on water."
"It's a time when people have a shared moment to remember and reflect on those who have gone before us," Yamamoto says. "Everyone is sharing the same feeling and the same experience with everyone around them. It's our common reason to be there."
Photo: Lantern Floating Hawaii
The Toro Nagashi ceremony was founded by the Shinnyo-en Buddhist order in 1952. In Japan, it is traditionally held in July or August, coinciding with the end of annual Obon festivals, which honor the spirits of ancestors as well as those of family members who have recently passed away. Hawaii's Shinnyo-en order officiates the ceremony on Memorial Day to also honor lives lost in war.
The ceremony is presented by Shinnyo-en Hawaii and its secular, community-building arm, Na Lei Aloha. And the event has always been free and open to the public to particpate in.
All lanterns are collected at the end of the ceremony and refurbished for use later. The temple doesn't charge anyone to use the lanterns, but it does take donations, which are given to the city's Department of Parks & Recreation for the upkeep of the beach park.
Lantern Floating Hawaii's 16th annual ceremony begins at 6 p.m. today (Hawaii time), with live performances by the Makaha Sons and Shinnyo-en Shomyo and Taiko Drum Ensembles.
The lantern request tent opens at 10 a.m. in the beach park's Magic Island section. If you wish to float a lantern, arrive early as even 6,000 lanterns run out fast. You'll also want to arrive early to find the best spots on the beach to watch the ceremony.
Her Holiness Shinso Ito, head of the Shinnyo-en, will address the crowd at 6:45 p.m., followed by the lighting of the Light of Harmony and floating of the lanterns.
Free parking will be made available at the nearby Hawaii Convention Center beginning at 7 a.m. A free shuttle will offer rides to Ala Moana Beach Park from 3:30 p.m. and back to the convention center after the ceremony.
Photo by Dawn Sakamoto
If you can't make it to Ala Moana Beach Park on Monday evening to watch Lantern Floating Hawaii live , Hawaii television station KGMB9 will be broadcasting the ceremony live from 6 p.m. (Hawaii time), and streaming it live online. Click this link to watch Lantern Floating Hawaii live online this evening.