17 intense Instagrams of the Hawaii Island lava flow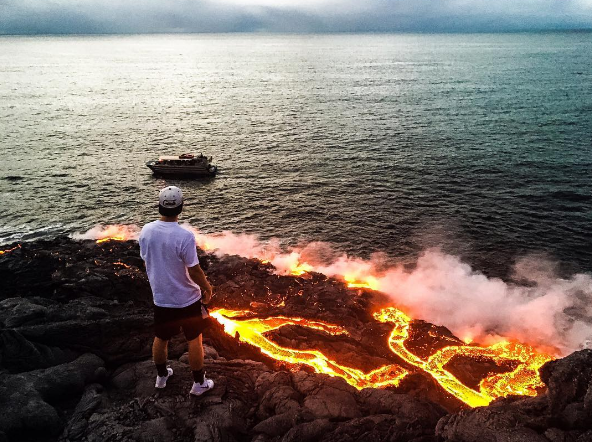 As you're probably well aware (along with the thousands currently embarking on their Pele pilgrimages to the southeast side of Hawaii Island), lava is currently spilling into the ocean there and it's epic.
1. So much epicness.
2. For those who have hiked alongside the flow, titled 61g, it's like seeing the Earth open up right below your feet.
3. Because walking on newly formed land is basically the definition of intense.
4. If you looked up the word "intense" in the dictionary, there's a 110% chance it will include this photo.
5. Even from the distance of a boat, you can feel the heat.
6. Like, you can really feel it.
Hope the device you're viewing this on hasn't melted yet.
7. Just ask these guys who are having the most intense stand-up paddleboarding session, uh, ever.
8. Even as you watch it trickle down in real time, there's also the feeling like you're watching a deleted scene from "Lord of the Rings."
This could definitely stand in for Mordor.
9. Whether viewing it straight down over the pali (cliff)…
10. …or from above in a helicopter,
11. This war between fire and water doesn't exactly have a bad angle.
12. Just being in its presence at all is insanely wild.
13. Something you can easily see in everyone's lava selfies.
14. Lava selfie game strong.
15. Real strong.
Especially when people are just ~chilling~ next to 2,000 degree molten liquid from the Earth's core like NBD.
16. All in all, intense and unstoppable, yes —
(See how it just trailblazed across a portion of the Chain of Craters Road?)
17. But absolutely gorgeous.