18 must-try dishes when you're on Kauai
From fresh-caught poke to a piping bowl of saimin, here is our roundup of not-to-be-missed dishes.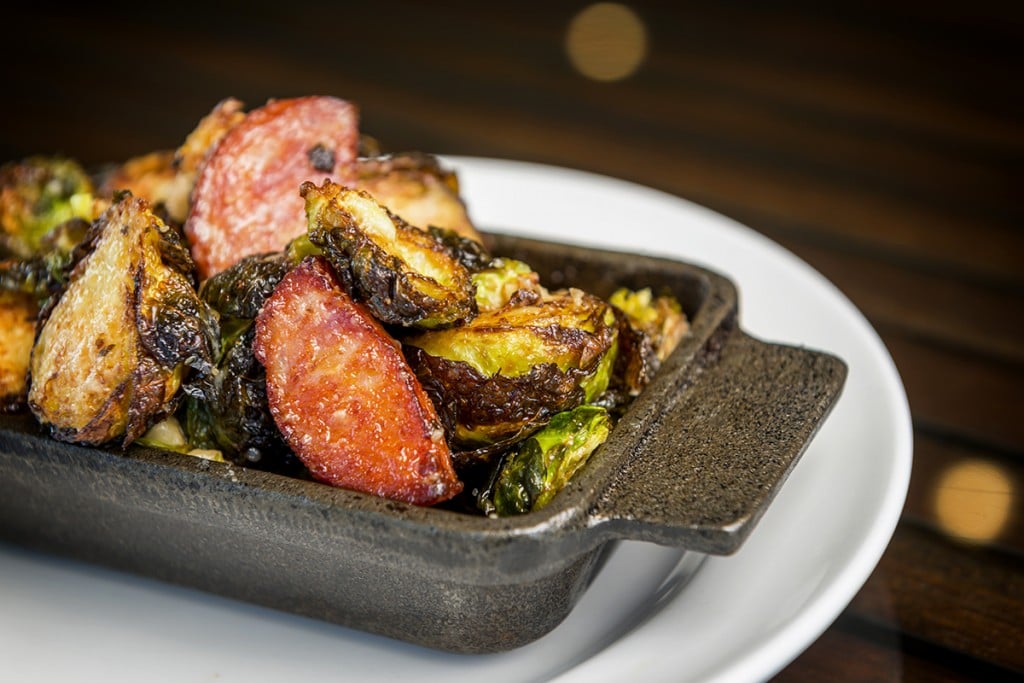 From fresh-caught poke to a piping bowl of saimin, the Garden Isle is a culinary destination marked by the bold flavors of Asia and the Pacific. Read on for our roundup of not-to-be-missed dishes found across Kauai.
1. Kauai Shrimp Dumplings
Kauai Grill at The St. Regis Princeville Resort
These pillowy dumplings stuffed with fresh-caught shrimp are comfort food extraordinaire. Served with shiitake mushroom, ginger and lobster sauce, every bite brings a punch of flavor.
2. Coconut Coast Fish Tacos
Lava Lava Beach Club
When tempura mahi mahi, salsa fresca, coconut slaw and wasabi aioli join together in a taco shell, it's an indisputable party for your taste buds.
3. Pork Tenderloin
Gaylord's at Kilohana
This meal of oven-roasted, Hawaiian chili pepper-rubbed pork tenderloin is served with mushroom relish, wild rice, steamed bok choy and Wi demi-glaze made from an indigenous Hawaiian fruit.
4. Classic Fondue
Art Cafe Hemingway
Best shared with friends and family, this bubbling bowl of white wine blended with velvety cheeses is served over fire with a side plate of sliced sausage, apple, homemade bread and other treats for dunking.
5. Crab Crusted Scallops
Eating House 1849
Paired with the chef's spin on sushi rice musubi, this vibrant dish of the sea is served on a sumptuous bed of smoked unagi cream sauce.
6. Fried Brussels Sprouts
Rum Fire at Sheraton Kauai Resort
Tossed with Portuguese sausage, spiced macadamia nuts and miso vinaigrette, these salty cruciferous veggies are packed with flavor and protein.
7. Nola Poi Bowl
Fresh Bite
Poi—the starchy, purplish paste made of pounded taro root—is a staple of the traditional Hawaiian diet. This riff on the traditional dish is cut with coconut milk, transforming an ordinarily sour food into a delightfully sweet treat. Similar to an acai bowl, this dish comes topped with homemade granola and fresh seasonal fruit.
8. Rainbow Poke Martini
Hanalei Dolphin
This rainbow poke dish combines premium cuts of tuna, salmon, white fish and avocado served over sweet sushi rice with a generous drizzling of the chef's secret "Broke Da Mouth" sauce.
9. Ahi Poke Nachos
Nanea Restaurant and Bar at the Westin Princeville Ocean Resort Villas
Ahi poke is a raw fish salad that's akin to eating a cheeseburger in Hawaii because it's simple, delicious and ubiquitous. In this spin on a local favorite, the raw squares of fresh tuna come layered over a bed of crispy nacho chips, christening a Hawaii-style comfort food that has become Nanea Restaurant's fan favorite.
10. Kombucha Float
Eat Healthy Kauai
Homemade mixed merry ice cream drenched in locally made ginger-berry kombucha—what's not to like? This probiotic punch with make both your taste buds and your gut happy.
11. Nonna's Lasagna
La Spezia
This family recipe folds four cheeses, spinach, zucchini and bechamel into a layered bed of lasagna noodles and comes served with your choice of spicy arrabbiata or bolognese sauce.
12. Poke Bowl
Ishihara Market
Ask any local, and they'll tell you that the best poke on Kauai is found at Ishihara Market, a mom-and-pop store founded in 1934 by Japanese immigrants.
13. Saimin
Hamura's Saimin
This no-frills lunch counter is Kauai's indisputed top spot for a bowl of the iconic Hawaiian-style noodle soup.
14. Chicken Wings
Happy Talk Lounge
Made with a piping hot yet flavorful chocolate habanero sauce by Kauai Juice Co., these wings are a spicy food lover's dream.
15. Koloa Rum Braised Pork Belly
The Local
This meal of pork belly is enhanced with the flavors of local rum, jicama, pineapple and pickled mustard seeds. It all comes together to make for a one-of-a-kind dish.
16. Loco Moco
Anuenue Cafe
Loco moco just might be the perfect island-style breakfast. Anuenue Cafe's take on the local favorite marries a spread of Kauai ground beef, rice, two eggs and Kauai-grown mushrooms with a generous helping of thick, homemade gravy.
17. Hanalei Jerk Ragout
Oasis on the Beach
This dish of Kauai-raised ground buffalo meat comes with achiote-scented rice and soybean and cassava bammy, a traditional Jamaican flatbread.
18. The Next Level Acai Bowl
Kalalea Juice Hale
This silky blend of Tambor acai—a Hanalei-based acai producer—banana, kale, protein powder and fresh coconut milk comes topped with banana slices, homemade granola, fresh coconut meat, honey, bee pollen, swirls of peanut butter and a kale leaf.