2 delicious poke stops in Kailua-Kona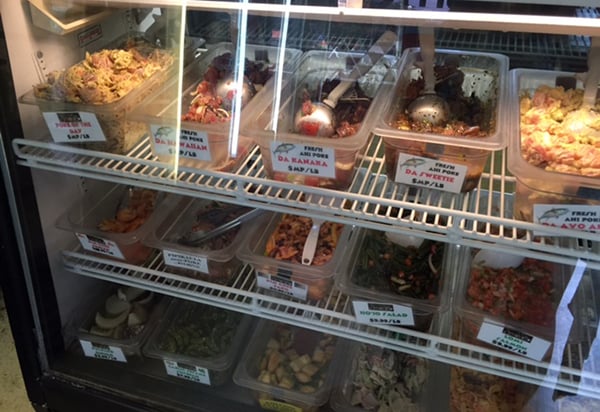 You haven't had the full Hawaii experience until you've tried local poke. It's comprised of cubed raw seafood—usually ahi tuna—mixed with a variety of increasingly innovative toppings from sesame seeds, chili and seaweed to sriracha mayo or even mango, poke is delicious eaten alone or in a bowl served over piping hot rice.
Poke can be found in grocery stores and delis throughout the Islands, but should you find yourself in Kailua-Kona—looking for lunch after shopping downtown, kayaking to the Captain Cook monument or before visiting the mantas in the evening—these two don't-miss and no-frills spots are serving up the answer to your craziest poke cravings.
Umekes
It's no secret that Umekes' poke is incredibly fresh. On a recent visit to the Hualalai Road location, we watched one of the employees hard at work behind the serving case carving perfectly bite size pieces from a locally-caught, three-foot yellow fin—the trash bin filled with protruding fish tails. In addition to its standard shoyu-coated creations, new recipes appear regularly alongside a rotating poke of the day. "Da Hottie," Umekes take on spicy poke, has a smoky chipotle kick. But the most popular poke? A creamy avocado concoction. You'll want to order a bowl here—umeke means bowl, after all—which comes with two rice scoops and a choice of side. If you're feeling more adventurous than the standard macaroni salad, try a seaweed or local hoio fern salad and wash it all down with its homemade lemonade.
Three Kailua-Kona locations: Umekes Poke Bowls and Local Lunch Plates, Alii Plaza, 75-143 Hualalai Rd., (Mon.-Sat. 10 a.m. to 8 p.m.); Umekes Poke Kiosk, Lanihau Shopping Plaza, 75-5595 Palani Rd. (Mon.-Sat. 10 a.m. to 8 p.m.); Umekes Fishmarket Bar and Grill, 74-5563 Kaiwi St. (Daily, 11 a.m. to 9 p.m.), umekespoke808.com.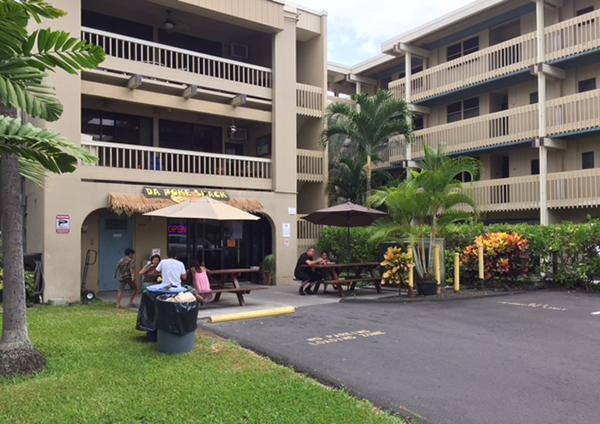 Da Poke Shack
This popular establishment topped our 75 Places to Eat Like a Local poke picks in last year's "Food Issue," and ranked high on two 2015 Readers' Choice Award categories—as one of the best Hawaiian food restaurants and one of the best places to get a plate lunch. Like Umekes, its poke is incredibly fresh, never frozen and is served a myriad ways including the Shack Special (sweet), Spicy Garlic Sesame and Pele's Kiss (spicy). Get it in a bowl or on a plate with rice or quinoa and with your choice of side. But be sure to come by lunchtime for the best stuff. When we visited, its original location—set amongst seaside condominiums off Alii Drive—we were told almost every variety sells out daily by its 6 p.m. closing time.
Two locations: 76-6246 Alii Drive, Kailua-Kona; 83-5308A Mamalahoa Hwy., Captain Cook. Both locations open daily 10 a.m. to 6 p.m., dapokeshack.com.
Looking for some creative poke recipes to try at home? Check out this Mediterranean Poke recipe or a Filipino "Jumping Salad" Shrimp Poke—both from HAWAII Magazine's Nov./Dec. 2014 "Food Issue." Or, for a basic shoyu version, click here.