20 things we loved about Hawaii in 2016
The most memorable moments of the year in travel, sports, food and people.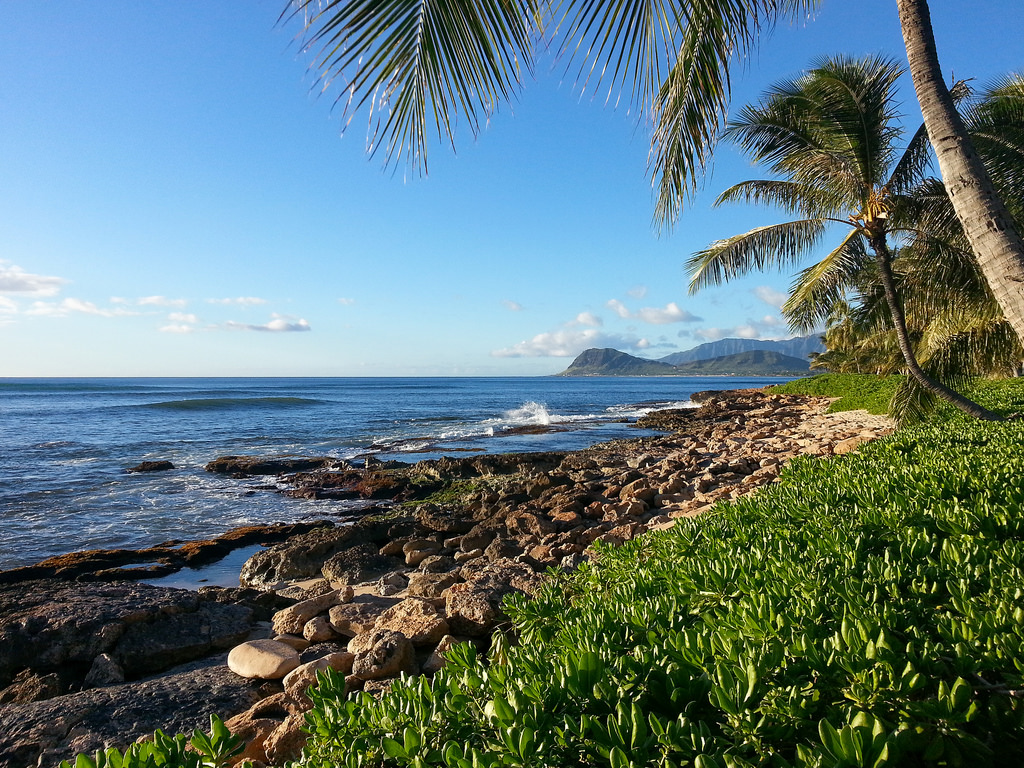 1. The Hawaii Island lava flow that sparked everyone's interest in Kilauea.
The Hilo side of Hawaii Island was on everyone's radar this year when a lava flow, dubbed 61g, reached the waters off Kamokuna. In a phenomenal display of nature, visitors and residents alike flocked to the area by land, air and sea to get a glimpse of this unforgettable sight.
2. John John Florence brings world's best surfer title back home to Hawaii for first time since 2004.
Considered the best free surfer in the world, Haleiwa's John John Florence made the Islands proud with his finish at the top of the World Surf League rankings. It's the first time a Hawaii surfer has taken home the title since the late Andy Irons won the honor 12 years ago. 2016 was a huge year for JJF who also won the Eddie Aikau Big Wave Invitational in February, finishing the year off by winning the 2016 Vans Triple Crown too.
3. The 100th annual King Kamehameha Day Floral Parade took place in Honolulu.
A major anniversary paraded through the streets of Honolulu, starting at Iolani Palace and ending at Kapiolani Park in Waikiki—the longest parade route in the Islands. Now, time to gear up those colorful pau horseback processions for the next 100 years!
4. Oahu's Aulii Cravalho carried Disney's "Moana" to the big screen.
"How Far I'll Go" has reached some heavy rotation on our iPods after Cravalho, a Kamehameha Schools student, was plucked out of obscurity to voice Disney's latest heroine. We can't wait to see what she does next.
5. And, her co-star Dwayne "The Rock" Johnson put on a star-studded concert for troops stationed here in the Islands.
Kevin Hart, Jack Black, Nick Jonas, Keegan-Michael Key, Terry Crews, Flo Rida and more touched down on Oahu to take part in "Rock The Troops," a concert special filmed at Join Base Pearl-Harbor Hickam in Honolulu that aired on Spike TV over the holiday season. It also gave Spike TV its most-watched show for a "tentpole event" in four years.
6. The first encyclopedic collection of more than 200 Hawaiian rain names, "Hanau Ka Ua," was published.
It took 11 years for the Native Hawaiian mother-daughter research team to compile this collection—an illustration of the acutely observed and nuanced attention Hawaiians give to rain. The book is rich in this connection to the culture's kupuna (ancestors) and aina (land). You'll never look at rain in Hawaii the same again.
7. The shaka emoji is finally a thing now.
8. Kakaako is the new urban hangout in Honolulu.
It's the new cool place to be. The ever-changing jigsaw of businesses in Kakaako's warehouse district is finally finding its center with the completion of Salt, a unified market complex in Honolulu. Local businesses in apparel and dining are attracting a bevy of young professionals to the area, by day and night.
9. Miss Aloha Hula 2016 winner Kaiulani Carr's gave an incredible hula performance at Merrie Monarch.
The garments! The focus! The technical acuity! With a powerful hula kahiko (ancient hula) and a rapid-fire oli (chant), Carr secured her place as a favorite in the competition this year.
10. Three Hawaii volleyball players competed in Rio De Janeiro at the Olympics.
Following a four year selection process, Micah Makanamaikalani Christenson, Kawika Shoji and Erik Shoji represented the country on the 12 man roster of the U.S. Men's Olympic Men's Volleyball Team.
11. Speaking of, surfing is now an Olympic sport.
The sport will be joining the Tokyo 2020 Summer Olympic Games, the International Olympic Committee made the announcement this past August. Incredible to think that this ancient Hawaiian practice, revitalized and modernized at the turn of the 20th century by Duke Kahanamoku, is where it is today, reaching millions of people across the world.
12. The children's book series, "Hawaiian Legends for Little Ones," brought out our inner keiki.
The series of stories introduces kids ages 4 and younger to Hawaii's most beloved moolelo (legends) through wonderful illustrations. The story of how the native plant naupaka came to be is one of our favorites.
13. President Barack Obama and Japan's Prime Minister Shinzo Abe come together at Pearl Harbor on the 75th anniversary of the attack.
In a symbol of forgiveness and reconciliation, President Obama and Prime Minister Abe will lay a wreath at the USS Arizona Memorial together. Abe is the first sitting Prime Minister from Japan to visit the memorial, mirroring Obama's visit to Hiroshima in May as the first visit of it's kind of a sitting U.S. President. This gesture caps off a milestone year at the World War II Valor in the Pacific Monument, complete with anniversary events all December long and another opportunity to unify Pearl Harbor's last living survivors.
14. Oahu's Chinatown is hipper than ever.
Every other month it seems a new enterprise is opening up on and around Hotel Street and we couldn't be more ecstatic about it. The options for dining, especially, tickle every palate—stone oven pizzas, Ethiopian, tacos, French, Italian and many more.
15. The expansion of the Papahānaumokuākea Marine National Monument.
By the President's proclamation, the world's largest marine protected area quadrupled in size. It currently covers 582,578 square miles; that's four times the size of California. Within it, marine scientists are making constant breakthroughs in the discovery of new species and how to better maintain the health of our oceans and its animal populations.
16. A treasured Hawaiian feather cape and helmet is returned to Hawaii after 237 years.
This year saw an ahu ula (feather cape) and feathered mahiole (helmet) that belonged to high chief Kalaniopuu brought back to Hawaii from New Zealand's Te Papa Tongarewa musem. The two artifacts are highly significant acquisitions from both a museum and Native Hawaiian culture perspective. With this loan, the Bishop Museum, which currently houses three feathered helmets, will be able to learn even more about the skill and craftsmanship needed to create them.
17. On the topic of capes, Hawaiian Airlines unveiled its latest uniforms.
The cape, designed by Hilo favorite Sig Zane, stole the show.
18. Hawaii tops the list of healthiest states in the U.S. again.
This is the fifth consecutive time Hawaii has been named the healthiest state, by "America's Health Rankings" annual report for 2016. Part of the findings attribute that to the state's public health policies (Hawaii became the first state to raise the smoking age to 21 this year) and the active outdoor lifestyle of its residents.
19. Two Hawaii food shows had us salivating for the Islands' cuisine.
"Family Ingredients" starring Oahu chef Ed Kenney debuted, a new show on PBS that traces back generations-spanning dishes to their origins. "Search Hawaii" with Grand Wailea chef Michael Lofaro and cultural advisor Kainoa Horcajo forage the Islands to learn more about the aina (land) and create dishes inspired by the local culture.
20. Travelers loved Hawaii more than ever.
Long-standing Hawaii staples like poke and Hawaiian shirts trended all over the world this year with new restaurants washing up on the U.S. West and East coasts and European high fashion houses like Saint Laurent and Gucci taking their cues from our tropical island prints throughout 2016. Visitor numbers to the Islands are also on track to make 2016 a record-breaking year for Hawaii travel.