2009 Na Hoku Hanohano Awards spread the wealth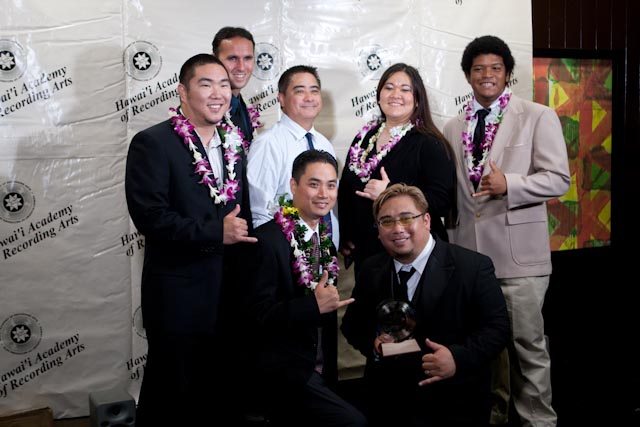 There were no multi-multi-category award winners at last night's Na Hoku Hanohano Awards a la Hoku Zuttermeister's six Hoku in 2008 or Kealii Reichel's seven in 2004. No single artist walking out the doors of the Sheraton Waikiki's Hawaii Ballroom with a handful of trophies.
But that's what made victory all the more sweeter for the more than two dozen Hawaiian music artists and professionals who got to take home a Hoku—the Hawaiian music industry equivalent of a Grammy—at this year's 32nd annual awards ceremony.
Contemporary Hawaiian vocal group Pali (above) and its album …with Aloha walked away the evening's biggest winner with three awards—album of the year, Island music album of the year and song of the year for the track "Island Days."
Male vocalist of the year and best Hawaiian language performance honors went to Kaumakaiwa Kanakaole for his disc Kaumakaiwa—one of HAWAII Magazine's picks for our Best 5 Hawaiian Music albums of 2008.
Another one of our best of 2008 picks, Amy Hanaialii's Grammy-nominated Aumakua, grabbed a trophy for contemporary album of the year. But Hanaialii (below, right) was denied a fifth Hoku for female vocalist of the year by Natalalie Ai Kamauu, who won for her album I. The win was Kamauu's second in the category.
Hanaialii's 2009 Best Hawaiian Music Album Grammy-nominated peers Led Kaapana and Mike Kaawa won favorite entertainers of the year—Hoku's sole award voted on by the public—for their slack-key guitar-infused Force of Nature album.
Traditional Hawaiian vocal group Holunape won group of the year honors and Hawaiian album of the year for its album Ahea? 'Ano!
The bulk of Na Hoku Hanohano's awards categories are voted on by members of the Hawaii Academy of Recording Arts, an organization of recording industry professionals, journalists and others with interest in Hawaiian music.
Here is a complete list of 32nd annual Na Hoku Hanohano Award winners:
Album of the Year
…with Aloha – Pali
Favorite Entertainer of the Year
Led Kaapana and Mike Kaawa – Force of Nature
Female Vocalist of the Year
Natalie Ai Kamauu – I
Male Vocalist of the Year
Kaumakaiwa Kanakaole – Kaumakaiwa
Group of the Year
Holunape – Ahea? Ano!
Song of the Year (a composer award)
"Island Days" – written by Pali T.W. Kaaihue, from …with Aloha
Most Promising Artist of the Year
Kupaoa – Pili O Ke Ao
Rock Album of the Year
Many Classics, Kalapana Plays Their Best – Kalapana
Hip-Hop/R&B Album of the Year
Reborn – A Touch of Gold
Island Music Album of the Year
with Aloha – Pali
Contemporary Album of the Year
Aumakua – Amy Hanaialii
Reggae Album of the Year
Nothing To Hide – Rebel Souljahs
Hawaiian Album of the Year
Ahea? Ano! – Holunape (left)
Hawaiian Language Performance
Kaumakaiwa – Kaumakaiwa Kanakaole
Haku Mele (Best achievement in creating a new song or chant primarily in the Hawaiian language)
"Uluwehikalunaokaala" written by Joseph Badis and Kellen Paik, from Pili O Ke Ao
Jazz Album of the Year
Tropic Rhapsody – Teresa Bright
Religious Album of the Year
All For One – Del Beazley
Slack Key Album of the Year
Hawaii Island … Is My Home – John Keawe
Instrumental Album of the Year
Haleakala – Jeff Peterson and Riley Lee
Christmas Album of the Year
E Ola Ke Alii: The Na Kama Christmas Collection, Volume 1 – Na Kama
Music Video DVD of the Year
Kamehameha Schools 2008 Song Contest – Kamehameha Schools
Anthology Album of the Year
Unforgettable – Israel Kamakawiwoole and the Makaha Sons of Niihau
Compilation Album of the Year
Hawaiian Slack Key Kings Master Series Vol. II – Various Artists
Graphics
Stacey Leong Design for Aina, by Peter Apo
Liner Notes
Puakea Nogelmeier, Fred Krauss and Kealii Reichel for Kamalei: Kealii Reichel Collection—Two
Engineering
Milan Bertosa, DJ Pratt and Gaylord Holomalia for Many Classics: Kalapana Plays Their Best