20th annual Honolulu Festival shares Asia-Pacific cultures with music, dance, fireworks this weekend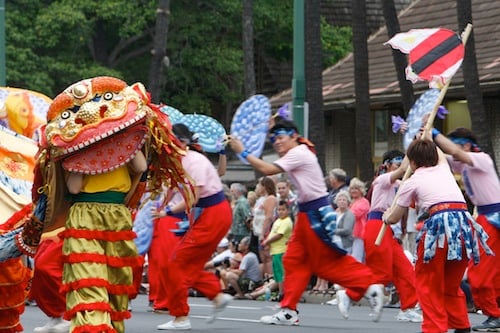 If you're on Oahu this weekend, check out the multitude of music, art, dance and food of Hawaii and the Pacific Rim set for this year's 20th annual Honolulu Festival, one of the state's premiere cultural events.
The theme of this year's festival, which starts this Friday and ends Sunday at various locations in and around Waikiki, is "Pacific Harmony" reflecting the Honolulu Festival Foundation's mission of sharing the diverse cultures of the Pacific region with attendees.
The three-day Honolulu Festival happens every March. This year's fest again promises thousands of musicians, dancers and artists from Japan, Australia, Tahiti, the Philippines, Taiwan, Korea, Alaska and, of course, Hawai'i. Much of it is free and open to the public.
The Honolulu Festival weekend events schedule kicks off Fri., March 7, with music and dance performances at the annual Friendship Gala at the Hawaii Convention Center. The gala, set for 6:30 p.m., is the only Honolulu Festival event that isn't free. Think an evening of great food from a handful of Oahu's top restaurants—including Morimoto Waikīkī, Mariposa at Neiman Marcus, Roy's Hawai'i Kai, 3660 on the Rise, Nobu Waikiki, Shokudo Japanese Restaurant and La Palme D'or Patisserie, among others—and you get the picture. The $85 ticket price supports the Honolulu Festival Foundation's school-based cultural and educational programs.
Daijayama in Grand Parade. Photo: Honolulu Festival Foundation
Live performances—everything from hula and Japanese dance to Okinawan taiko drumming—continues on Sat., March 8, through Sunday, March 9, at the Hawaii Convention Center, Ala Moana Center's Center Stage and all over Waikiki. The Honolulu Festival's Craft Fair will be open at the Hawai'i Convention Center from 10 a.m. to 6 p.m. on Saturday and 10 a.m. to 3 p.m. on Sunday.
On Sat., March 8, the Honolulu Rainbow Ekiden will be held. This long-distance relay race, first developed in Japan more than 90 years ago, begins at 9 a.m. in Waikiki with a course taking runners around Diamond Head and back to Kapiolani Park. The park will also host the WaikiKitchen Food Festival with various vendors serving up their specialties after the race.
Ukulele virtuoso Jake Shimabukuro will perform a free benefit concert from 3 to 4 p.m. on Sun., March 9 at Lewers Street in Waikiki. The concert benefits continuing relief and rebuilding efforts following the 2011 Tohoku earthquake and tsunami.
The festival's marquee event happens after the concert: the Honolulu Festival Grand Parade and Fireworks, starting at 4 p.m. The annual march down Waikiki's main drag Kalakaua Avenue features floats, entertainment and the popular Daijayama—a 33-foot-long smoke-and-fire breathing dragon from Kyushu, Japan, manipulated by more than 200 handlers. The parade will culminate with Japan's internationally renowned Nagaoka Fireworks display lighting up the skies over Waikiki Beach at 8:30 p.m.
Honolulu Festival Friendship Gala at the Hawaii Convention Center. Photo: Honolulu Festival Foundation
Finally, congratulations to the winner of our 2014 Honolulu Festival Oahu Flyaway contest, Steve Pinney of Romeoville, Ill. Steve and a very fortunate guest of his arrive in Honolulu on Thursday via a complimentary Hawaiian Airlines flight to begin collecting the rest of his prize: five-days/four-nights complimentary oceanfront accommodations at the Hawaii Prince Hotel Waikiki, two tickets to the Honolulu Festival Friendship Gala, VIP seats for the Honolulu Festival Waikiki Grand Parade, a $150 Ala Moana Center dining gift card, and a complimentary Atlantis Adventures Premium Submarine Tour for two.
Enjoy your Oahu visit and the fest, Steve!