24 Must-Stop Sights Along Kauaʻi's Historic Holo Holo Koloa Scenic Byway
Itʻs a gateway to adventure and an interactive storybook of the people and places that define the tiny town of Koloa.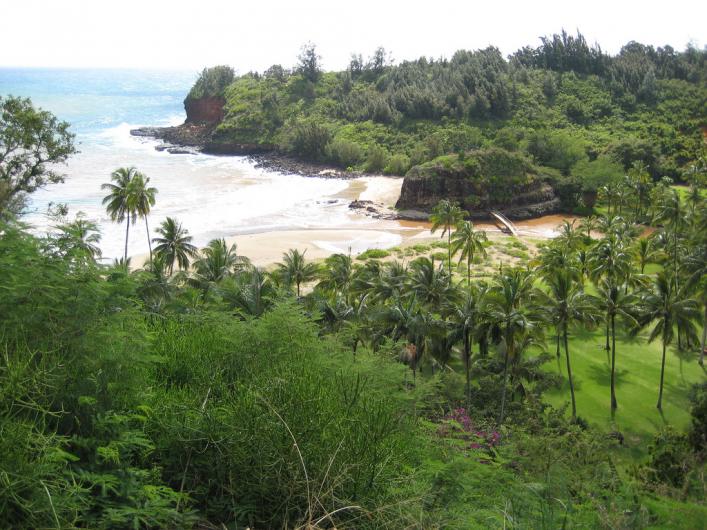 One of Hawaii's most beautiful scenic byways is a 19-mile stretch of road on Kauai's warm and sunny south shore. It is a gateway to adventure and an interactive storybook of the people and places that define the tiny town of Koloa.
Holo Holo Koloa Scenic Byway highlights two dozen points of archeological, historical and cultural interest, including ancient Hawaiian temples of worship, the birthplace of Hawaii's transformative sugarcane industry and a geologic phenomena called an ocean blowhole that shoots a stream of seawater up to 60 feet skyward before gravity pulls it back down again. All these features and more are contained in a small, colorful radius, decorated by plantation-style cottages and sandy, pristine beaches.
In the Hawaiian language, "holoholo" means to go for a leisurely walk or ride. A trip down this scenic corridor offers a dynamic opportunity to do just that.
1. Maluhia Road (Tree Tunnel)
A lush canopy of eucalyptus trees shields Maluhia Road from the sky, creating a majestic entryway to Kauai's south shore. The trees, planted in 1911 by Scottish cattle rancher Walter Duncan McBryde, have been damaged by two hurricanes, yet the tunnel of branches and foliage still endures.
2. Laaukahi Peak
Directly east of Maluhia Road is Laaukahi Peak, the boundary point of the Koloa/Weliweli ahupuaa (narrow sections of land extending from mountain to sea). From fish to fertile farmland, each ahupuaa once served as a self-sustaining natural resource for the resident Hawaiian community.
3. Puu o Hewa (Holua Slide)
Similar to a toboggan course, holua (sled) slides are grassy hillsides that riders traverse down on sleds made of polished wood. Some holua slides stretched more than 4,000 feet in length.
4. Koloa Sugar Monument
The town of Koloa opened Hawaii's first sugarcane mill in 1835. The Koloa Sugar Monument, located about a half mile from the site of Ladd & Co.'s original mill, pays homage to the diverse ethnic backgrounds of the men and women who launched the state's first cash cow industry. When the original mill could no longer keep pace with sugar's rapid expansion, a new mill was built on this site in 1841.
5. Old Koloa Town
Beneath a low canopy of monkeypod trees, Koloa's old plantation-style buildings have been restored into boutiques and eateries, making for a charming shopping center brimming with history.
6. Yamamoto Store Courtyard
Built at the turn of the 20th century, the Yamamoto Building was originally a plantation camp store before becoming a general store and service station. The original owner, Mr. Yamaka, also operated the neighboring Koloa Hotel, which was a popular sleeper for salesmen who would arrive at Koloa Landing by steamer to sell supplies to the plantations and their stores.
7. Koloa Missionary Church
The church belongs to a homestead once owned by Dr. James W. Smith, a medical missionary who launched a 40-year practice here in 1842. He later became an ordained minister at The Church at Koloa.
8. Koloa Church
Built in 1859 by Reverend James W. Smith, M.D., Koloa Church served its congregation for 70 years. It was recorded in the Missionary Herald of 1860 that the church, which stands on high ground, could be seen far out at sea, serving as a navigation landmark used by ships coming to port.
9. Koloa School
Established in 1877, Koloa School is the oldest public school on Kauai.
10. Waikomo Stream and Koloa Field System
The 700-acre Koloa Field System is remarkable in that it redirected water from Waikomo Stream to transform dry and barren lava fields into fertile farmland. Koloa Field System is one of the largest field systems in Hawaii, and one of the only ones known to have successfully utilized irrigation.
11. Prince Kuhio Park/Hoai Heiau
Prince Jonah Kuhio Kalanianaole was born near this Koloa shoreline. The only born royal ever to be elected a delegate to Congress, he championed the creation of a 200,000-acre land trust to serve as farms, ranches and neighborhoods for those who could prove at least 50 percent Hawaiian ancestry.
12. Kaihalulu Heiau
This ancient Hawaiian temple, made of lava rock, is still partially intact. In Hawaiian language, kaihalulu means "roaring sea."
13. Puhi (Spouting Horn)
Formed by wave erosion, Spouting Horn is an ocean blowhole that magnificently shoots water skyward when rushing water is forced through a narrow opening in the lava rock. Ancient Hawaiian legend tells of a giant moo, or lizard, who guarded this coastline until it got caught in the blowhole. The lizard's hiss and growl can still be heard from the depths of the blowhole today.
14. National Tropical Botanical Garden
Headquartered in Lawai Kai, the National Tropical Botanical Garden (NTBG) is a nonprofit dedicated to tropical plant research, conservation and education. NTBG's gardens and preserves in Hawaii and Florida are home of the largest collection of endangered plant species in the world.
15. Hanakaape Bay (Koloa Landing)
By the 1800s, Koloa Landing was the third largest whaling port in Hawaii and the only port of entry for foreign goods. Up to 60 ships anchored here annually to stock up on provisions and collect passengers.
16. Pau a Laka
The hula mound Pau a Laka is where Hawaii's hula icon, Iolani Luahine, learned and practiced the spiritual dance. Luahine was widely believed to have divine power, able to drum up strong winds or halt a rainstorm at her whim. She was named a living treasure in 1972.
17. Kihahouna Heiau
Three hala (pandanus) trees standing outside the naupaka hedge mark the perimeter of this walled ancient Hawaiian temple, which once stood 130 feet by 90 feet in dedication to Kane, the god of procreation, Hulokoki, a bird god, and Kuhaimoana and Kamohoalii, two shark gods.
18. Luahine Alapii (Hapa Trail)
Luahine Alapii, also known as the Hapa Trail, is a historic pedestrian path bordered by 6,000 feet of rock wall that bisects the Koloa Field System. Hapa Trail begins at Weliweli Road in Old Koloa Town near St. Raphael church and continues to Poipu Road, offering access to Poipu Beach.
19. Kaneiolouma
This 13-acre cultural site contains the remnants of an ancient Hawaiian village, complete with a heiau (traditional Hawaiian place of worship), fishponds, loi (irrigated terrace) and sporting grounds. The features of the village date to at least the mid-1400s.
20. Keoneloa Bay
This fishing camp used by early Hawaiians between 200 and 600 A.D. contains the remnants of heiau, or ancient temples, and ahu, or altars. Hawaiians prayed here to Kanaaukai, an important fishing god.
21. Makawehi and Paa Dunes
The eastern sand dunes of Makawehi and Paa contain fossilized plant roots, bird bones and crab claws. From March to November, sea birds nest and roost in the dunes.
22. Haupu Mountain
This east-west ridgeline, also known as Black Mountain, serves as a dividing line between Lihue and Poipu.
23. Keolewa Heiau
At the 2,297-foot summit of Haupu Mountain is Keolewa Heiau, an ancient Hawaiian temple dedicated to the hula god Laamaikahiki. There are no public access trails leading to the mountaintop.
24. Puuwanawana
More than 5 million years ago, a hotspot in the earth spewed lava skyward to form the volcanic mountain island of Kauai. Puuwananana, one of the youngest volcanic cones, has contributed to the richness of the surrounding agricultural lands.