24th Hula O Na Keiki competition on Maui spotlights youth hula this weekend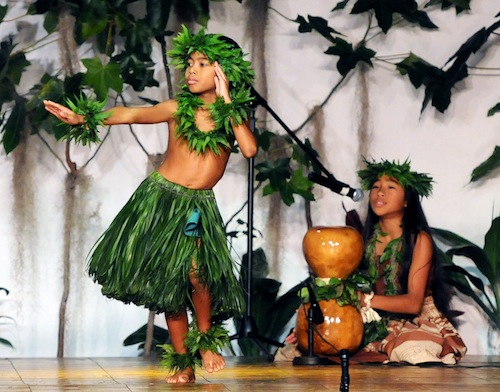 Hula O Na Keiki, one of the state's premier annual children's solo hula competitions, happens this weekend, Nov. 14 to 16, at the Kaanapali Beach Hotel on Maui.
Twenty-three keiki (children) ages 5-17, representing eight hulau (hula troupes) from Maui, Oahu, Hawaii Island, California and Nevada, will compete in this year's 24th annual contest as soloists or boy and girl palua (pairs).
In accordance with the event's educational mission, hula contestants are required to learn, interpret and perform a specific Maui chant. Participants will be critiqued on their performances, their interviews with a panel of judges, as well as their proficiency in Hawaiian language and the appropriateness of their costumes.
But the event's educational mission is not just for participants. Organizers of the open-to-the-public event encourage guests to explore and learn about Hawaiian culture, too. In addition to hula performances, the festival also includes native Hawaiian food buffets, a shave ice stand, Hawaiian arts and crafts booths, kapa (traditional Hawaiian barkcloth) and ohe kapala (bamboo stamp printing) demonstrations, a pahu (drums) display, feather lei-making demonstrations and an informative display on Puu Kukui, the hotel's neighboring watershed preserve. Visitors can also expect entertainment from Maui musicians throughout the weekend.
Hula O Na Keiki is billed as a three-day festival, but most of the action—including the entirety of the hula competition—happens on its first two days, Fri. Nov. 14 and Sat., Nov. 15. Many of the events are free, though some, such as the two-hour "Hula Implements" workshops, require a fee. For more information about the festival's events, visit the Hula O Na Keiki website.
A total of 18 kahiko (ancient) hula performances are scheduled for Friday evening and 24 auana (modern) hula performances are scheduled for Saturday afternoon. The Hula O Na Keiki awards ceremony will be held following competition on Saturday at around 7:00 p.m.
If you do attend the performances, please note flash photography is not allowed in consideration of the keiki performers.