28 unforgettable images of Kilauea over the years
The raw energy and power of Hawaii's nature at its most epic and devastating.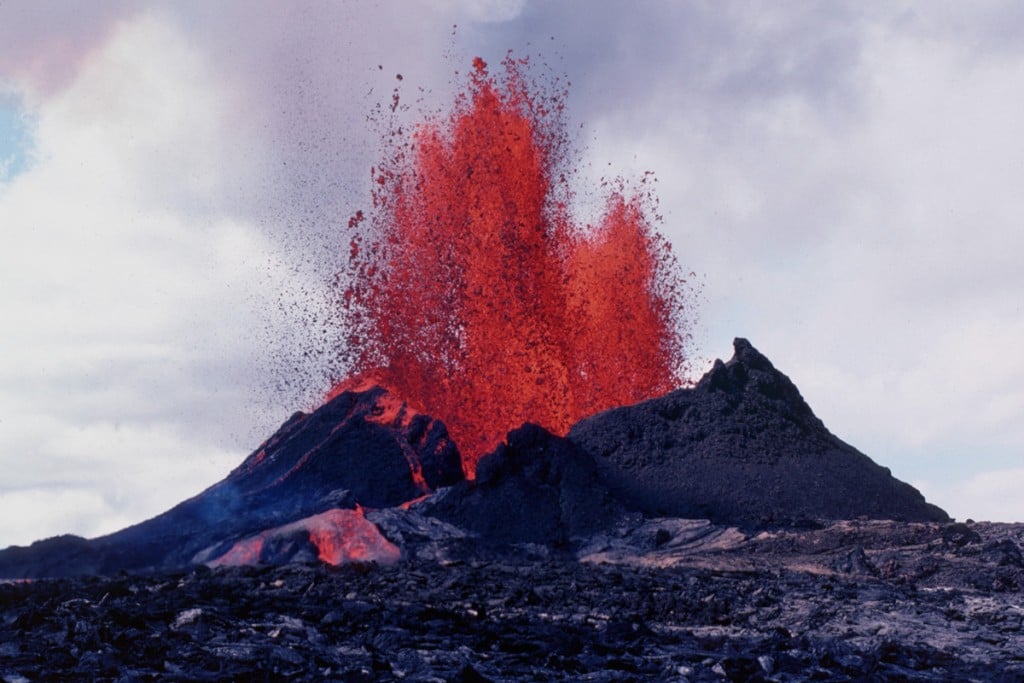 Kilauea, an active shield volcano on Hawaii Island that's roughly between 300,000 to 600,000 years old, puts on quite the show—and what we as humans have been able to witness is just a speck in its history.
Having observed, chronicled and studied its spectacular eruptions and lava flows, The United States Geological Survey is an incredible repository of all things Kilauea over the years. The volcanoʻs latest spectacle, the Kamokuna ocean entry, has inspired photographers from around the world to flock to the Hawaii Island coastline to get a peek at her for the first time, but for Kilauea, this display is nothing new. These are episodes as old as time.
1.
In early February, a firehose of lava pours into the sea at the Kamokuna ocean entry on Hawaii Island.
2.
A tour boat gets close to the Kamokuna ocean entry where the 61G flow pours into the sea.
3.
Sparks fly at Kilauea at night. A littoral explosion at Kamokuna hurls spatter approximately 50 m high on January 28, 1996.
4.
Lava fountain in the Kilauea East Rift Zone on February 25, 1983.
5.
The summit lava lake at dusk, contained within the larger Halemaumau Crater, on February 1, 2014.
6.
A scientist, protected by a shield, takes a temperature measurement at Kilauea in 1984.
7.
Puu Oo fountain reaches approximately 99 meters (328 feet) high. Dark clots of spatter land near the base of the fountain, contributing to the growth of the cone.
8.
A bus embedded in lava at Kalapana. By December 1990, an entire community lay buried beneath 15 meters (50 feet) of lava.
9.
Aa lava flow advances down a Royal Gardens subdivision street in 1983 while scientists observe with concern.
10.
Puu Oo cone early in the September 1983 eruption.
11.
Aerial view of lava stream from Puu Oo, Kilauea on July 1, 1983.
12.
Prevailing winds cause Puu Oo's cinder-and-spatter cone to grow asymmetrical by July 1986.
13.
View of lava flows from above of Kupaianaha cutting through forest in February 1990.
14.
Littoral explosion at Kamoamoa produces black cloud of spatter at base of billowing white steam plume in February 1993.
15.
Pahoehoe flow draining into skylight of lava tube on upper flow field at Kilauea in 1996.
16.
On March 16, 2017, the lava stream at the Kamokuna ocean entry is roughly 1–2 meters wide (3–6 feet), and plunges about 20 meters (66 feet) into the water.
17.
The lava lake in the Puu Oo crater, which measures about 249 m (820 feet) in diameter.
18.
Northeast view of Puu Oo fountain and aa flow in the summer of 1984. The broad, fan-shaped flow style in the foreground is typical of aa on a low-angle slope.
19.
A skylight on the Puu Oo crater at Kilauea in early June 2016, about 6 meters (20 feet) across, reveals the world beneath.
20.
The sun blares through a fume cloud from Puu Oo, as viewed from the Uwekahuna overlook at the Kilauea summit.
21.
The Puu Oo fountain from above. When this photo was taken on July 28, 1984, high fountain heights ranged from 490 to 985 feet throughout the day.
22.
A three-story house in Kalapana Gardens is ignited by a lava flow, which entered the subdivision on April 17, 1990. By April 24, more than a dozen houses were destroyed. By the end of 1990, the total number of homes destroyed was 121.
23.
Near Wahaula Visitor Center, ropy pahoehoe lava forms.
24.
In 1996, dome fountains at Puu Oo, the largest of which was 7.62 meters (25 feet high), formed over the skylight of a lava tube during an eruptive surge, feeding a channelized flow down the slope of Pulama pali.
25.
Children on their bikes in Kalapana Gardens watch as lava moves into their neighborhood. Some of the people whose land was left buried by the flow were tenth generation residents of Kalapana.
26.
A geologist collects spatter samples while Puu Oo continues to fountain in February 1993.
27.
Skylight in the roof of a lava tube inland of Kamoamoa. The steam plume in the background marks where the lava enters the ocean in March 1994.
28.
The sun sets over the coast at Kamokuna in January 2017.