2nd annual Hawaii Honey Festival buzzes on Hawaii Island this Saturday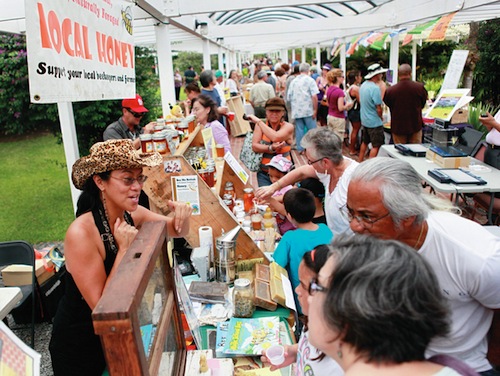 This weekend, something sweet is happening just south of Hilo.
The Big Island Bee Keepers Association will host their 2nd annual Hawaii Honey Festival Sat., Nov. 22 at Nani Mau Gardens on Hawaii Island. The event celebrates the hard work of Hawaii's honeybees and their keepers.
Visitors to the Hawaii Honey Festival can expect educational talks alongside observational hives, a mead-making lecture, garden tours with Nani Mau's master gardeners, bee-related crafts and vendors, honey-enhanced food—like honey grilled vegetables with basil pesto or Asian sticky honey garlic wings—as well as two live bands. There will be organized keiki activities such as beehive decorating, a treasure hunt and a chance to replicate the bees' waggle dance.
Festival-goers can also meet Susannah Austin, the American Honey Queen from the American Beekeeping Federation. Austin has been on Hawaii Island for the past week giving talks to area school children about the importance of bees.
But the real opportunity here is a chance to sample and learn about a wide variety of honey from across the state.
According to the Hawaii Beekeepers' Association, the first successful hive of honeybees arrived in Oahu in 1857. Today, large and small apiaries produce tropical honeys on all of the main Hawaiian Islands.
The Hawaii Honey Festival was originally founded to showcase the winners of the annual statewide Natural Honey Challenge, now in its fifth year. This year's winning honey will be announced at the festival.
Though the judges have already submitted their results, festival attendees can taste and vote for the competition's "People's Choice" award. Apiaries from Oahu, Maui, Kauai, Hawaii Island and Molokai will showcase their natural, unheated, unfiltered, raw honey for consideration. Guests can sample and vote on comb, liquid and solid tropical multi-floral honeys. Honey made from the nectar of specific plants—such as macadamia, coffee, guava and kiawe, a type of mesquite tree—can also be sampled.

If you can't make it to the festival this weekend but are still interested in learning more about Hawaii Island bees and honey, the Big Island Beekeepers Association holds regular monthly open-to-the-public meetings at the Kamana Senior Center in Hilo. The group also keeps hives for demonstration and education at the Komohana Research Extension Center at the University of Hawaii's College of Tropical Agriculture and Human Resources. For more information, visit the Big Island Beekeepers Association website.
The Hawaii Honey Fest charges a $5 admission taken at the door. Children 12 and under are free.