3 Oahu Resorts Perfect for the Traveling Family
Match your travel style to the right destination, and you'll be sure to have the Hawaii vacation of your dreams.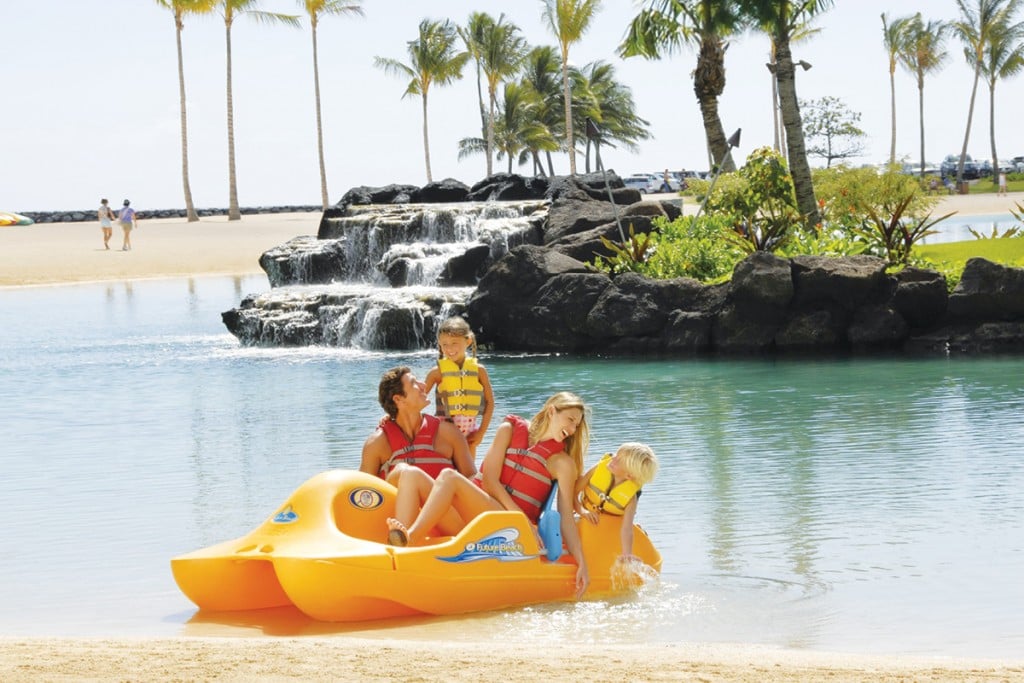 Gentle ocean playgrounds with sand-castle-building potential, simplified menus for elementary palates, convenience stores stocked with snacks and floaties—these amenities quickly win the hearts of families vacationing in Hawaii. But choosing the ideal resort also depends largely on what kind of experience you're looking for: Do you want to see it all, do it all or get away from it all? Fear not, brave holiday-makers with strollers and tablets in tow. Beyond the basics of kid-friendly pools and adults-only quiet zones, these three Oahu resorts boast exceptional family offerings that showcase the charm of their locations. Match your travel style to the right destination, and you'll be sure to have the vacation of your dreams.
Hilton Hawaiian Village Waikiki Beach Resort
Location: Waikiki  Travel Type: City Slickers
If sightseeing, shopping and entertainment are top priorities, the Hilton Hawaiian Village Waikiki Beach Resort puts you right in the mix. It's a short Uber ride to kid favorites like the Honolulu Zoo, the Waikiki Aquarium and Diamond Head Crater. For those who are still chugging after dark, nearby dining and nightlife options abound with Ala Moana Center, International Market Place and the trendy Kakaako district.
The vibe at the Hilton Hawaiian Village is always lively, with Hawaiian music streaming from open-air lounges and sidewalks buzzing with conversation. With five pools, a saltwater lagoon and 22 beachfront acres, there's no shortage of watery fun—the hardest part may be dragging your child away from the longest slide in Waikiki. Most recommended: The Atlantis Submarines adventure, which offers a glimpse of undersea life without having to get wet; the Waikiki Starlight Luau, where kids can sample poi but have tater tots as a fallback; and Friday night fireworks lagoon-side, a fabulous crowd-pleaser at any age.
Turtle Bay Resort
Location: Kahuku Travel Type: Explorers
The only resort on Oahu's North Shore, Turtle Bay Resort is a prime destination for the ocean enthusiast. During winter, you'll have a front-row seat to watch surfers charging down multistory waves; in the summer, you can float effortlessly down the coastline on a board or a boat for miles and miles. With the hotel's location on a rocky promontory between two bays, dreamy vistas are around every corner, with plenty of spots to simply sit and marvel at the sea.
For landlubbers, the property has 12 acres of trails and 5 miles of rugged shoreline that beg for quiet exploration, whether on foot, bike, horseback or even by Segway. A day trip to the nearby Polynesian Cultural Center provides an engaging, hands-on introduction to Pacific island cultures, and the sensational night performance, "Ha: Breath of Life," is a legitimate excuse for kids to stay up past bedtime.
Missing your four-legged family members? Aspiring groms (kid surfers) can take lessons with a surfing pup or go for a walk through the shady ironwood trees with Pono, a playful snow-white labrador, Turtle Bay's canine ambassador. A special treat for keiki under 7 is the Pony Experience, a meet and greet with Lilikoi or Misty, miniature horses that children can feed and brush before saddling up for a short ride around the seaside pasture adjacent to the stables.
Four Seasons Resort Oahu at Ko Olina
Location: Ko Olina Travel Type: Creatures of Comfort and Leisure
"Leave your worries behind," is a promise that never fully applies to parents vacationing with kids in tow. The Four Seasons Resort Oahu at Ko Olina fully understands that, and its commitment to the highest standards of hospitality means the staff here does most of the worrying for you. It boasts a safe swimming beach with free boogie boards and stand-up boards, lei-making and outrigger canoe paddling lessons, keiki yoga, even a skate camp. Luxury can be pretty cool, too.
If a splendorous retreat is your goal, this resort delivers. Its ambiance is organic to its setting—beauty without pretension, natural not commercialized. Even during peak season, there's no wait for the elevator, and there's always a seat in the hot tub. Parents who take advantage of the complimentary Camp Kohola, an activity-filled daycare program for kids ages 5 to 12, can unwind with a mai tai in the island's longest infinity pool, heated to a perfectly comfortable 85 degrees.
A vacation is all about making memories, and the sensory impressions here are deep and varied: The colorful splay of fresh fish that the fish sommelier at Mina's Fish House presents to the table. The breathtaking West Side sunset and its pastel-painted sky. And perhaps the most indulgent moment of all: The peaceful silence as you sink into the plush Four Seasons bed to get what every parent deserves most—a complete and restful night's sleep.
Catharine Lo Griffin has been writing about people, places, and culture in Hawaii for 20 years. Her 4-year-old daughter Lia eagerly accompanies her on family travel assignments. As tough a critic as they come, Lia pays particular attention to mattress springiness, elevator buttons and chocolate desserts.