3 Thrift Stores You Need to Find on Hawaiʻi Island
In a small community a mile away from Kealakekua, there's a treasure trove of historic collectibles and discounted designer clothing.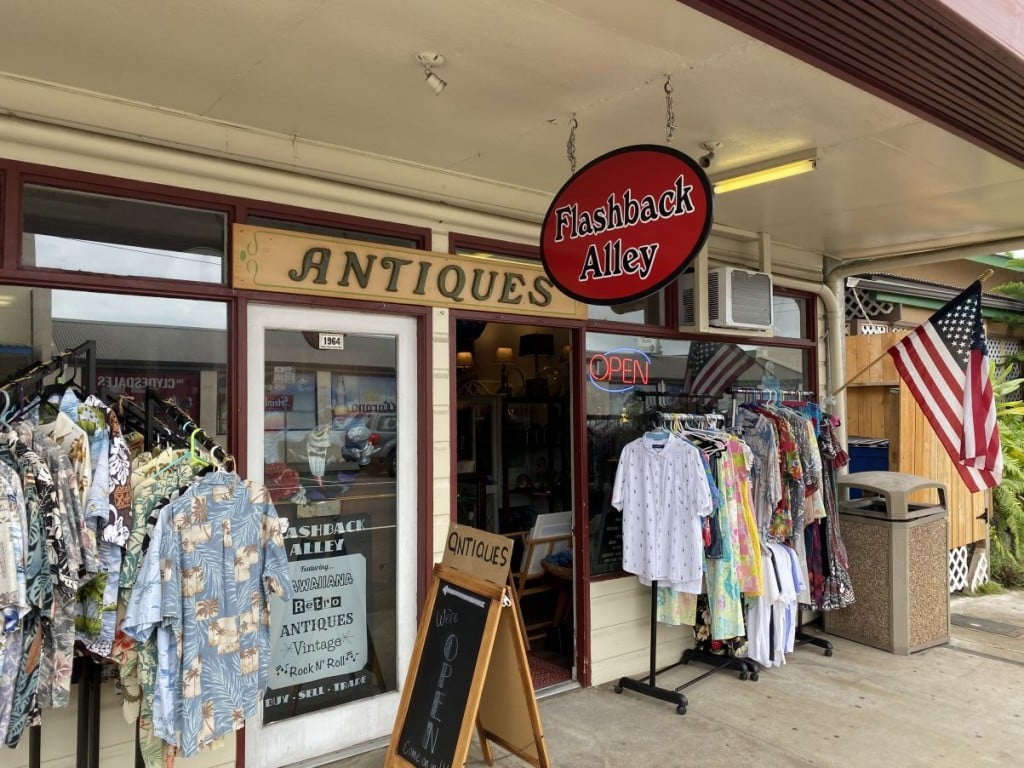 On a short stretch of Māmalahoa Highway, just before the town of Kealakekua, you can spend your entire day perusing the various wares, relics and vintage clothing of thrift and antique shops of Captain Cook. Make sure your eyes aren't bigger than your savings, however, or you'll lose your afternoon and whatever you've got in your wallet as well.
Flashback Alley (79-7393 Māmalahoa Highway), located across the street from the historic Standard Bakery (which you might want to hit first to fuel up for this thrifting spree), is less a thrift store and more a curated vendor of antique Hawaiʻi relics. Displayed on shelves and tabletops are old-school Hawaiʻi memorabilia—how about a dinner menu from the Royal Hawaiian Hotel from 1951 ($125)—and other peculiar oddities that you'd expect to find in a thrift store, like a commemorative edition model of the intergalactic Star Destroyer ($35) from Star Wars fame.
The curators at Flashback Alley know the value of their goodes, and you'll be paying top dollar. For example, a gorgeous sketching of a Hawaiʻi-landscape by John Kelly, circa the 1950s, has a pretty price tag of $1,000.
If you're looking for a more traditional thrifting experience, Deja Vu Consignment (79-7401 Māmalahoa Highway), located down the block on the corner of Māmalahoa Highway and Basques Way, is your stop. Selling everything old and new, Deja Vu Consignment's cluttered space looks like a typical thrift store that took a vacation to a tropical island and brought back everything it could find. Those who love to thrift will have a fun time digging through the store's extensive stock of aloha shirts, muʻumuʻu, collectibles and old Hawaiiana artifacts.
Unlike Flashback Alley, the prices at Deja Vu aren't nearly as high. There is an entire section full of muʻumuʻu going for as low as $5 a piece, and even its more expensive collector's items won't break the bank. HAWAIʻI editor, Catherine Toth Fox, found a vintage Sig Zane aloha shirt for $75.
If you're looking for something more, uh, interesting, visit Creative Costumes (79-7412 Māmalahoa Highway), an aptly named thrift shop just across the street from Deja Vu. Selling everything that shouts "PARTY!" at the top of its lungs, Creative Costumes wheels and deals in bright, flashy apparel—think boho jackets and bellbottom jeans straight out of the '70s, as well as brighter dresses and suit that can be worn to a dinner party or as a last-minute Halloween costume. The shop calls it "hustle clothing," presumably because you're doing the hustle while wearing it.
Comic book fans will also be happy to know that a decent section of the store is devoted to carrying collectible graphic novels. There's also a fair amount of superhero gear for sale, a few examples include a batarang replica and Star-Lord's iconic mask, that make for great Halloween costume materials or very off-kilter souvenirs. "Hey I went to Hawaiʻi, here's a batarang."