Everything You Need To Know About Lychee in Hawaiʻi
The high-demand fruit, in season from now through September, has come to represent summer in the Islands.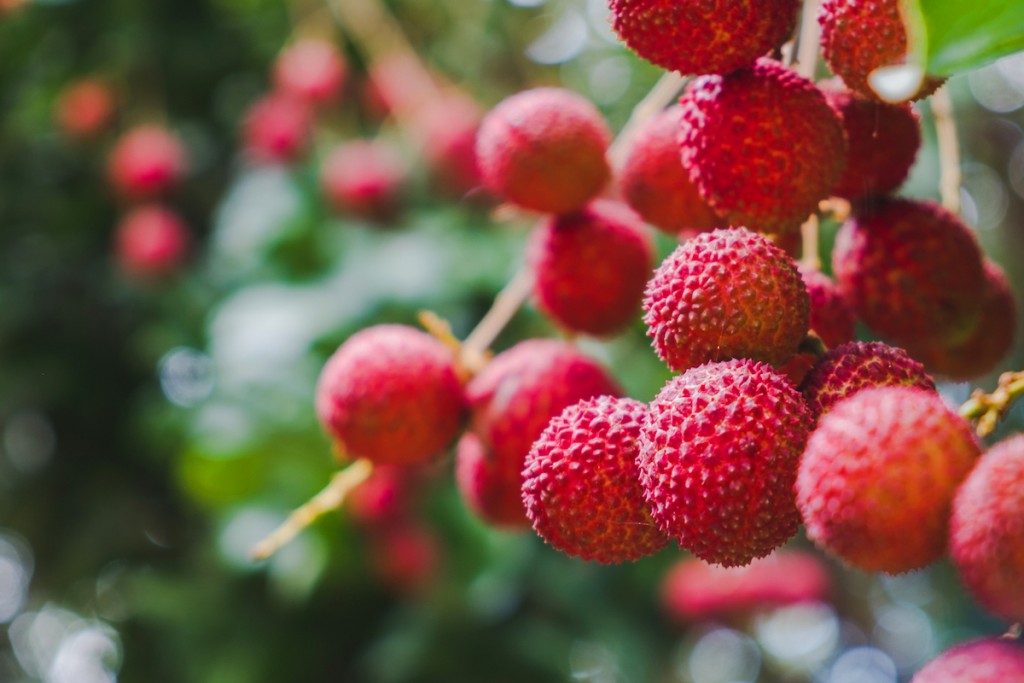 Springer Kaye remembers growing up in Mānoa on Oʻahu with a neighbor who would share lychee with her family. It has always reminded her of summer in Hawaiʻi.
"We would sit there, with that big paper bag of lychee, covered in the sticky sap," says Kaye, who now operates Kaye Family Farms, a lychee farm on Hawaiʻi Island.
Lychee seasons run from May through September in the Islands. And for many of us who grew up in Hawaiʻi, it's not summer until you peel the prickly red skin of a lychee fruit and feast on the sweet, juicy translucent fruit inside.
With fewer and fewer trees in backyards in the Islands—this is true for mango trees, too, cut down because they're too hard or expensive to maintain or to make room for extensions to homes—lychee has become a coveted fruit, commanding $7 a pound in local grocery stores. (Kaye's neighbor in Mānoa eventually cut down his tree, too.)
So what's the deal with lychee, anyway?
Let's start from the beginning.
Lychee (Litchi chinensis) is an evergreen tree that produces round, red, rough-skinned fruits. Originally from southeast China, lychee was brought to Hawaiʻi in 1873 by Ching Chock and planted on the property of Chun Afong at the corner of Nuʻuanu and School streets in Honolulu. It was known as the "Afong Tree."
There are hundreds of varieties of lychee around the world, though you'll find only three most often in Hawaiʻi's: Kwai Mi (the first lychee introduced to the Islands), Groff and Kaimana.
Lychee is most often eaten right off the tree—or, even better, right out of the fridge. The best lychee fruits boast a juicy, sweet flesh inside with a smaller seed. It's hard to describe the taste—though, to be sure, it tastes nothing like the canned version. It's almost a cross between a strawberry and a grape, with a sweet, floral fragrance. While in season, you can find lychee in everything from cocktails to sorbet in Hawaiʻi.
You want to look for a red, rosy color with a smoothed-out skin, says Kaye: "When lychee matures, the scales around the middle of the fruit should be smooth, and they should have a little give to it."
You want to put lychee in the fridge—or freezer—ASAP. You can't leave them on your kitchen counter for very long. Fruits last up to three weeks in the fridge—put them in a damp paper bag—or three months in the freezer. If the shell dries out and turns brown, it doesn't necessarily mean the fruit inside is bad, too, she says.
Deliciousness aside, lychee also has health benefits to note. It's loaded with vitamin C—more than oranges and lemons—antioxidants and B-complex vitamins like niacin and folates.
So how do you pronounce it?
In Hawaiʻi, we say, lai-chee. In other places, it's pronounced, lee-chee. Which is correct? Likely, neither. But when in Hawaiʻi…
Hawaiʻi Island arguably grows the best lychee, says Ken Love, executive director of the Hawaiʻi Tropical Fruit Growers, because of the combination of ample rainfall and heat, which causes the fruits to have a higher sugar content, therefore sweeter.
Kaye's 28-acre farm in Honomū, about 15 miles north of Hilo (and near ʻAkaka Falls), specializes in lychee. She has 120 trees—with more being planted—producing about 5,000 pounds of fruit a year. She sells them direct to customers within the state—and they go quick. (Other, larger farms can sell to the Mainland.) Every Friday she posts her inventory on her website for the coming week and she's sold out in 20 minutes. Her last harvest was over the Fourth of July weekend.
Kaye's favorite way to eat lychee?
"Lately, we've been making lychee drinks," she says. "We blend it—equal parts lychee and ice—and add coconut milk. You can even add a shot of vodka, if you want. It's such a nice, frothy ice-cold drink to have on a hot day."