3 Tropical Cocktails to Celebrate National Rum Day
You'll love these potent tropical recipes from Koloa Rum on Kauai.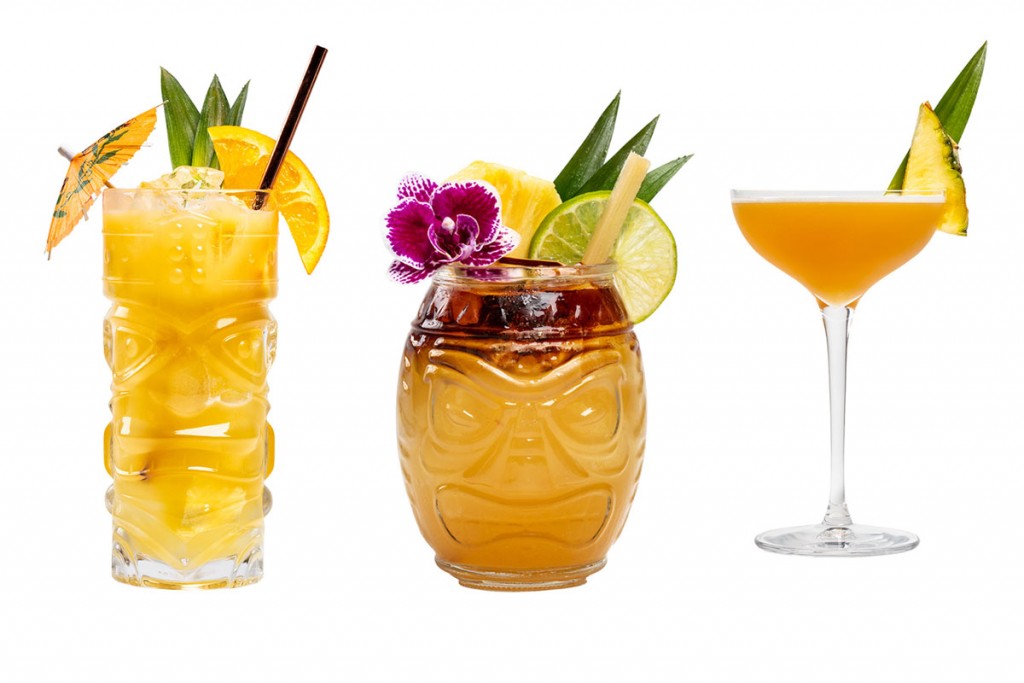 On Friday, Aug. 16 we will be celebrating National Rum Day—and what better way to celebrate (and have people asking "but why is the rum gone?") than with one of these tropical-tasting drinks that come to us courtesy local distiller Koloa Rum Co., made from Hawaiian sugarcane on the island of Kauai.
Classic Koloa Tai
Ingredients:
.75 oz. Koloa white rum
.75 oz. Koloa Gold rum
.75 oz. Koloa dark rum
.5 oz. Clement Creole Shrubb Liqueur d'Orange or Grand Marnier
1 oz lime juice
.25 oz. pineapple juice
.25 oz. orange juice
.75 oz. orgeat
Instructions: Add Koloa white and Gold rums, Clement Creole Shrubb, juices, orgeat and ice. Shake and strain over ice in a tiki mug/glass and top with a Koloa dark rum float.
Garnish: Umbrella, lime wheel, pineapple slice, sugarcane stick and/or orchid.
Coconut Pineapple Daiquiri
Ingredients:
1.5 oz. Koloa coconut rum
.5 oz. Koloa dark rum
.5 oz. pineapple liquor
.5 oz. pineapple Juice
.5 oz. simple syrup (1:1)*
Instructions: Add all ingredients together with ice. Shake and strain into a coupe glass.
Garnish: Fresh pineapple wedge and pineapple leaf.
Spiced Pineapple Rum Punch *Batch Cocktail
Ingredients:
1 cup Koloa spice rum
1/2 cup Koloa white rum
2 1/2 cup fresh pineapple juice
1 cup fresh orange juice
1/2 cup lime juice
Few drops of citrus bitters
1 cup ginger ale
1 cup lemon-lime soda
Instructions: Combine the rum, juices, simple syrup and bitters in a pitcher without ice. Let chill a few hours before serving to blend the flavors. Use fresh-pressed/squeezed juices if possible, for a fresher flavor.
Garnish: Use simple syrup to create a cinnamon-sugar rim and garnish pineapple wedge.