30th Duke Kahanamoku Beach Challenge in Waikiki, March 15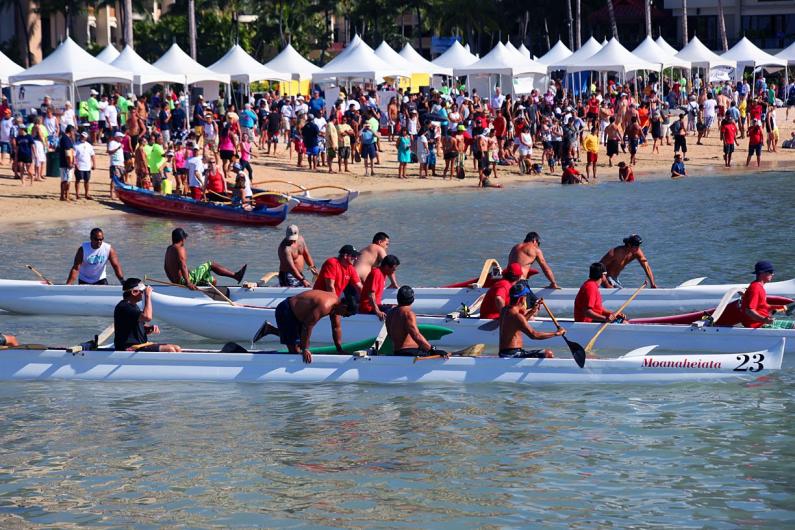 The sands and waters off Waikiki will play host to the 30th annual Duke Kahanamoku Beach Challenge this Sun., March 15. The one-day only event will bring traditional Hawaiian competitive events, outrigger canoe races, entertainment and a craft fair to the Duke Kahanamoku Beach and Lagoon fronting the Hilton Hawaiian Village Waikiki and the Duke statue.
The free and open to the public community event kicks off at 9 a.m. with a traditional double-hulled canoe procession, oli (chant) and hula kahiko (ancient hula) performances.
A full day of water-based events start with the quarter-mile shoreline canoe sprints at 10 a.m. Stand-up paddleboard races will begin from the mauka (mountain/inland) side of the lagoon shortly thereafter.
Every year the event honors notable Hawaii men and women who have contributed to Hawaiian water culture. For its 30th year, the event will honor its namesake Duke Kahanamoku, the famed Hawaii Olympic gold medal swimmer and surfer credited within bringing the sport into the global spotlight. Duke Kahanamoku's grandnieces and grandnephews will be in attendance to receive this honor.
Everyone is welcome to try their hand at the land-based makahiki games—traditional Hawaiian games played during the season of Makahiki, a time of bounty and strengthened community bonds. Events such as ulu maika (sand bowling), konane (Hawaiian checkers) and hukihuki (tug of war) will play out in the sand. All this will be set to the sounds of performing Hawaii artists Waipuna, The Lyman Ohana, Streetlight Cadence and the Shining Star Band.
The Duke Kahanamoku Challenge was founded in 1985 as a community service project by the Waikiki Jaycees. Though there's no charge to participate in makahiki games, watch the races, enjoy the entertainment or peruse the various Hawaiian arts and crafts on display, ocean race competitors are charged fees as a fundraiser for the nonprofit Waikiki Community Center's programs and assistance for area families in need.