30th year of Honolulu City Lights, biggest of many Hawaii holiday light displays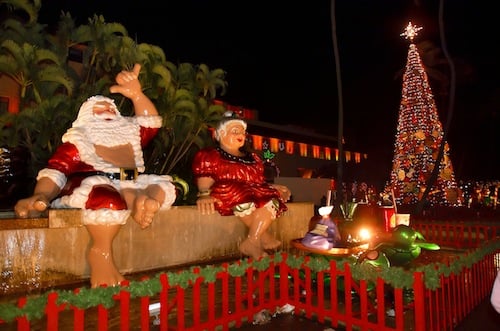 With its palm trees, fragrant flowers and mild temperatures, it can be easy to forget that it's the start of the holiday season here on Oahu. That is, until you drive past Honolulu Hale (Oahu's historic city hall).
Earlier this week, a giant 21-foot shaka-flashing Santa and a lei-draped Tutu Mele (aka Mrs. Claus) took their places—as they have for years—along the building's fountain pool. And, there's much more to come.
This Sat., Dec. 6 marks the start of the 30th anniversary of Honolulu City Lights kicking off a bright, month-long calendar of lights-filled displays and events. The opening celebration includes the Public Workers Electric Light Parade, the mayor's tree lighting ceremony, musical performances and the opening of wreath and tree exhibits within Honolulu Hale Courtyard.
If you're on Oahu this Saturday and looking to revel in the holiday cheer, a good starting point is Honolulu Hale and the Civic Center grounds where food booths, souvenir stands, keiki rides and Santa visits begin at 4 p.m. (If you're not, the events will be live-streamed by broadcast channel Olelo here; we've also rounded up a list of Neighbor Island festivities below).
The Electric Light Parade—a processional of floats, bands and decorated public vehicles that annually draw tens of thousands of spectators—will begin in Aala Park around 6 p.m. This year's parade will feature an emcee from the original Honolulu City Lights, Ms. Emme Tomimbang, and a special guest also celebrating an important anniversary: Hello Kitty. The Sanrio creation turned 40 this year and will be riding with Macy's contingent in the parade. Because of the crowds, it's always smart to arrive along the parade route early for the best spots.
The parade will follow King Street through downtown onto Chinatown, with the first float passing Honolulu Hale around 6:30 p.m.—in time to coincide with the mayor's lighting of the 50-foot Norfolk pine tree on the building's lawn. This year, the tree is decorated with candy, bows and large-scale versions of its limited edition gold Shaka Santa and scenic ornaments created to celebrate the event's 30th anniversary. The tree lighting will trigger a chain reaction, illuminating a corridor of lights through downtown Honolulu.
After the Santa Claus float passes Honolulu Hale around 7:45 signaling the end of the parade, a holiday concert will begin on the Civic Center grounds. Musical guests include headliner Willie K. and his band, the Sounds of Aloha Barbershop Chorous, the Joan S. Lindsey Hula Studio/Ka Pa Nani 'O Lilinoe, Maunalua and Ciana Pelekai, a season-four contestant of America's Got Talent from Hawaii.
The celebration will continue throughout the month with daily evening lights, tree and wreath displays, as well as other special events offering a chance to craft ornaments, meet Santa or enjoy some free milk and cookies.
For more information about Honolulu City Lights and related events, click here.
Though Honolulu City Lights is Hawaii's largest, it's by no means the only festive holiday display event in the Islands. Here are some of the Neighbor Island holiday lights displays and celebrations:
KAUAI:
Lihue, Friday, Dec. 5—The 18th annual Festival of Lights, a homey celebration of holiday folk art, will shine in Lihue until Dec. 24. Thousands are expected to attend opening night festivities at the County Building. Events begin at 6 p.m. and include carols sung by the Kauai Chorale, a visit from Santa, the illumination of hundreds of thousands of lights in Historic Park and the Lights on Rice Parade with its procession of island-themed floats. Expect a display of unusual and nostalgic decorations created from recycled materials—such as a Christmas tree made from 7,500 green toothpicks, a tree bedecked in ornaments fashioned from aluminum cans, wreaths made from egg cartons and Kauai-style trees featuring themes like SPAM and hula bears—all housed in the Historic County Building. Holiday lights will shine every night between the opening ceremony and Dec. 27, but the indoor holiday decorations can only be viewed on weekends.
MAUI:
Lahaina, Sat., Dec. 6 & Sun., Dec. 7—Thousands of colored lights will illuminate the historic banyan tree in downtown Lahaina when the switch is flipped on the 17th annual Lighting of the Banyan Tree. This downtown landmark is hard to miss, lights or no—it was planted in 1873 and now, with its multiple trunks, encompasses nearly an acre. Hula performances, cookie decorating, face painting, a holiday crafts fair, music and a snowman carved from ice will all be part of the celebration that will last throughout the weekend.
HAWAII ISLAND:
Waimea, Sat. Dec. 6—The 54th Christmas Twilight Parade (from 5:15 to 6:45 p.m.), the lighting of the town's tree, storytelling, caroling, a handbell choir, craft shows and entertainment kick off the start of the holiday season in the cowboy town of Waimea. All vendors participating in the accompanying craft fair will be donating to the Big Island Giving Tree's holiday collection.

Note: Though we try to be thorough, our list is not comprehensive. If we've missed your favorite Hawaii public light display, please let us know on our HAWAII Magazine Facebook page.