34th annual Hawaii International Film Festival kicks off 15-day multi-island slate of global cinema this week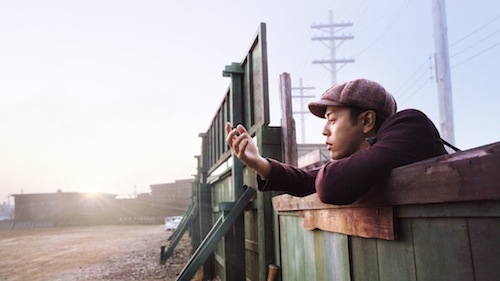 Grab your popcorn and mochi crunch! The 34th annual Hawaii International Film Festival (HIFF) kicks off this week with a lineup of nearly 200 diverse films from around the globe. The festival happens Oct. 30 to Nov. 9 on Oahu, and Nov. 13 to 16 on Hawaii Island and Kauai.
HIFF is Hawaii's largest independent film festival, over the years earning an especially solid reputation for its programming of films from Hawaii, Asia and the Pacific region.
This year's festival theme, "Find Your Moment," is all about audience engagement. A great film makes you feel, but all too often watching a movie is a one-way dialogue. HIFF is encouraging moviegoers to share their feelings, reactions and responses to this year's slate of films on social media using the Twitter hashtag #myhiffmoment. (This would be after, and not during, the films of course!).
HIFF's packed 2014 schedule includes 198 thought-provoking, quirky, serious, question-raising, informative, fun and artistic offerings from 45 countries around the world.
The fest will kick off its screenings with the U.S. premiere of The Vancouver Asahi, a Japanese film about the rise and fall of an immigrant baseball team that played in Canada in the 1930s, prior to World War II. The film is expected to be one of Japan's big Christmas-season releases. HIFF's director of programming Anderson Le said of the film, "It is rare to see the World War II internment camp experience through the lens of Japanese nationals in a major motion picture." The Vancouver Asahi will be shown on Oct. 30 in Oahu and on Nov. 13 in Hilo for the start of HIFF's neighbor island screenings.
In addition to The Vancouver Asahi, the festival includes 32 other U.S. premieres, 61 Hawaii premieres and 8 world premiere events.
Other notable screenings include The Imitation Game, a film about Alan Turing, the British man credited with helping to crack the German Enigma Code, which led to the allies' victory in World War II. The movie, starring Benedict Cumberbatch and Kiera Knightley, will be presented as HIFF's Centerpiece Gala. The fest's closing night film will feature the world premiere of Visions in the Dark: The Life of Pinky Thompson, a documentary about the well known native Hawaiian cultural and community leader Myron B. "Pinky" Thompson.
Some of HIFF's many thematic film groupings this year include: "Made in Hawaii," "Pacific Showcase," "Film for Thought," "New American Filmmakers," and "Pacific Cinema Made in Hawaii." Fest "Spotlight" film groupings will highlight works from China, India, Japan, Korea, Philippines, Taiwan and Southeast Asia. "EuroCinema Hawaii" returns as a HIFF sponsor this year, bringing several European-made films in a sort of festival-within-a-festival.
Most of the movies for the Oahu portion of HIFF will be shown at the Regal Dole Cannery Stadium 18 & IMAX in Honolulu, though a few events will also be held at other venues throughout the island. All Hawaii Island HIFF films will be screened at the Palace Theater in Hilo and Kauai films at the Waimea Theatre.
Check HIFF's online schedule for specific screening locations and times. For more information about the Hawaii International Film Festival, click here.
Later this week, we'll be sharing a few of our must-see Hawaii-themed and -filmed picks from this year's HIFF lineup. So stay tuned!
34th annual Hawaii International Film Festival
Oct. 30- Nov. 9, Oahu and Nov. 13-16, Hawaii Island and Kauai
(808) 792-1577 • hiff.org