4 New Reasons to Camp at Malaekahana Beach on Oahu
Have you ever slept under the stars at Malaekahana Beach on Oahu's North Shore?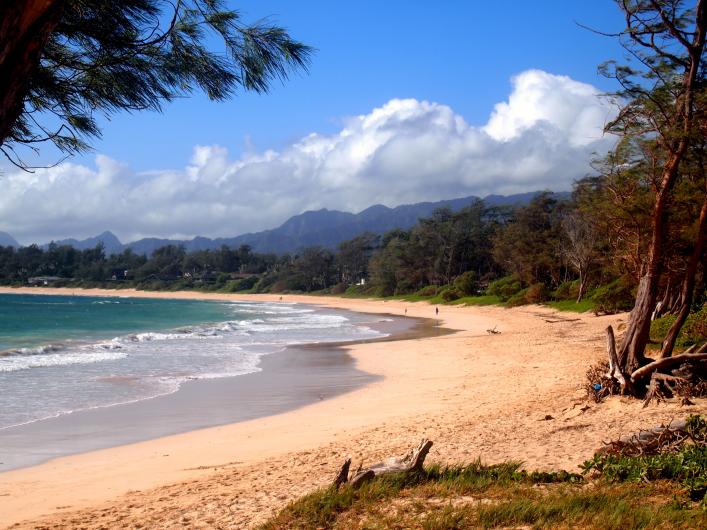 Have you ever slept under the stars at Malaekahana Beach on Oahu's North Shore?
Whether you've visited before or plan on making a first-time visit, there are some exciting improvements you should know about. A new company, Malaekahana Beach Campground, took ownership of the campsite of the same name. Its grand opening was held in July, and with it came new changes and improvements to the grounds.
Here they are:
1. Bigger, better huts
Sure, you can still bring your own tent and camping gear, but if you opt for the huts, expect improvement. The former company's huts were knocked down in November 2014 and bigger, sturdier ones were built in their place. The Plantation Hale ($60/night)—resembling plantation era huts—holds up to four guests with access to the shower and toilet facilities. There are also Plantation Suites ($115/night)—made from refurbished shipping containers—which holds up to four people and features electricity, an indoor bathroom and porch.
2. Food Truck
Malaekahana Beach Campground knows that part of the camping experience is to prepare and cook your own meals. But they also understand that sometimes preparing three meals a day can take up time you'd rather be out in the water or exploring the campgrounds. So, it brought food truck, Kamaaina Grinds to its grounds to serve from 8:30 a.m. to 2 p.m. Kamaaina Grinds offers foods like kalua pork omelette ($8), sweet bread French toast ($7.50), plate lunches ($11-12) and shave ice ($2–$3).
3. Camp Store
No toilet paper? No charcoal? No sunscreen? No problem. Now there's a camp store stocked with all the necessities needed to enjoy your time out in nature. Need a rash guard for daytime water activities? What about a flashlight at night? The store has all of that and more. A full list of what's available can be found online.
4. Land and water activity rentals
Speaking of the camp store, there are also rentals for land and water fun. Want to explore the surrounding towns of Laie and Kahuku on a cruiser bike? Want to catch some waves on a boogie board? Now you can. Rent paddleboards, surfboards, horseshoes, boccie ball, croquet or badminton. The hardest part will be figuring out which one you'll want to do first.
Stay tuned because Malaekahana Beach Campground is also planning to add on surf and SUP lessons, as well as a canoe tour by the end of the year.