4 reasons to visit Oahu's North Shore on a summer day
While the surf may be flat and the pros are chasing waves elsewhere, there's still plenty of fun to be had.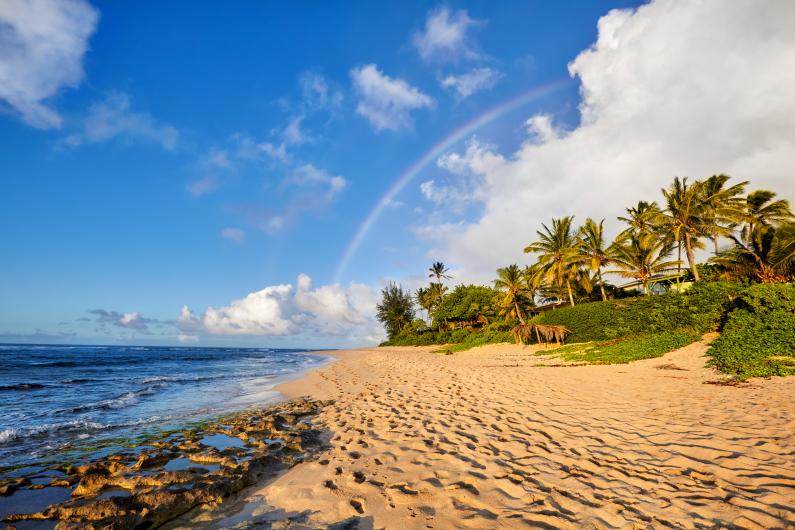 The monster winter swells on Oahu's North Shore is world famous, but summertime is a different story. While the surf may be flat and professional surfers are chasing waves elsewhere, there's still plenty of fun to be had. Here are four reasons why the North Shore is just as great in the summer.
1. You can swim in Waimea Bay.
Waimea Bay is rough, if not impossible to swim in during the winter. After all, it's where the storied Quiksilver in Memory of Eddie Aikau big wave surf contest is held in honor of the eponymous surfer and lifeguard. (It was most recently held this February; in the contest's 31-year existence, the waves have only been big enough for the contest to take place nine times.) But in the summer, the bay is calm and it's a great swimming spot. The wide stretch of beach is the perfect place to relax afterward. Parking can still be challenging, so plan ahead.
2. You can snorkel Shark's Cove.
Like Waimea Bay surf in the winter, Shark's Cove in Pupukea is pounding. The summer months however, usher in a tranquil sea revealing the cove's true identity: a killer snorkeling spot. The rocky bay is home to coral teeming with humuhumunukunukuapuaa, parrot fish, butterfly fish, eels, crustaceans, even honu (sea turtle). Sharks Cove isn't a sandy beach, but rather a rocky area—there's a grassy area nearby, though—so watch your step getting in and out of the water. Sharks Cove is popular, too, so plan accordingly. After you've worked up your appetite snorkeling, hit up the aptly-named Sharks Cove Grill food truck across the street.
3. You can actually learn to surf.
North Shore's summertime waves may be a minuscule version of its winter immensity, but for surfer newbies, it is the perfect time to paddle out and learn. Hans Hedemann Surf School is an experienced surf operations and its North Shore location at Turtle Bay Resort takes first time surfers out on famous surrounding area breaks (its other location is in Waikiki).
Group lessons (with three to four students per instructor) start at $95 per person, or get a private lesson starting at $175 per person. OK, so you won't look like Haleiwa's-own John John Florence after one session, but you can at least say you've surfed in some of the same breaks as the multi-award winning surf pro.
4. You can watch polo in Mokuleia. (Yes, polo.)
Sunday in Mokuleia means one thing: polo. Since 1963, the Hawaii Polo Club has hosted teams from around the world for a friendly competitive polo match at its North Shore, oceanside field. Polo on Oahu brings a diverse crowd, and don't worry if you don't know anything about it, you can always ask your tailgate neighbor, or in the least, share a beer or grilled hotdog (the polo matches are BYOB, grills and all the fixings). After each match, the fun continues with live music until the sun goes down. The season runs from April through September with matches every Sunday beginning at 2 p.m. Admission is $12.