5 Family-Friendly Trails to Explore Hawaii's Natural Beauty
These trails are great ways to explore the tropical outdoors—and tire out the kids, too.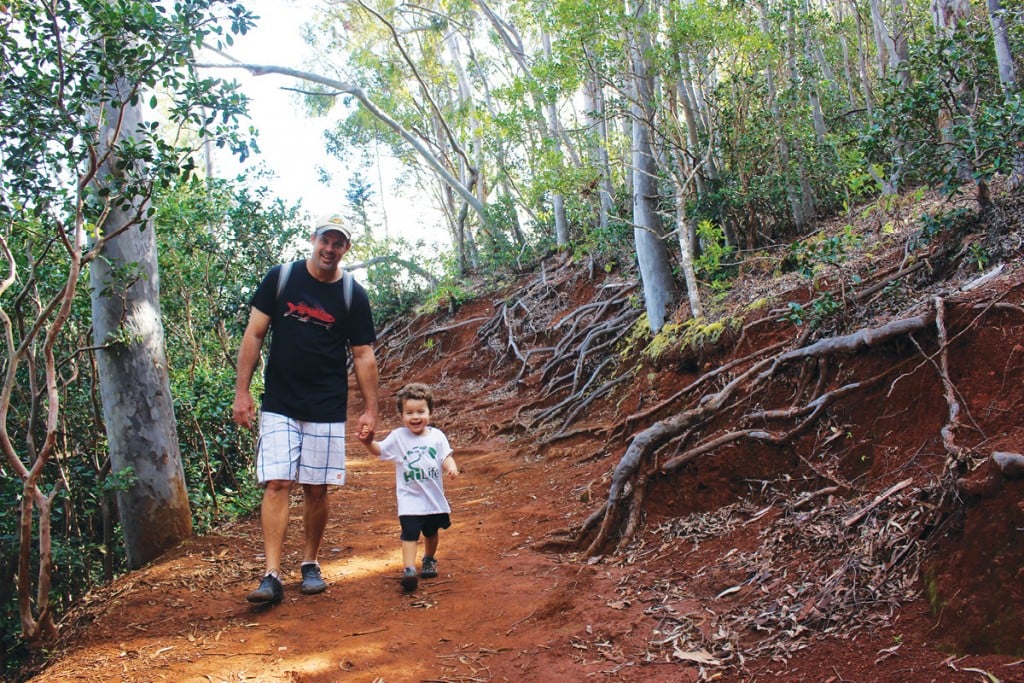 My son was only a couple of months old when he embarked on his first hike—snug in an Ergo and napping the entire 2-mile trek to the top of the Makapuu Lighthouse Trail along the southeastern coastline of Oahu. It's an easy hike I've done my entire life growing up here, and one I did at least once a week with my three dogs. A newborn wasn't going to change that.
But as he's gotten older—he's an adventurous toddler now who can't fit in any hiking packs we have—trekking with him isn't as easy. We have to find short trails that are safe for him to explore in areas that have all the things parents want: parking, cell reception, restrooms.
Hawaii has dozens of kid-friendly hiking trails, from leisurely coastal strolls to uphill adventures to waterfalls. Here are five that my family loves:
Aiea Loop Trail (Oahu)
Length:  4.8-mile loop
Amenities:  Restrooms, parking, trash cans at the park
Fee:  None
Tips:  Bring insect repellent. Trail can get muddy in parts. Dogs on leashes are allowed.
This state-run trail, located about 10 miles northwest of Waikiki, starts and ends at Keaiwa Heiau State Recreation Area, a 384-acre park where the trailhead is located. There are no huge rocks to climb, no stairs to a summit; instead, this mostly shady trail runs along the ridge on the west side of Halawa Valley with views of Pearl Harbor, Leahi (Diamond Head) and the Koolau Mountains. The hike isn't strenuous, though there are some gradual uphill sections and a stream crossing at the end of the trail—nothing kids (or parents with babies in carriers) couldn't handle. The path meanders through fragrant lemon eucalyptus trees and majestic Norfolk Island pines. You can also see native koa and ohia trees and, if you're lucky, the endemic Oahu elepaio (monarch flycatcher), which are thriving here. There are also remnants of a B-24 bomber that crashed in the area in 1944. Look for it!
99-1849 Aiea Heights Drive, Aiea
Makapuu Point Lighthouse Trail (Oahu)
Length:  2 miles roundtrip
Amenities:  Parking, trash cans
Fee:  None
Tips:  Wear sun protection. Bring a lot of water. The nearest public bathrooms are at Makapuu Beach, less than a mile away. Dogs on leashes are allowed.
This short but scenic trail to the top of the windswept cliffs above the easternmost point of Oahu is a family favorite—and for a variety reasons: The entire path is paved, so parents can easily push their little ones in strollers; the uphill sections are gradual and easy for kids; and the views of the rugged coastline and offshore islands are breathtaking. At the top, you can gaze down at the 46-foot-tall Makapuu Point Lighthouse, built in 1909. During winter months, you can often see humpback whales frolicking in the warm waters offshore—another spectacular sight. Warning: As inviting as they may look, don't trek down to the tide pools at the base of the cliff. Large waves can break and sweep over rocks, flooding the pools and pulling people out to sea. There are no lifeguards here.
On Kalanianaole Highway past Sandy Beach and before Makapuu Beach Park
Waihou Spring Trail (Maui)
Length:  1.8-mile loop
Amenities:  Parking, trash cans
Fee:  None
Tips:  Bring rain gear and wear sturdy shoes. Dogs on leashes are allowed.
This trail follows an old plantation road in Makawao through a forest of pine, Cyprus and eucalyptus trees planted in the 1920s. The state-run Waihou Spring Forest Reserve was established in 1909 to protect one of the few perennial springs on the west slope of Haleakala. The loop trail follows a ridgeline, then descends into a gulch. Along the way, you'll walk through native koa and hala pepe, a species found in the Hawaiian dryland forest that sprout green pom-poms of leaves atop its slender trunks. Kids will love them.
2463 Olinda Road, Makawao
Mahaulepu Heritage Trail (Kauai)
Length: 4 miles roundtrip
Amenities:  Parking, restrooms and showers at Shipwreck Beach
Fee: None
Tips:  Wear sunscreen and sturdy shoes. Bring a lot of water. Shipwreck Beach is not suitable for swimming. Dogs on leashes are allowed.
This coastal trail traverses the southern shoreline of Kauai, with dramatic views of the ocean and different terrain to keep it interesting for young trekkers. The hike starts at Shipwreck Beach, then runs along limestone cliffs, past a fishing heiau (Hawaiian temple), across sand dunes and even next to a golf course. (Just watch out for errant golf balls!) The hike isn't strenuous, though it can get hot. Along the way you can detour to Makauwahi Cave, the state's largest open-ceiling limestone cavern.
At Shipwreck Beach, at the end of Ainakoa Street, Poipu
Akaka Falls Loop Trail (Hawaii Island)
Length:  0.4-mile loop
Amenities:  Parking, restrooms, trash cans, water fountains
Fee:  $5 per car, $1 per pedestrian
Tips:  Bring insect repellent and a rain jacket.
If your kids love waterfalls, this is one of the easiest hikes on Hawaii Island to reach two—in less than an hour. Located in northeastern Hilo, this pleasant half-mile loop trail takes you through a lush rainforest filled with wild orchids, bamboo groves and draping ferns. Soon after you start along the paved footpath, you'll reach the 100-foot Kahuna Falls. Just around the bend, you'll see the second, more dramatic 'Akaka Falls, which plummets 442 feet into a gorge below. There are some steps along the path—with railings—but that may be the most treacherous part of the trail.
875 Akaka Falls Road, Honomu
Hiking Tips
1. Check weather. Trail conditions can change quickly with even just a light rain.
2. Bring proper gear. Wear sturdy shoes, bring sun protection, pack a change of clothes and towels. Insect repellent and rain gear won't hurt, either.
3. Be prepared. Have enough water and snacks for you and your kids.
4. Allow extra time. Hiking with kids takes longer, period. Let them rest, explore and learn along the way.