5 Fun Products To Help You Show Your Love for Spam
You might have heard: In Hawaii, we love Spam.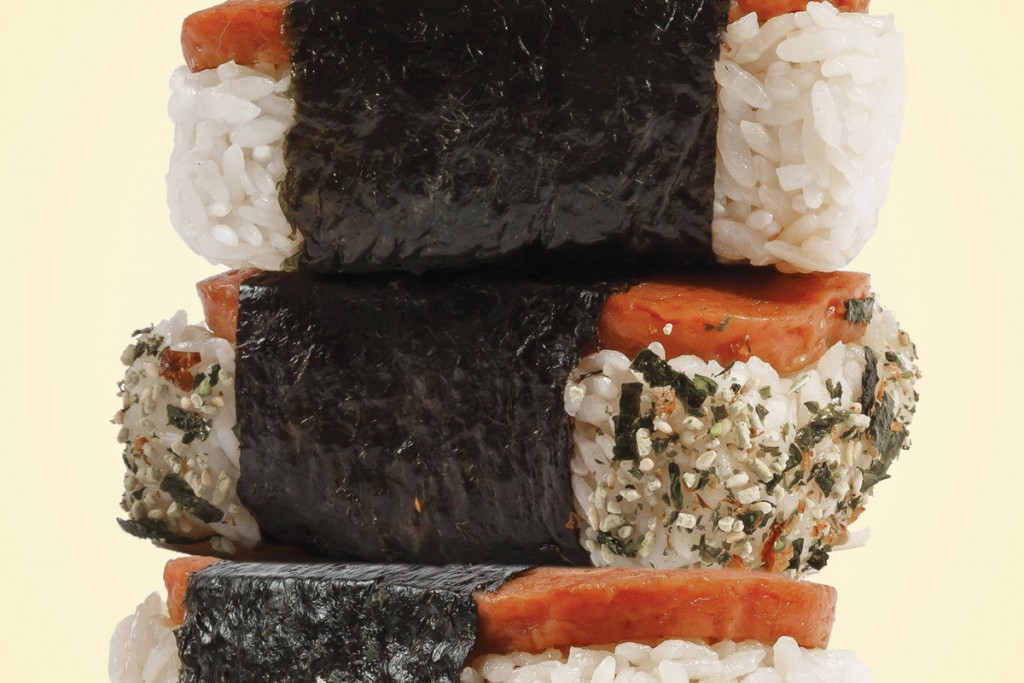 You might have heard: We love Spam. We fry slices of it for breakfast, tuck it into musubi, add slivers to bowls of saimin. You'll find this canned luncheon meat from Austin, Minnesota in restaurants from the House Without A Key at the luxe Halekulani in Waikiki to the old-school Hamura's Saimin Stand in Lihue on Kauai. Even McDonald's and 7-Elevens in Hawaii serve some form of the pink meat. And every April, more than 35,000 people flock to the annual Waikiki Spam Jam to sample innovative Spam dishes created by dozens of Oahu restaurants.
Fun Fact:
Introduced in 1937 by Hormel Foods, more Spam is consumed per person in Hawaii than in any other state. Almost 7 million cans of Spam are eaten every year in the Islands.
Show your love for Spam with these products you can buy online.
Love Spam Brand Hat
Spam Hawaii, $18
If any state should have a Spam-themed online shop, it should be Hawaii. Residents here consume more Spam products per capita than anywhere else in the U.S. And, since 2015, Spam Hawaii has provided the gear to go along with that obsession. In addition to T-shirts, mugs and totes, the online shop sells a dozen different trucker hats—all for the love of Spam. spam-hawaii.com.
Spam Musubi Rattle
Toshi Tots, $20
Three years ago, Hilo-born artist Toshi Spracklen—who now lives in New Jersey—started making baby rattles shaped like Spam musubi and selling them on Etsy. Since then, interest in the rattles has blown up. Now you can find her adorable fabric rattles in Eden in Love boutiques in Kakaako and Waikiki, as well as online. They're great gifts for moms-to-be who have a thing for Hawaii—or Spam. etsy.com/shop/ToshiTots.
Musubi Mug
TheHIQuality, $12
If a Spam musubi is the first you think about in the morning, this is the mug for you. Hawaii native Faryn Kogachi, who now lives in California, makes a ceramic mug with double nigiri-style Spam musubi—a nice reminder of what you may want for lunch. She also sells a beach towel ($25) emblazoned with the same print. thehiquality.com.
Spam Musubi Handmade Ceramic Magnet
Beachcake, $10
Local artist Mariko Merritt designs one-of-a-kind ceramic pieces and greeting cards from her Mānoa Valley studio in Honolulu. Stick this tiny Spam musubi magnet on your fridge or in your office cubicle as a little reminder of your favorite Spam snack. etsy.com/shop/beachcake.
Spam Sticker Cute Kawaii
TinyHearts808, $3
Kawaii in Japanese means cute, and it certainly describes this vinyl decal. Stick this rosy-cheeked Spam musubi on your laptop, water bottle or smartphone to show your Spam pride. The company also sells Spam musubi button magnets ($11.95 for six in a variety pack) and greeting cards ($2.95 each), too. etsy.com/shop/TinyHearts808.