5 Kauai Yoga Classes and Retreats for Every Style
On the island of Kauai, the synergy of yogic science and Hawaii's striking sense of place breeds a little bit of magic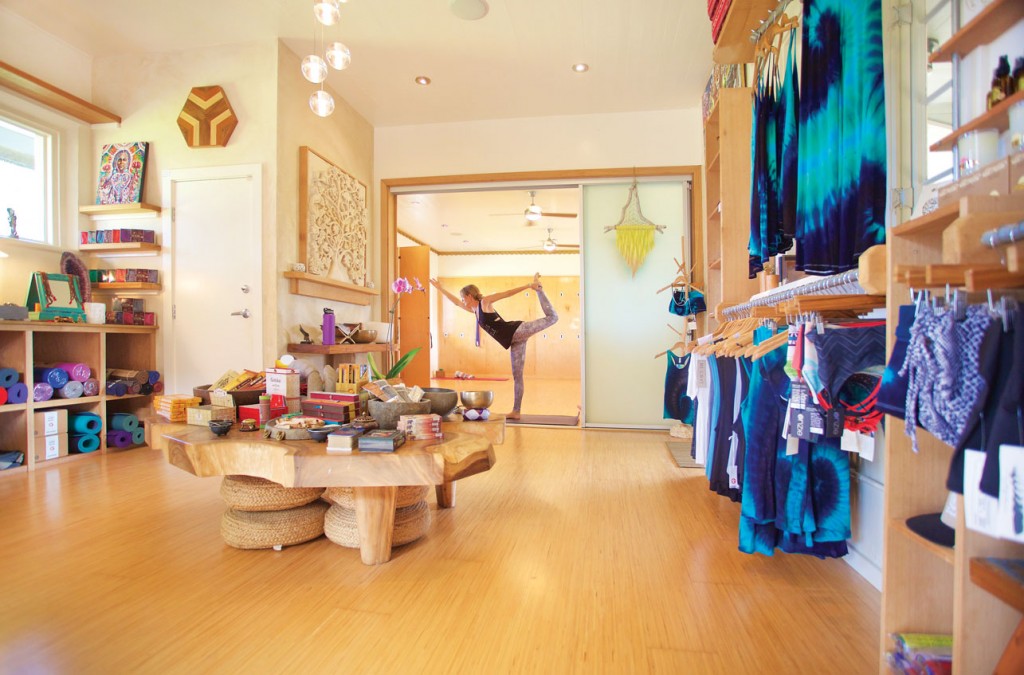 The breath is yoga's foundation. On the mat, breathing exercises unlock the code to stress relief, mental clarity and pranayama—the Sanskrit word for conscious breathing, which literally means "to extend the vital life force."
Native Hawaiians have also revered breath. Similar to other Polynesian cultures, Hawaiians greeted one another with a traditional honi—the joining of the bridges of their noses while taking in a deep and audible breath, known as the ha (breath).
On Kauai, this special symbiosis between yoga and local culture is reflected at scores of yoga classes and retreats. And with the tranquility-inducing effects of simply being in the presence of so many waterfalls, rainbows and fantastically shaped mountain peaks, you're halfway to Zen before you even roll out your mat.
1. Restore yourself at Yoga Hanalei
Nestled in the shadow of the lush Hanalei mountains, Yoga Hanalei celebrates yoga as a system of self-care and healing. Founded in 1999 by Bhavani Maki, an authority on the psychology of yoga, the studio's teaching faculty presents a fresh, non-dogmatic approach to Hatha, Vinyasa, Ashtanga and restorative yoga, as well as meditation and yogic philosophy.
"Yoga is really about breaking off contact with unnecessary pain," says Maki, who made seven trips to Mysore, India to study with Sri K. Pattabhi Jois, and enjoyed the rare privilege of hosting him twice at her home on Kauai. "Rather than just give people a workout, what we try to do is educate people about how to take care of themselves so that they leave class with some useful tools and information. We believe yoga is so powerful in its ability to help us develop the right attitude to face the big challenges in life."
Yoga Hanalei's beautiful, airy studio hosts 30 weekly classes, some of which utilize a 21-station rope wall to aid practitioners in inverted postures and extension, as well as the longest-running yoga teacher training program on the island.
Drop-in: $20; Traveler's Pass: $55 for three classes, valid 14 days. 5-5161 Kuhio Hwy., Suite E204, Hanalei, (808) 826-YOGA, yogahanalei.com.
2. Sweat it out with Lulu Streltzer
Blending yogic postures and breathing with a challenging full-body workout, Lulu Streltzer is the guru of yoga for non-yogis. Surfers, professional athletes and folks looking to break a sweat flock to Streltzer's seven weekly heated Vinyasa flow classes, which are built to cultivate long, lean muscles and an inner sense of calm and strength. Among Streltzer's dedicated students are world-renowned big-wave surfer Laird Hamilton and former pro volleyball player Gabby Reece.
"I gear my classes toward people who want a good workout, who want to work on their core and who might not go to yoga otherwise—and then I seep in what I find to be the beauty of yoga," says Streltzer, who also offers weekly Yin yoga and free silent meditation. "To me, the beauty of yoga is not in the workout or trying to look a certain way or trying to burn a lot of calories, but often that's where you get the people to come. The breath and the attunement to the moment are the most important things happening during class. Everything else is just an enhancer to that."
Drop-in: $20; Traveler's Pass: $50 for three classes, valid seven days. Princeville Shopping Center, 5-4280 Kuhio Hwy., Suite G-201, Princeville, (808) 652-6582, yogawithlulu.com.
3. Meditate by the beach at Kauai Shores Hotel
If you're seeking a practice inspired by nature, there's no place better to roll out the yoga mat than the lawn fronting Kauai Shores Hotel. It's here, amid the roar of the surf, that Anya Morozov offers three weekly Yin yoga classes complete with stunning oceanfront views. A classically trained ballet dancer from Russia, Morozov relishes the balance that yoga brings to the mind and body. Her soothing classes serve to guide students on a journey to release physical and emotional pain.
"This is a place for people to connect with the ocean and connect with their breath," Morozov says. "There are no walls to constrict you. You're smelling the ocean breeze, there are ever-changing clouds above you and you're practicing a kind of yoga that is very gentle."
In addition to her weekly classes, Morozov hosts full-moon yoga ceremonies ($100), which include a meditation, a 90-minute Yin yoga practice, a beachside bonfire and ayurvedic feast. She also leads meditation tours to Kauai's Hindu Monastery ($50) and offers twice weekly beach yoga with another instructor at Poipu's Shipwreck Beach.
Drop-in: $20 donation. The lawn at Kauai Shores Hotel, 420 Papaloa Road, Kapaa, (808) 635-6050, kauaiyogaonthebeach.com.
4. Yoga for Everyone at Metamorphose
Named for the process of change that occurs within a butterfly chrysalis, Metamorphose is a warm and welcoming yoga studio offering 18 weekly classes in Kilauea's historic Stone Building. Daily Vinyasa classes deliver opportunities to explore sun salutations, arm balances and inverted postures while restorative and therapeutic classes delve into slow movement, supported postures and techniques to encourage relaxation. Children interested in yoga and well-behaved pets are welcome in the studio.
"Our niche is we are very accommodating," said director Carol Dumeyer. "We definitely want to make yoga accessible to everyone, and sometimes that means people who are newer to practicing or recovering from injuries. Life is challenging enough. I want yoga to be something supportive that feels good. So we definitely are able to meet people where they are. At the same time, the opportunity is always available for people to explore and do more for those people with a stronger practice."
Drop-in: $18, Five-class pack: $75. 4270 Kilauea Rd., Kilauea, (808) 828-6292, metamorphoseyoga.com.
5. Retreat for the Week with Diane Cline
A practitioner of Kundalini yoga, Diane Cline's luxury retreats combine breath, mudra, eye-focus, mantra and postures into a practice that balances body, mind and soul. Her five-day retreats, offered on Kauai's north shore, also incorporate meditation, crystal-bowl sound healing and outdoor excursions, such as snorkeling with turtles. Retreats include airport transit, lodging and two daily meals prepared by a private chef. In addition to her Princeville retreats, planned for April 1 to 7, Cline will also host retreats on Hawaii Island (March 11 to 16) and Bali, Indonesia (May 20 to 27). She also offers weekly Kundalini yoga, sound healing and meditation classes on Kauai's north shore.
"I call my retreats empowerment retreats because there's so much more involved than Kundalini yoga," Cline says. "It's about getting tools to be happy and healthy. I incorporate sound healing and teachings of the divine feminine and excursions to places on Kauai that are considered sacred by Hawaiians. These are luxury, immersive retreats, and everyone who shows up just ends up loving each other."
Five-day, six-night retreats range from $1,950 to $2,450. Princeville, Kauai, (480) 244-7676, yogainspirations.com.