5 Most Stunning Places to Camp on Maui
Pitch your tent beside a black-sand beach, inside a volcano or in a redwood forest at these gorgeous Maui campsites.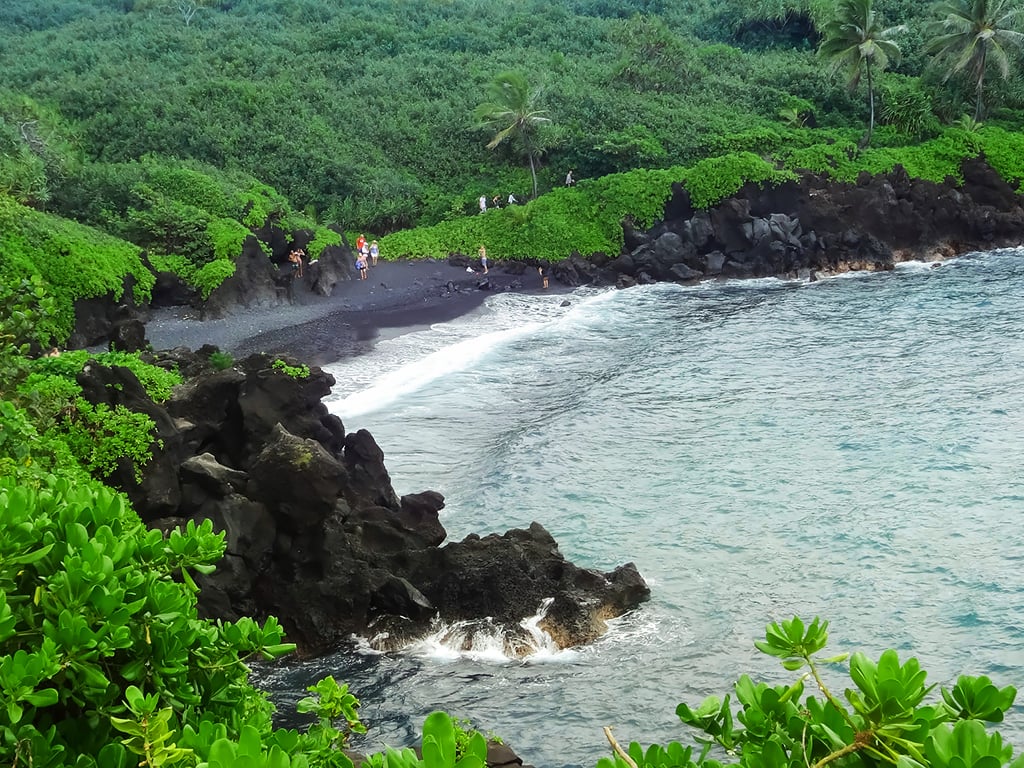 Maui is an island of extremes. It's one of the few places in the U.S. you can camp inside a volcano or on a black-sand beach. The weather outside can be cold and wet, or hot and dry, often in the same day, within a few miles of each other. Make sure you know where you're planning to camp, and what the climate is like at each spot.  Once you've done your research and gotten your camping permit, step out into the stunning beauty of Maui's diverse landscape to pitch your tent at one of these top spots.
Waianapanapa State Park
Type: State
Maui's famous black-sand beach, Pailoa, located in Hana, is a must-see destination for any visitor to the island—camping there takes the experience to the next level.
Wake up to waves crashing on the jet-black beach nearby and explore the freshwater lava tube caves, tide pools, paths built for ancient Hawaiian royalty, hidden swimming holes, a native hala forest, ocean arches and other rugged landmarks that are part of the unreal terrain. There's just so much to discover here.
The state park campsite has 12 furnished cabins with electricity (reserve ahead because they can fill up fast) and full campsite amenities like restrooms, outdoor showers and picnic tables, as well as a designated grassy area for tent camping.
At the end of Waiʻanapanapa Road, off Hana Highway in Hana. Cabins: $90 per night for non-residents and $60 per night for Hawaii residents. Tent camping: $18 per night for nonresidents (up to six people, $3 per night for each additional person), and $12 for residents, children ages 2 and under free. (808) 984-8109, for reservations, visit dlnr.hawaii.gov/dsp/parks/maui/waianapanapa-state-park.
Haleakala National Park
Type: Federal
There are four good spots to camp in Haleakala, two that are more accessible and two that you'll have to hike to.
Hosmer Grove, at 7,000 feet, sleeps 50 people. Just outside the campsite, you'll find a beautiful half-mile self-guided nature trail.
Kipahulu, at sea level, sleeps 100 people. A ten-minute walk away are the famous pools of Oheo. This site is excellent for hiking, swimming and gorgeous scenery, as well as a 4-mile loop trail on Pipiwai Trail to Waimoku Falls.
Both sites have amenities including picnic tables, barbecue grills and pit toilets. It is $15 for a three-day pass for every vehicle, and free camping at both sites on a first-come, first-serve basis. No food or gas can be found inside the park, so plan accordingly.
If real wilderness camping is more your thing, hike in to the more challenging Holua and Paliku campsites, above 7,000 feet. Each of the grounds has a limit of 25 people, with a group limit of 12 people. Amenities are basic: Pit toilets and non-potable water. There are three basic wilderness cabins at Paliku, Kapalaoa and Holua, built in the 1930s by the Civilian Corps and maintained by the National Park Service. Campers can get the required free permit to camp at any Haleakala visitor center, after doing a 10-minute orientation. It can get cold at higher elevation, so bring jackets and warm sleeping bags, but the stark beauty of the volcanic crater and vivid clarity of the stars at night make getting to these sites worth it.
Park headquarters and the summit can be reached from Kahului via Route 37 to 377 to 378. Kīpahulu is reached from Route 36 to 360 to 31. Free campground permits are given on a first come, first serve basis from 8am to 3pm at the Headquarters Visitor Center, although special accommodations can be made up to 6 months ahead of time for educational groups. Maximum stay is 3 nights in a 30-day period. (808) 572-4400. For more information, visit nps.gov/hale/index.htm .
Camp Olowalu
Type: Private
This privately-owned campground is one of the cleanest, most comfortable and highest-rated spots on the island. The facilities are kept up better than at public campgrounds, and equipment rentals for snorkeling, stand-up paddleboarding and kayaking are right on hand, near some of Maui's best reefs.
Affiliate on-site business Kayak Olowalu offers guided kayak trips daily. Amenities include large cabins ($750–$1100 per night, sleeps 6), tentalows ($80–$110 per night, sleeps 2), beachside tent sites ($20 per person per night, tent not included) and places to camp your car or RV ($20 per person per night). If you've got kids, this might be one of the best spots.
800 Olowalu Village Rd., Lahaina, (808) 661-4303, campolowalu.com.
Polipoli Springs State Recreation Area
Type: State
If you're planning on making this a destination, you'll probably want to rent a 4WD vehicle to help you get over the bumpy dirt roads and streams. At 6,500 feet, this campsite is mountainous, with towering trees and some of Maui's best trails waiting just steps away. It gets cold here, so do bring a jacket and a warm sleeping bag. There is one cabin available for $90 per night (non-residents), available by walk-in reservation only. Tents, showers and drinking water are not provided, but the site has restrooms and picnic tables.
Located 9.7 miles upland from Kula in the Kula Forest Reserve on Waipoli Road, off Kekaulike Avenue (Highway 377). Cabins: $90 per night for non-residents and $60 per night for Hawaii residents. Tent camping: $18 per night for nonresidents (up to six people, $3 per night for each additional person), and $12 for residents, children ages 2 and under free.  (808) 984-8109, dlnr.hawaii.gov/dsp/parks/maui/polipoli-spring-state-recreation-area.
Camp Keanae
Type: Private
Along the Road to Hana at Mile Marker 16 is this YMCA-run campsite with a magnificent view of the rocky but beautiful Keanae Peninsula, a short hike away from the Keanae Arboretum and an old Hawaiian village, taro patches and a church that was built in 1856. Rent a bunk at the cabin or tent space (bring your own tent) for $25 per person per night (cabins can sleep 12 to 60 people), or stay at one of two fully equipped ocean-view cottages for $165 a night. Van and RV parking are also available. YMCA facilities on site include a gym, fitness center, great pond for swimming, fire pits, an ice machine and two bath houses with hot showers.
13375 Hana Hwy, Haiku, For reservations and information, (808) 248-8355, mauiymca.org/campk.htm.