5 Reasons You Should Go to the New Year's Ohana Festival 2019
Grilled mochi, taiko drumming, Japanese crafts and more.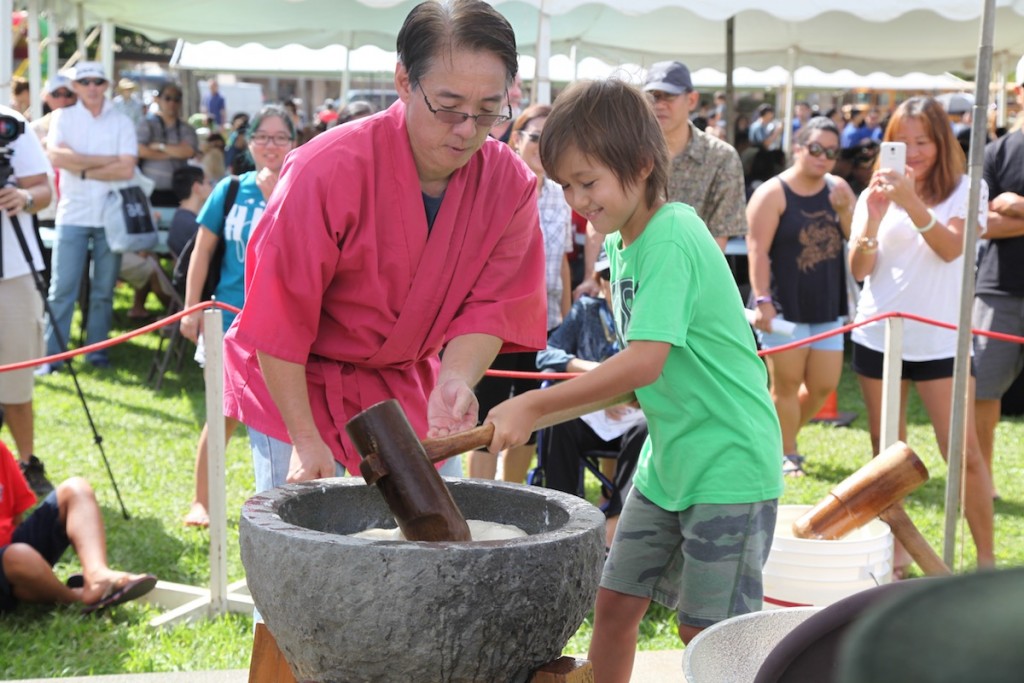 You don't have to fly to Tokyo to sample fresh, gooey mochi or receive a New Year's blessing from a Shinto priest. You can experience all of that and more at the New Year's Ohana Festival on Oahu this weekend.
The 26th annual New Year's Ohana Festival will be from 10 a.m. to 4 p.m. on Sunday, Jan. 13 at the Japanese Cultural Center of Hawaii, less than 3 miles from Waikiki. This special one-day event is free to attend and features dozens of food, cultural and craft vendors. Parking is free at the nearby University of Hawaii at Manoa parking structure with complimentary shuttle service to and from the festival.
Here are five reasons you should check out the festival this Sunday.
1. You love food.
With more than a dozen food tents to choose from, everyone can find something delicious to eat at the Ohana Festival. Head over to Moiliili Field, across the street from the Japanese Cultural Center. You can stop by the Honolulu Hiroshima Kenjin Kai booth to try okonomiyaki, a Japanese savory pancake packed with cabbage and noodles, famous in Japan's southern region. Looking for dessert? Try andagi, an Okinawan-style doughnut, at the Ryukyukoku Matsuri Daiko booth before heading over to Roselani Ice Cream for a sweet treat. Other local favorites at the festival include waffle dogs and local roasted corn.
2. You're crazy about craft fairs.
If you're looking to buy special handcrafted items, be sure to peruse the more than 30 vendors on the street level and fifth floor of the cultural center. On the street level, check out Sumofish, featuring Japanese-inspired apparel; decals; trendy wood prints; and koozies ($8), a unique beverage cooling pouch that stores flat and slaps around your cans and bottles. If you're looking for something cute, visit Janimals for adorable women's and children's T-shirts and clay miniatures (starting at $6). The craft fair will also have snack vendors including Tasty Jerky Hawaii, which offers interesting beef jerky flavors such as adobo, char siu and guava. If you're not a meat eater, try the smoke marlin Tasty Fish Chips ($12) or the spicy Tasty Vegan Chips ($12), made with non-GMO soybeans and Hawaiian chili peppers.
3. You're curious about Japanese culture.
When you want to take a break from all the eating and shopping, head over to the Teruya Courtyard stage or Moiliili Field stage to snag a front row seat for a host of cultural presentations. In addition to performances by taiko (Japanese drumming), odori (traditional dance), instrument and vocal schools, mochi-pounding demonstrations will take place at 11 a.m. and 1:30 p.m. on the Moiliili Field stage. Tea aficionados should stop by the fourth floor of the cultural center to experience chado (tea ceremony) in the Seikoan Tea House, while martial arts enthusiasts can visit the Kenshikan Dojo for aikido, kendo and sword demonstrations. And don't forget to receive your annual New Year's blessing in the fifth-floor ballroom, where three Shinto shrines will be located. Omamori (protective amulets) will also be available for purchase.
4. You want to see your keiki in kimono.
In Japan, people wear kimono, a traditional garment, to festivals and other special events. At the Ohana Festival, you can sign up your child for an hourlong kimono dressing session between 10 a.m. and 2 p.m., which includes a dressing by Masako Formals, use of kimono and accessories and a portrait-sitting fee with King Photo Service. Photos are sold separately. Space is limited so we recommend reserving a space ahead of time by completing and submitting the registration form and payment online by Friday, Jan. 11. Walk-ins are welcome too.
5. Your keiki loves games.
A festival isn't complete without games for the kids and the young at heart. Catch a fish friend at the kingyo sukui (goldfish pond) booth, play the Japanese version of pin the tail on the donkey at the fukuwarai (lucky face) booth and test your knowledge of Hawaiian or Japanese words at the kotoba awase (word matching) booth. There are so many games to try, you'll find yourself joining in on the fun, too!
10 a.m. to 4 p.m., Jan. 13, Japanese Cultural Center of Hawaii, Moiliili, 2454 S. Beretania St., nyof2019.com