5 Things You Didn't Know about Aulii Cravalho, Voice of Disney's 'Moana'
The native Hawaiian teen with a sparkling personality has become a new favorite for people all over the world.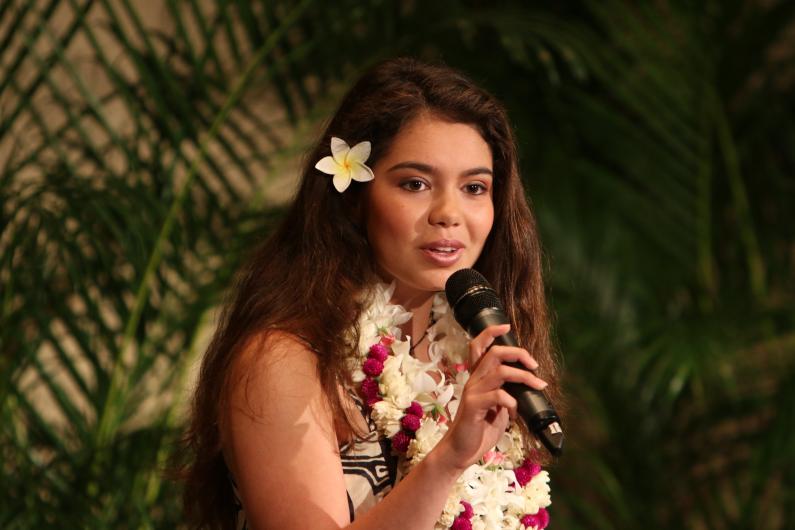 Walt Disney Animation Studios' "Moana" hit theaters on Nov. 23, 2016, and the colorful, heartwarming coming-of-age story set in the South Pacific 2,000 years ago has become a new favorite for people all over the world. The heroine of the film is Moana, a 16-year-old girl with aspirations of trans-Pacific voyaging.
Playing this Polynesian character is Hawaii's Aulii Cravalho, a sophomore at Kamehameha Schools on Oahu, cast when she was 14. To help you get to know the wahine (female) lending her voice to "Moana," here are five facts you may not have known about Aulii Cravalho.
Aulii's favorite Disney character is Mulan.
Growing up in Hawaii, Mulan was Aulii Cravalho's favorite Disney animated character. Much like "Moana," "Mulan" (1998) is named after the heroine of the film and there are themes of honor and family that are featured in both movies that resonate with Cravalho.
"I would say my favorite Disney character was Mulan," she explains, "just because she really brought honor to her family and that's something, that especially this role [Moana], really does honor my awesome culture that I've grown up in."
She has a multicultural ethnic background of five ethnicities.
Like many kamaaina (born and raised in Hawaii), Cravalho has a multiethnic background. In addition to being Native Hawaiian, she is also Chinese, Portuguese, Puerto Rican and Irish.
She's an excellent aquatics athlete.
Cravalho plays water polo, so you know she's a good swimmer. And since her character, Moana, is embarking on a trans-Pacific voyage on a double-hull canoe, being a good swimmer is a necessary skill for both wahine to have.
She's doesn't watch TV because she'd rather be at the beach.
It may seem strange that a future Disney star does not have a TV, but it has to do with Cravalho's love for the ocean and outdoor activities.
"I love the ocean, I love to read and I don't have a TV," says Cravalho. "With all of that, I think it deepens the need to go outside and be outside … I sometimes do my homework at the beach."
Even though she's landed the role of a lifetime, she isn't going to change who she is.
With this newfound stardom, it seems easy for Cravalho to get caught up in the glitz and glamour of Hollywood as the voice of "Moana." But she is focusing on her studies and staying humble thanks to her family through this production.
"I have amazing family members, and although this is really special, they keep me grounded," says Cravalho, who was on her way to study for an AP world history exam after the press conference."As fun as this all is there is a need to settle down and this is really fun, but you need to have a strong support system."