5 tips for attending The Eddie Opening Ceremony at Waimea Bay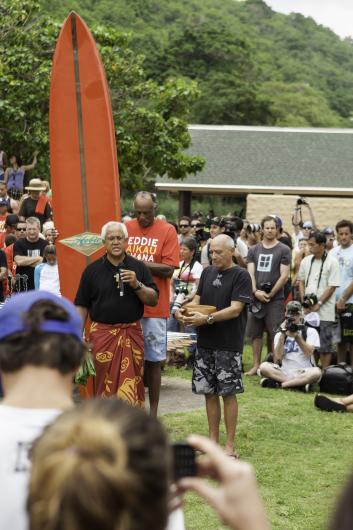 The holding period for the 31st annual Quiksilver In Memory of Eddie Aikau Big Wave Invitational kicked off its three-month holding period yesterday. This is arguably the most-prestigious surf contest in the world, and it is only held when the surf at Waimea Bay reaches 40-foot wave-face heights or bigger. Affectionately called, "The Eddie," the event only needs a single day of competition to run, and as contest director, George Downing, likes to say, "the bay will call the day."
Eddie Aikau was the first lifeguard to work at Waimea Bay, and was a highly-skilled and respected big wave surfer. The Native Hawaiian was also a crew member of Hokulea, the Hawaiian voyaging canoe that utilizes traditional Polynesia star compasses to navigate. When the Hokulea capsized off the the Hawaiian Islands and after a night adrift at sea, Aikau grabbed his surfboard and paddled for help on March 17, 1978. The crew of Hokulea was eventually rescued, but Aikau was never seen again.
The Quiksilver In Memory of Eddie Aikau was established in 1984 as a tribute to the bravery, heroism and selflessness of this great Hawaiian waterman. It was first held at Sunset Beach with Denton Miyamura as the inaugural winner. Eventually, the big wave contest was moved to its current home, Waimea Bay, where Aikau's brother, Clyde Aikau won the event on Feb. 21, 1986. "The Eddie" has only run eight times in its 31-year history, and its most recent winner, Greg Long, negotiated the giant waves of Waimea Bay to victory on Dec. 8, 2009.
In Hawaiian culture, protocol and intention are very important so every year there is an opening ceremony at Waimea Bay to honor the memory of Eddie Aikau as well as bless the competitors. Throughout the years "The Eddie's" opening ceremony has grown in attendance and scope with the expected challenges of a media frenzy. Follow these 5 tips to experience all of the "chicken skin" moments and avoiding the drama of a large crowd tomorrow on Dec. 3 at Waimea Bay.
1. Traffic and Parking
Kamehameha Highway is a two-lane road that runs through the North Shore, and is notorious for traffic jams during big events like the opening ceremony for "The Eddie." With that said, we highly suggest—no, rather we beg—you to plan arriving at least 45 minutes early to enjoy this event and snag a decent parking stall. Don't even bother pulling in to Waimea Bay beach park's parking lot because it will be full with event staff. Instead drive to Waimea Falls (59-864 Kamehameha Hwy., Haleiwa) where event staff will direct you where to park.
2. Spotty cell phone service
Waimea Bay and Falls is notorious for poor cell phone service so have a designated meeting time and place if you're hooking up with some friends or if you get lost. Also, don't bother trying to share your videos and photos from the opening ceremony while you're there. Your phone will lose battery life by the second as it searches for a strong signal to post on social media. We advise you to put your phone on Airplane Mode to save power for shooting photos and videos.
3. Photos
There is usually a designated time for spectators to shoot the surfers so don't be a shutterbug in the beginning of the opening ceremony. Don't shoot photos while the kahu (pastor) is saying his speech and prayer, too. It's disrespectful and will get you a menacing glare from someone that notices what you're doing. Wait till all of the players are in their respective places to get a good pic. Also, a selfie stick will help you get above the crowd.
4. Respect is earned by giving
The opening ceremony of "The Eddie" is a chance for the surfing community to honor a great Hawaiian waterman as well as a chance for the Aikau ohana to remember their late family member. So be on your best behavior and try to step lightly around Waimea Bay Beach Park. This is not an event to bring a cooler, drinks, beach chairs and/or bochi ball. Instead bring humility and attentiveness.
5. Jackets and umbrellas
It's the North Shore of Oahu and it's winter so there is a good chance of rain.