5 tips for traversing Hawaii Island's Saddle Road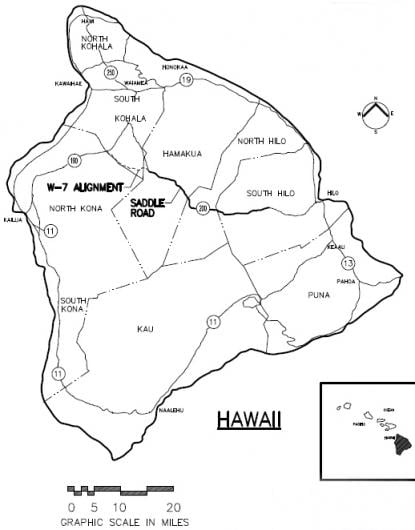 Hawaii Route 200, the Daniel K. Inouye Highway, also called Saddle Road, bisects Hawaii's largest island, cutting over the raised slopes (the saddle) between Mauna Loa and Mauna Kea. The moderately-trafficked, often two-lane road is the fastest route between Kailua-Kona and Hilo and leads to observatory access atop both mountains. For years, the road crumbled and it was considered one of the most dangerous in the state. Now, smooth surfaces cut through the remote Mars-like landscape past grey ohia trees and black lava fields, but still present some hazards.
Here are five tips to make the 90-minute to two-hour trip safely.
1. Ready your car.
Little infrastructure exists on the Saddle Road or the roads leading up to it on either side, aside from a few blue call-boxes for use in an emergency. There is one bathroom at the Mauna Kea Visitor's Access, but no opportunities for snacks or gas for miles. If you've recently been driving on gravel or unpaved roads, check your tire pressure before heading out. The steep grades climbing and descending more than 5,000 feet of elevation on either end of the route will require you regularly press the brakes to keep to the speed limit. Make sure your brakes are in good working order before making the trip, even if you're in a rental car. Fog and rain can roll in quickly here, so its best to keep your headlights on.
2. Pay attention to the speed limit.
It can be easy to get carried away and whip around curves going downhill on Saddle Road. It can also be tempting to cruise through the flatlands and the road's middle stretches. Outside the military training camp, just before Mauna Kea Park if you're coming from the Kona side, the speed limit abruptly drops from 55 to 45 miles per hour and is a common place to get a ticket.
Drivers should note that Hawaii has an "excessive speeding" statute that heavily penalizes drivers caught going 30 miles per hour over the speed limit, or 80 miles per hour anywhere. First time offenders could face a fine between $500 and $1,000, 48 hours in jail and a 30-day license suspension. Ouch.
3. Pass carefully.
Speeding cars can sometimes play leapfrog around one another on Saddle Road—an act especially dangerous when the road narrows to just two lanes. Sometimes, slower trucks will pull onto the shoulder and let cars pass. Follow the directions in the dotted lines indicated on the pavement and never pull into oncoming traffic when there is a solid line on your side of the road or when you can't see far into the distance to check for cars in the other lane.
4. If possible, travel in daylight.
Perhaps because of sensitive scientific equipment atop both mountains, there are few lights illuminating the road at night. Late night traversers have a history of taking the road at top speeds, making this a sometimes-unsafe crossing. To be extra cautious, avoid making the journey between Kona and Hilo via Saddle Road after dark.
5. Bring some CDs.
For a nearly 30-minute stretch in the middle of Saddle Road, radio stations—and cell service—are non-existent. A CD, or a chatty friend, can keep the drive interesting. Or, just enjoy the silence and soak it all in.
Drive safely!