5 Towns You Need to Visit on Your Next Trip to Maui
From the sand-coated streets of Pāʻia to the bohemian borough of Wailuku, you have to stop at these Maui towns and districts.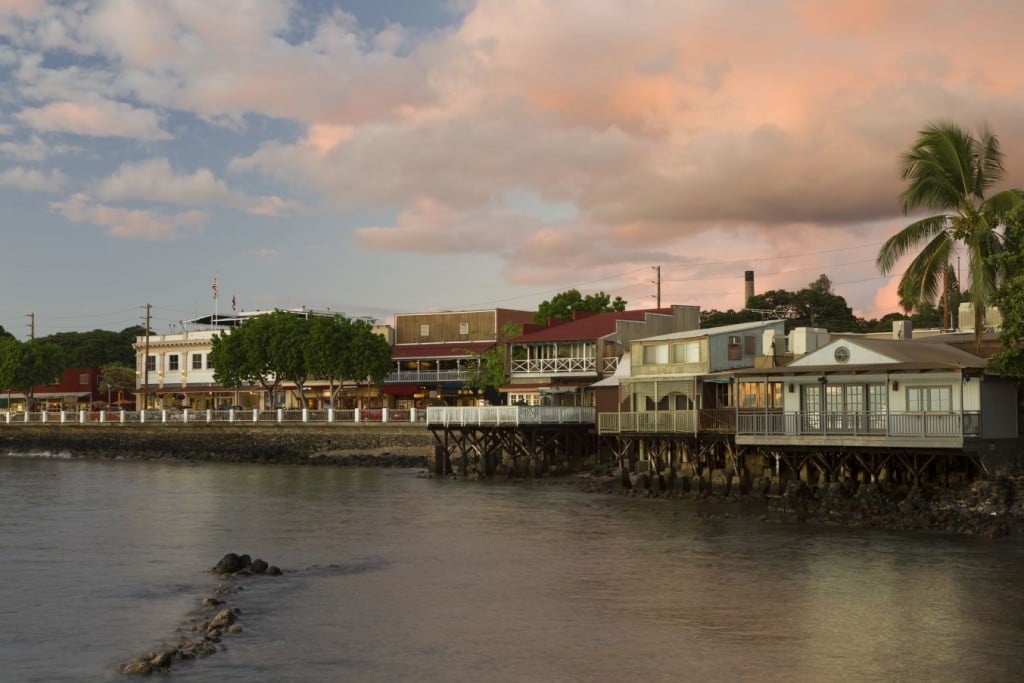 While most visitors and even locals differentiate the Islands by their beaches, hikes and other outdoor pleasantries, what really makes each island unique are the towns and districts that give them an air of individuality. Maui, for example, is almost defined by its host of charming communities, from beachside Pāʻia to central Wailuku and upcountry Kula to the hard-to-reach Hāna. So, if you're planning a trip to the Valley Isle—or are already well on your way—you'll want to visit these five towns and districts.
1. Lahaina
Much like Oʻahu's high-energy district of Waikīkī, Lahaina is every visitor's dream. Home to Front Street, where you can spend an entire day shopping your heart out, the seaside town is also known as the go-to destination for those looking to whale watch, as the waters surrounding Lahaina are frequented by Pacific humpback whales during Hawaiʻi's winter season. Coconut fans can go nuts at Punakea Palms, Hawaiʻi's only coconut farm, which offers educational tours of the property on the outskirts of Lahaina.
READ MORE: Punakea Palms in Lahaina Makes Visitors Nuts for Coconuts
Of course, you can't forget about the food. Lahaina's chock-full of restaurants and bars, and Sale Pepe, a hole-in-the-wall gem buried in the Old Lahaina Center, serves some of the best pasta and pizza this side of the Pacific. And there's no better way to end the day than by catching the sunset from Lahaina's seaside Front Street.
2. Pāʻia
It's not common to find a town as charming and inviting as Pāʻia, a laid-back little beach town on Maui's northern coast. Here you'll find sand-covered streets—and sand-covered locals—and an eclectic mix of small businesses. From the oh-so-ʻono (delicious) slices of pizza at Flatbread Co. to chef-crafted meals at Nylos and island-favorite, Mama's Fish House, there are more than enough dining options to choose from. The town, known for its artsy vibe, is also home to a number of galleries and boutiques, such as Indigo Pāʻia, Mahina Boutique and Nuage Bleu. And you can't forget about Pāʻia's namesake bay, which is also within walking distance.
3. Kula
It's always cooler in Kula, as the town is located in Maui's chillier upcountry district—so bring a jacket! You'll definitely be out and about on your visit, as many of Kula's best attractions require stepping out into that crisp upcountry air. The Aliʻi Kula Lavender Farm, for example, is a pleasure for both the eyes and nose as the stunning property includes more than 45 variants of lavender. Not far from there is La Provence, a charming café that offers French-inspired breakfasts and lunches—and you have to try the fruit tarts. Before you go, be sure to drop by Kula Country Farms, a quaint farm stand that sells fresh produce, locally sourced honey and refreshing strawberry lemonade.
4. Wailuku
You'll fall in love with Wailuku's bohemian boulevard and streets: The town has a certain charisma and character that visitors and residents alike can't miss. From funky-fresh coffee shops such as Wailuku Coffee Co. and Maui Coffee Attic to sophisticated boutiques like Native Intelligence, the appeal of Wailuku is in large part due to its nonconformity. Want wax of the musical variety? Request Music has been around forever and is home to hundreds, maybe thousands, of records. A fan of the performing arts? Then you'll have to pay a visit to the historic ʻĪao Theater. Built with a Spanish Mission-style exterior, the establishment is now a community musical theater with shows scheduled throughout the year.
5. Hāna
It may be the hardest town to get to on the list, but a trip to Hāna—and a drive down the Road to Hāna—is absolutely worth it. Calling Hāna remote would be an understatement, but the area's lack of cell service and isolation only add to the appeal. Imagine starting a day at Hāna Bay, soaking up the sun and silence, before heading to Da Fish Shack to grab a quick bite of very fresh fish, then checking out the Hāna Cultural Center to learn about the town's history and to see Hawaiian artifacts. Of course, if you really want to see the town of Hāna, a quick hike up to Fagan's Cross will give you a bird's-eye view of this remote getaway.
READ MORE: How to See the Sunrise at Fagan's Cross, Hāna, Maui