5 young Hawaii musicians we know you'll love
These talented Hawaii artists need to be on your playlist.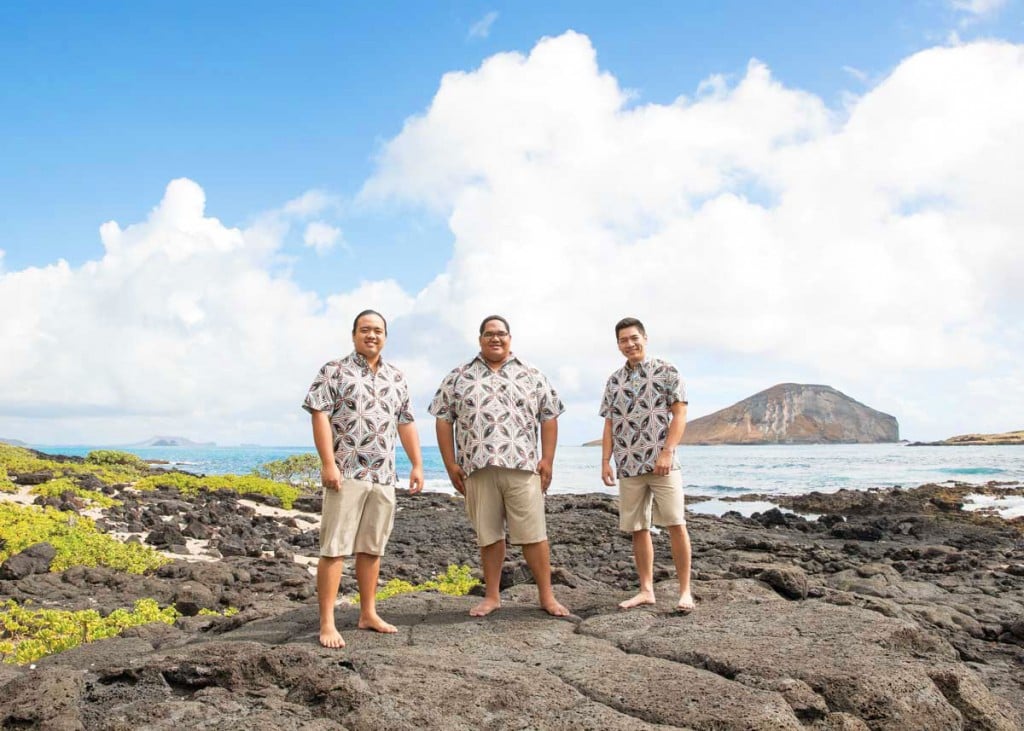 Each decade brings forth a new crop of talented Hawaii musicians. In the 1970s, Gabby Pahinui, the Sons of Hawaii and Sunday Manoa gave voice to the Hawaiian Renaissance, the movement sparking a revival of cultural identity for Native Hawaiians. The '80s and '90s were the Golden Age of contemporary Hawaiian music. Artists such as The Manao Company, Kapena, Israel Kamakawiwoole, Kealii Reichel, Hapa and the Kaau Crater Boys bestowed Hawaii, and the world, with their sweet melodies, vocal harmonies and thematic guitar and ukulele riffs.
Lucky for us, their music has no shelf life. If anything, it only gets better with age. But it's worth setting aside these dependable local favorites to listen to someone new. The five young artists profiled in the following pages are keeping Hawaiian music traditions alive by composing and singing in olelo Hawaii (Hawaiian language), drawing inspiration from their native home and with lightning-fast picking on the ukulele. Here are five Hawaii musicians, with the makings of the next Brothers Cazimero, Ernie Cruz Jr. or Jake Shimabukuro, that we recommend you listen to right now.
If you like Jake Shimabukuro, then you'll love Taimane Gardner
From the expert:
Dave Kusumoto, the cofounder of Hawaii music show "HISessions," says Jake Shimabukuro was a mentor of Gardner's, and she is one of the most animated ukulele performers.
Taimane Gardner remembers one of the first times she went on stage. It was for a ballet recital when she was 4 years old. She wasn't nervous. "I've always been a ham, even before I had the ukulele in my hand," she says with a laugh. More than two decades later, Gardner still has that confidence and the skills to back it up.
Like many Hawaii kids, Gardner started strumming an ukulele when she was little. But, unlike most of her peers, she became a virtuoso of the instrument. At age 11, she met one of the most innovative ukulele players, Jake Shimabukuro. "I was blessed to be taught by him," she says. "Jake was a big influence in me playing songs that have never been played on an ukulele, such as classical music."
The perpetual performer, at 13, Gardner took her skills to Kalakaua Avenue and played with Waikiki street buskers. That's where one of Don Ho's performers saw Gardner and introduced her to the "Tiny Bubbles" crooner. "He really started my career," says Gardner. "He helped me connect with my audience and polish my performance." She played weekly at the now closed Don Ho's Island Grill in Aloha Tower.
Today, Gardner has performed on stages worldwide, and recently finished her first West Coast tour. She also plays regularly on Wednesdays at Hyatt Centric in Waikiki. Gardner still gets requests for songs she used to perform at Don Ho's: "Wipe Out," "Hawaii Five-O," and classical songs, such as "Für Elise" and "Toccata." Gardner also writes her own songs and sings. In 2015, she self-produced a full-length album, "We Are Made of Stars," with original songs devoted to the planets. She's currently working on an upcoming EP, this time dedicated to the elements, slated for release by the end of this year.
If you like The Makaha Sons, then you'll love Keauhou
From the expert:
Kusumoto says the young trio resembles the traditional composition and multilayered harmonies of the revered band, the Makaha Sons.
Keauhou (pronounced Kay-ow-hoe) band mates Jonah Solatorio, and brothers Nicholas and Zachary Lum, have a lot in common: All three are in their 20s, are fluent speakers of olelo Hawaii and graduates of Kamehameha Schools, where they learned to sing and play their instruments. This combined creative talent results in a soulful throwback to traditional Hawaiian music.
If people weren't already listening to the band, they started to this May. The young trio won nine Na Hoku Hanohano Awards for their debut album, "Keauhou," sweeping the annual competition. "I get recognized when I go places," says Solatorio, who plays ukulele. The Lum brothers both say the attention and recognition have been overwhelming.
The young Hawaiians formed Keauhou because music is their passion. They say the mele, or songs, they compose are a platform for them to preserve their language, culture and music, and inspire future generations. "We're trying to do something that's a little different, but is inspired by that which has come before us," says Zachary, who plays the guitar.
They have finished recording their second album, slated to be released in October. Each member composed two original songs. Zachary, who won a Na Hoku for his original composition, wrote a song about his home in Ahuimanu, on Oahu's Windward Side. Nicholas penned a mele about a special day he and his girlfriend had at Maunalua Bay Beach Park in Hawaii Kai. One of Solatorio's original songs is about Molokai, his favorite island, and the birthplace of his father's ohana.
"We get these inspirations (that) we call aina moments," says Nicholas. "For example, one day me and Zack were flying to Maui for rehearsal and he's looking out the window, then he looks at me and goes, 'Wow, I just had an aina moment.' He was looking at the land and imagining the people who lived there and the people who prospered there. We have this sense of pride and this overwhelming feeling of joy. Mele allows us to honor place, people and time."
If you like the Brothers Cazimero, then you'll love Kalani Pea
From the expert
Kusumoto says Kalani Pea is in a category virtually all his own. He has the pipes and energetic stage presence of Broadway favorite, Bette Midler, as well as the polished lyrics and vocals of the renowned Hawaii sibling duo, Robert and Roland Cazimero.
When Kalani Pea heard his name, he wasn't sure if he should walk, run, maybe even do cartwheels down the aisle. "I only had 45 seconds for my speech," he says with a big laugh. Pea is reminiscing about one of the most memorable nights of his life: Winning a Grammy Award this February for best regional roots music for his debut album, "E Walea."
"My vision is to serve my community with Hawaiian music composition, with education, insight and love, showing aloha aina (love of the land) through music." (He ended up jogging down the aisle, hands raised high, a look of shock and joy on his face.)
Pea says the award—sitting by his TV on a wooden stand—has allowed him to pursue music full time. He also won a Na Hoku Hanohano Award, Hawaii's version of the Grammys, for best contemporary album. This July, he toured in Japan, and says he'd also like to play on the West Coast.
While the 34-year-old's popularity has mushroomed this past year, he's no stranger to performing. After his mom caught a young Pea crooning to a department store mannequin, she enrolled him in singing lessons and contests. Singing also helped him overcome a childhood speech impediment. But it wasn't until Pea's partner, Allan Cool, also Pea's producer and manager, encouraged Pea to record his songs that he thought about music as a career. "He told me, 'You have this gift.'"
"E Walea," is named after Pea's nephew. The album features seven haku mele, or original Hawaiian language compositions, and five cover songs. Pea is fluent in olelo Hawaii. "All of these songs define who I am … That's why I did this album, to give people a piece of my Hawaiian identity, my sense of place and upbringing." Expect more from this talented artist. In fact, Pea says he's already writing songs for his second album.
If you like Colbie Caillat, then you'll love Kimie Miner
From the expert
Kusumoto says both Caillat and Miner have catchy hooks and folksy voices, resulting in fun, beachy tunes.
Whether it's on her tour bus or driving in her car from her home on Oahu's serene North Shore, the road has become Kimie Miner's source of solitude, and in those quiet, reflective moments, inspiration strikes.
"I see a lot of beautiful things here (and on the road) that I write about," she says. In fact, the inspiration for her latest single, "Bamboo," came from seeing the swaying bamboo and shady trees during the long drives from her home in northeast Oahu. "I draw inspiration a lot from nature."
Born and raised on Oahu, Miner taught herself to play guitar at age 14 and began writing her own songs. Her music today, a fresh mix of pop, reggae and Hawaiian, touches on universal life experiences: love, adversity and identity. "The older I've gotten, the more I identify with my culture and my roots here in Hawaii," says the Oahu-born Hawaiian.
Since the release of Miner's first EP, "To the Sea," in 2013, the musician has been a hit-making machine. Tune the dial to any island-reggae music station in the Islands and you're bound to hear the catchy beat of a Miner song. (You've probably heard and bopped along to fan favorites, "New Day" and "Bottom of a Rainbow.") Miner's first full-length album, "Kimie Miner," netted her a Na Hoku Hanohano Award in 2016 for contemporary album of the year.
There's still plenty more to come from Miner.
If you like Ernie Cruz Jr., then you'll love Blayne Asing
From the expert
Kusumoto says Asing has an Ernie Cruz Jr. style of guitar playing and is influenced by artists like James Taylor.
These days it seems everyone has Molokai on her or his mind, thanks to Blayne Asing. It's the latest single from the Hawaii folk singer. With breezy lyrics like, "I hear the sound of summer whisper in my ear," it's no wonder people have it on repeat.
"I write about everyday things that I experience," says Asing. "Basically, every line from the song comes from being a part of the island and experiencing all the beauty of Molokai."
This January, Asing and his wife made the Friendly Isle their home. It's become the perfect place for some big new things in his life, personally and professionally. This fall, says Asing, he's going to be a dad. And before his daughter arrives, he's recording his second album, scheduled for release before the end of this year. "There's no better place to be than here," says the Oahu native. "No better place to raise a family."
Asing's first album, "Young, Old Soul," garnered him a Na Hoku Hanohano Award in 2016 for most promising artist of the year. If upon first listen Asing's music sounds somewhat familiar, that's because it is. When he was 13, Asing got the amazing opportunity to hang out with the late legendary Hawaii musician Ernie Cruz Jr. "When you experience that level of professionalism from an early age, then it raises the bar. I loved to play to impress him … Ernie was an angel among us. There wasn't anybody or anything that was more important to him than you at that moment in time." While Asing is a self-taught guitar player, those formative years with Cruz instilled a similar guitar-playing style, which Asing's fans today can't get off their minds.