6 Fascinating Hawaii Shipwreck Sites You Need to See
There are all sorts of intriguing wrecks off Hawaii, from the remnants of a replica whaling ship to a Vought F4U Corsair.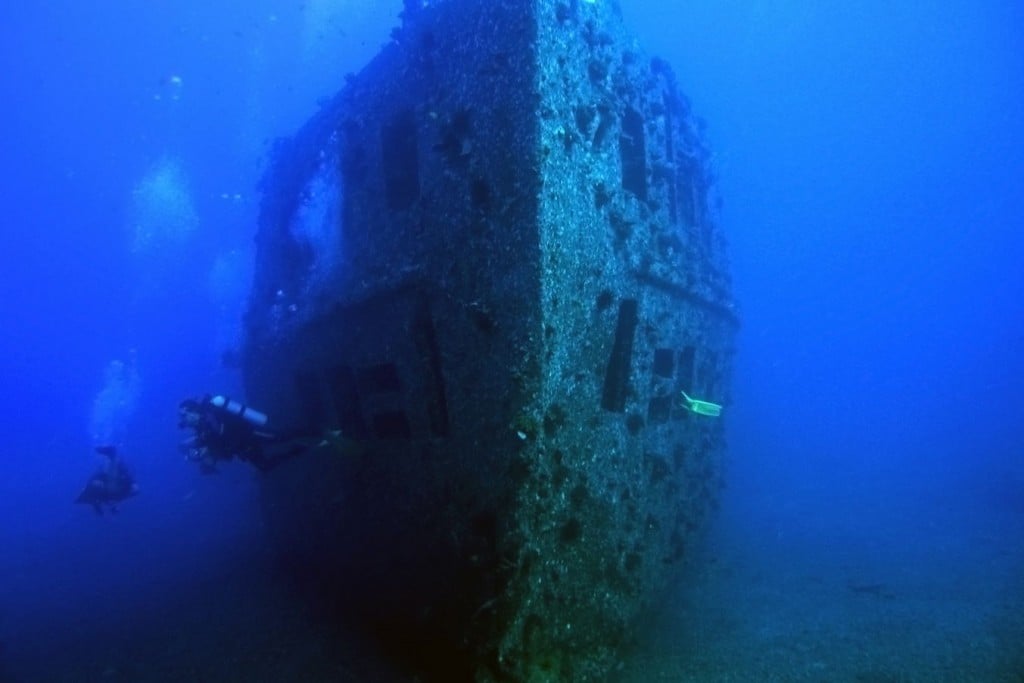 It's not just honu (Hawaiian green sea turtles), fish and reef in the waters surrounding the Hawaiian Islands. The ocean around Hawaii also serves as the final resting place for ships and even planes, each with its own fascinating history and tale of untimely demise. And for scuba divers, it's even possible to see these magnificent metal monstrosities up close. While there are dozens of wrecks to be found, we've compiled a list of six especially noteworthy sites and how you can experience them for yourself.
View this post on Instagram
1. USS YO-257
One of Oahu's best shipwreck dives, the USS YO-257, built in 1940, originally served as a Navy refueling vessel during World War II and the Vietnam War. After its extensive military career, the USS YO-257 was decommissioned and purchased by Atlantis Submarines, which intentionally sank the vessel to create an artificial reef and to serve as an attraction for the company's submarine tours. If you want to check it out for yourself, you'll have to scuba dive or go on an Atlantis Submarines Hawaii submarine tour. If you do decide to give it a look, expect to see a variety of sea life like eels, barracuda and tropical fish holed up in the wreck's many nooks and crannies.
View this post on Instagram
2. MV Mahi
The MV Mahi, which served as a minesweeping and cable laying ship during World War II, was built in 1943 and, like the USS YO-257, was sunk intentionally to serve as an artificial reef. One of the only shipwrecks off Oahu's west coast, it's a popular gathering place for spotted eagle rays. Other wildlife include schools of pufferfish, bluestripe snappers, millet butterflyfish and a couple of whitetip sharks nicknamed "George" and "Martha."
View this post on Instagram
3. The Naked Lady
Nobody actually knows the real name of the Naked Lady; it only gained the moniker after it ended up at the bottom of the sea. The story goes like this: The sailboat was moored in the Big Island's Kailua Bay and a woman aboard, who may or may not have been the owner of the vessel, believed that it was infested by tiny green men. To eliminate the issue, she set the boat ablaze and made her way back to shore, naked. And thus we have the Naked Lady. The wreck is in waters 110 feet deep, so unless you're an experienced free diver, scuba diving is among the best ways to see it. Or, you can hop aboard an Atlantis Submarine—the company has tours that pass right by the Naked Lady.
View this post on Instagram
4. Carthaginian II
Try not to get lost on this one. The Carthaginian II, which sits 97 feet underwater half a mile off  Puamana Beach Park, Maui, is a replica of a replica whaling ship. To clarify, in 1965 American sailor Tucker Thompson rented out the original Carthaginian to the Mirisch Corp., which needed a replica whaling ship for its film adaptation of James Michener's novel, Hawaii. After filming was done, Thompson was approached by the Lahaina Restoration Foundation, which bought the ship as a way to showcase the town's whaling industry. However, the original Carthaginian struck reef while sailing from Lahaina to Honolulu for maintenance and the foundation needed a replacement. That same year, the Lahaina Restoration Foundation purchased the 93-foot German-made schooner called Komet. It took a few years, but workers eventually transformed that ship into a replica of the Carthaginian. The Carthaginian II served as Lahaina's floating museum for the next 32 years, however, later it was sunk to create an artificial reef after maintenance costs became too much for the foundation to handle. Atlantis Submarines' tours will often pass the wreckage, and it's become a popular dive spot for intermediate-level scuba divers.
5. YOGN-42 and YO-21
The north shore of Lanai is notorious for its shipwrecks, and nowhere is that more obvious than at Shipwreck Beach, a 6-mile stretch of coastline on Lanai where roughly a dozen vessels have grounded. The two most prominent and easy to spot wrecks are the YOGN-42, a ferro-cement Navy fuel barge, and the YO-21, a massive Navy yard oiler that  had been docked at Pearl Harbor during the 1941 attack. The best part about these wrecks is that you don't need to get wet to see them, as they're both easily visible from land.
6. Vought F4U Corsair
Sure, shipwrecks are cool and all, but what about a plane wreck? Located off Maunalua Bay on Oahu's southeast shore, the wreckage of a Vought F4U Corsair, an American fighter aircraft that saw action in World War II and the Korean War, sits 113 feet under the sea. Engine failure forced the plane's pilot to make an emergency water landing in 1948 during what, up until then, had been a routine training mission. The plane sank to the bottom of the sea, but remains largely intact due to the experienced pilot's smooth landing. The pilot, who was rescued, unknowingly created a beautiful dive site, often visited by garden eels, stingrays and common jacks.