6 great Hawaii road trips
These itineraries are complete with must-see scenery, activities, places to eat and cool stops along the way.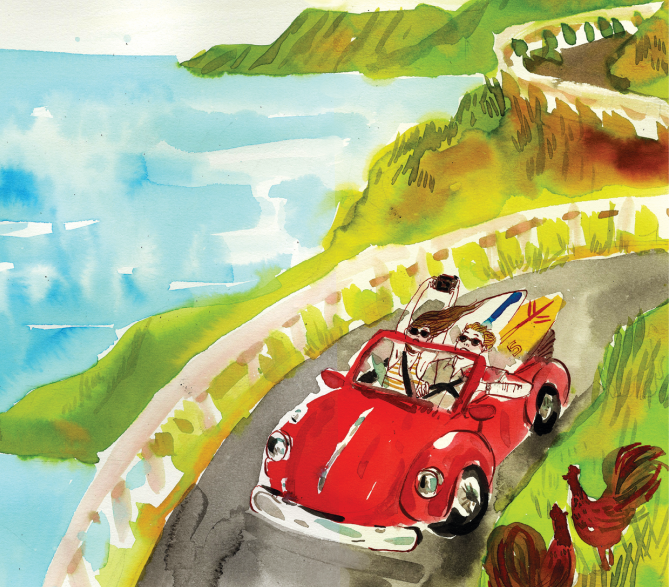 All right. First off, stop chuckling at the seeming absurdity of a great road trip in Hawaii. We've heard every reason our incomparably scenic island byways never make it onto any great American road-trip lists.
Yes, we live on a collection of eight mostly smallish islands, each separated by miles of deep blue Pacific Ocean. We also know we're the only state in the union to which you can't drive. (Blame those miles of pesky Pacific Ocean again.)
But does any of this mean there are no great road trips in Hawaii? Absolutely not! Road-tripping in the Islands is just different than on the mainland. A bit more compact, if you will.
Instead of requiring hundreds of miles of drive time, our best road trips rarely cover more than 50 miles total. Rather than taking multiple days to complete, our road trips take anywhere from a few hours to a full day to finish. Best of all? From breathtaking, winding coastal drives to cool, mist-kissed upcountry jaunts, Hawaii road trips offer sights and experiences unlike any you'll find in the other 49 states.
Here are our six favorite Hawaii road trips, complete with must-see scenery, activities, places to eat and cool stops along the way.
Top of the Big Island
This roundabout tour of the Big Island's geologically oldest landscapes starts in a ranch town once an outpost for Hawaiian paniolo (cowboys), ascends the verdant slopes of long-extinct Kohala volcano, detours to one of the island's prettiest valleys and ends on the sands of the South Kohala Coast's best beach.
1. Start here: Waimea
Take in the usually clear morning view of Mauna Kea's entire north face and seemingly endless open acreage surrounding this upland ranching community before beginning the climb up winding Kohala Mountain Road for still more stunning vistas of the town.
Natural highs:
Kohala mountain: Wide-open spaces, green rolling hills
Sweet views of Waimea, Mauna Kea and the Kona Coast: From 3,500 feet above sea level, on Kohala Mountain Road
Upolu Point (Hawi): Top of the Big Island, Ma!
Maui view: Of Haleakala volcano summit, from every road on the trip
Larks & recreation:
Kahu Ranch (Waimea): Real working ranch, real paniolo, real history
Kohala Ditch Adventures (Kapaau): Kayak century-old freshwater tunnels and flumes
Original King Kamehameha Statue (Kapaau): The Honolulu statue is actually its replacement
Puukohola Heiau National Historic Site (Kawaihae): Built on Kamehameha the Great's orders in 1790
2. Halfway there: Pololu Valley
From the Pololu Valley lookout, enjoy the sumptuous view of this northernmost of Kohala mountain's five valleys, its rugged black-sand beach, and the wave-etched sea cliffs and islets of its windswept coastline.
Necessary noshing:
Village Burger (Waimea): From bun to burger to fixins', all Big Island-sourced
Hawaiian Style Café (Waimea): Big plate-lunches for big appetites
Café Pesto (Kawaihae): Ohia-wood-fired pizza and calzones a must
3. End here: Hapuna Beach State Recreation Area
Spend the remainder of your day on this half-mile stretch of white sand. Its small-wave surf is a favorite of body surfers, body boarders and hearty swimmers. Want to stay dry? Stretch out on the sand with a good book and catch some rays on the most luxuriously wide sandy dunes on the Big Island.
Total distance: 55 miles
Roads taken: Kohala Mountain Road (Highway 250), Akoni Pule Highway (Highway 270), Queen Kaahumanu Highway (Highway 19)
North Hilo & Hamakua Coast
No matter how many times we drive this verdant, rugged stretch of northeastern Big Island coastal highway, we never tire of its delightful diversity of scenery—one moment straddling the crests of sheer cliff sides with incomparable views of the Pacific, the next passing waterfalls, lush ravines and rich farmlands. All of it while hugging the slopes of the tallest mountain in Hawaii, Mauna Kea.
1. Start here: Hilo
Start the day snapping some photos of Rainbow Falls, lit by morning sunlight, before picking up a bento lunch for the road ahead. Road-tripping on a Saturday morning? Grab some homemade snacks, Hawaii Island-grown fruit and other eats at the downtown Hilo Farmers Market before heading up the coast.
Natural highs:
Akaka Falls State Park (Honomu): 422-foot rainforest plunge
Kalopa State Recreation Area (Honokaa): Hike the Hawaii native plant trail
Honolii Beach Park (Hilo): Best surfer watching
Mauna Kea: Ever-changing summit profiles
Larks & recreation:
Onomea Scenic Route (Papaikou): Four-mile rainforest and coastline drive
Hawaii Tropical Botanical Garden (Onomea): Killer ocean views; 2,000 plant species
Laupahoehoe Train Museum (Laupahoehoe): Hamakua's railway past revealed
Waipio Ridge Stables (Honokaa): The valley rim by horseback
2. Halfway there: Laupahoehoe Point
Once the site of a thriving community of homes, businesses, churches and schools before a 1946 tsunami struck the coastline, Laupahoehoe Point is now a large open park with unmatched, ocean-level views of the Hamakua coastline.
Necessary noshing:
What's Shakin' (Pepeekeo): Farm-to-blender, 100-percent-fruit smoothies
Earl's Paauilo Store (Paauilo): Five words … Earl's Korean Chicken Bento Roll
3. End here: Waipio Valley
Finish your drive with the breathtaking view from the Waipio Valley lookout, almost 2,000 feet above sea level. Six-miles-deep, with a mile-long black sand beach at its widest point, Waipio is the largest of five valleys marking Kohala mountain's plunge into the sea.

Brake for: Honomu
One of dozens of once bustling sugar-plantation towns that lined the coast, Honomu is among the last still boasting a business community. While exploring the small galleries and retailers occupying main street Honomu's century-old facades, stop at Mr. Ed's Bakery (in the old Ishigo Bakery Building) for homemade jams, jellies and famous fresh-baked monkeybread.
Hana Highway & Beyond
Arguably the most storied of our six road trips, the Hana Highway earns that title via its 59 bridges (most of 'em single lane), 600 curves, multitude of roadside waterfalls, and stunning sea-level and 1,000-foot-high ocean views. Celebrated in song and story, every trip on the highway's well-worn asphalt reveals something new.
1. Start here: Paia
Maui's groovy plantation-town-turned-surf-town kicks off your drive along the island's famed north shore breaks with a rustic collection of storefronts housing eclectic restaurants, boutiques, coffee cafés, clothiers, art galleries and, of course, surf shops.
Natural highs:
Hookipa Beach and Bay (Paia): Windsurfer capital of the world
Roadside waterfalls: So many of 'em during the rainy season
Kaumahina State Wayside: Your first look at the coast you'll be driving
Waianapanapa State Park (Hana): Get up-close with the coastline
Hamoa Beach (Hana): James Michener's fave South Pacific-looking Mid-Pacific beach
Larks & recreation:
Counting bridges: We always lose count once the views start
Hana Cultural Center and Museum (Hana): History, artifacts and photos of the coast
Hasegawa General Store (Hana): Rubber slippers, Spam, PVC pipes and flour, sometimes on the same shelves
Kahanu Garden (Hana): Plants valuable to early Hawaiian life
2. Halfway there: Keanae Peninsula
Get your loaves of Auntie Sandy's banana bread (see below) then continue down Keanae Road to the rugged shoreline of this kalo farm-dotted peninsula. Snack alongside sea-level views of the towering northeast Maui coastline.
Necessary noshing:
Cafe Des Amis (Paia): Crepes galore! Try the Maui Cane Sugar and Lime.
Cafe Mambo (Paia): Crispy duck burger for lunch. Paella and Cafe Mambo Cinema for dinner.
Braddah Hutts BBQ Grill (Hana): Is all that local-style grilled meat just for me?
3. End here: Haleakala National Park Kipahulu Area
After Hana town, muster the bravery for another dozen especially winding miles of Hana Highway, ending with this stunning coastal counterpoint to the park's more famous summit area. Check with rangers before heading to the famed river pools of Oheo Gulch.

Brake for: Banana bread
Trust us. It only seems there are more roadside stands on the Hana Highway selling banana bread than there are waterfalls. The one you'll want to stop at, however, is Aunty Sandy's Keanae Landing Fruit Stand. Visit in the morning to get the stand's luxuriously moist loaves of fresh-baked banana goodness still warm from the oven.
Total distance: 56 miles
Roads taken: Hāna Highway (Highways 36, 360, 330)
Upcountry Maui Loop
We dedicated an entire photo essay in a past issue to the cool, green and serene western slopes of Maui's Haleakala volcano. With the exception of a few detours we took to skim the deep forests of Haleakala's cloud-covered highlands and agriculturally rich lowlands, this is the picturesque route we drove to get every one of our photos.
1. Start here: Haliimaile Pineapple Co. field tour
Learn the story of the scrappy local company that saved world-famous Maui Gold Pineapple from certain demise two years ago, and take a morning tour deep into its 1,000 acres of rich, upcountry fields, which produce the sweet and juicy fruit year-round.
Natural highs:
View of Haleakala summit: On a clear day, you'll feel this close to it
Jacaranda trees in bloom: A roadside showcase, March through July
Sweeping central Maui views: And on very clear days, Kahoolawe and Lanai
Larks & recreation:
Alii Kula Lavender Farm (Kula): Try the lavender scones and lavender-vanilla lemonade
Surfing Goat Dairy (Kula): Milk a goat!
Kula Country Farms (Kula): Sweetest strawberries in Hawaii
Maui Wine (Ulupalakua): So you can brag about trying pineapple wine
2. Halfway there: Ulupalakua Settlement and Ranch
Our loop cuts through the most scenic swaths of this 20,000-acre ranch, passing miles of blooming jacaranda trees, multihued pastureland, and dramatic views of Maui's resort-dotted southeast coast and its prime snorkel spot, Molokini islet.
Necessary noshing:
Grandma's Coffee House (Keokea): Add the housemade coffee cake to your bucket list now
T. Komoda Store & Bakery (Makawao): Come for the cream puffs, return for the stick doughnuts
Makawao Garden Café (Makawao): Brie, bacon and tomato sandwich on housemade focaccia = bliss
Market Fresh Bistro (Makawao): If it can be sourced Upcountry, it's on the menu
3. End here: Makawao
Arrive in this historic Maui cowboy town by mid-afternoon and you'll catch its rustic, yet modern-day-cool boutiques, artisan galleries and grocers still open. Peruse Makawao's multifaceted collection of eateries for a late-afternoon lunch, pau hana cocktails and tapas plates, or a full-tilt dinner.
Total distance: 40 miles
Roads taken: Haliimaile Road, Haleakala Highway (Highways 37, 377), Kula Highway (Highway 37), Makawao Avenue (Route 365)
Windward Oahu Coast
For anyone who still believes there's no place to escape metropolitan Oahu other than the North Shore, we present this drive through the island's lush, sparsely populated northeast coast. A good portion of it drops you at the foot of the majestic Koolau mountain range and alongside the lapping waters of the coast simultaneously. Just excuse the occasional rain shower—the reason everything on this road is so green.
1. Start here: Heeia Pier General Store & Deli
Fuel up for the drive with a serious, local-style lunch at this dockside eatery at Heeia Kea Small Boat Harbor. The menu is a potpourri of local comfort-food favorites emphasizing fresh ingredients. Pork luau stew, guava burger, poke bowls and furikake chicken, among others.
Natural highs:
Koolau mountains: Green, up close and omnipresent
Mokolii Island (Chinaman's Hat): Best viewed from Kualoa Regional Park
Kahana Bay: The most beautiful bay onthe coast
Laie Point State Wayside: Five offshore islands = one giant lizard
Larks & recreation:
Byodo-In Temple (Kaneohe): Ring the peace bell
Gunstock Ranch (Laie): Double back for a moonlight horseback ride
Polynesian Cultural Center (Laie): South Pacific in the Mid-Pacific
Laie Hawaii Temple (Laie): Church of Jesus Christ of Latter-day Saints' Pacific temple grande

2. Halfway there: Kualoa Ranch Movie Tour
Tours at the 4,000-acre ranch include boat rides on centuries-old Molii Fishpond and horseback rides in massive Kaaawa Valley. But if you're short on time, we recommend this hourlong site tour highlighting the valley's enduring popularity as a location for Hollywood film and TV productions.
Necessary noshing:
Waikane Store (Kaneohe): Must-eat fried chicken and hot dog maki sushi
Uncle Bobo's Smoked BBQ (Kaaawa): Pulled pork nirvana
Papa Ole's Kitchen (Hauula): Best. Pulehu ("broiled over fire"). Short ribs. Ever.
Romy's Kahuku Prawns & Shrimp (Kahuku): Tastiest garlic shrimp on the coast. Seriously.

3. End here: Turtle Bay beach walk
Stretch your legs with a stroll on this miles-long white sand beach or roll out the beach mat for an afternoon of reading, sand-castle building and a reliably fantastic North Shore sunset.

Brake for: Shrimp Trucks
The roadside shrimp trucks here are legend. Giovanni's. Macky's. Fumi's. Take your pick. Served cooked to order, Hawaiian plate-lunch-style with two scoops of rice and salad (macaroni or green), the menus boast multiple shrimp preparations. But every truck is ultimately judged by its garlic shrimp—sautéed with lots of butter, chopped garlic and secret spices.
Total distance: 32 miles
Roads taken: Kuukama Street/Kamehameha Highway (Highway 830), Kahekili Highway/Kamehameha Highway (Highway 83), Kuilima Drive
North Shore of Kauai
The shortest road trip on our list is all but designed for a slower, more relaxed day of driving. Start in the morning and you'll have lots of time for hiking, nature watching, eating and learning the history of this singularly beautiful coast. A bonus? Lots of time to hit up multiple north shore beaches.
1. Start here: Kilauea Point National Wildlife Refuge & Lighthouse
The best time to visit the windswept, 32-acre peninsula that is the centerpiece of this Hawaiian marine and birdlife refuge is when the gates open at 10 a.m. Crowds are lighter so you'll have a quieter time exploring its century-old lighthouse and observing seabirds as they swoop low over the peninsula and sea cliffs surrounding Kilauea Point.
Natural highs:
So many beaches: Lumahai, Wainiha, Kauapea, Hanalei, Kalihi Wai, Anini, and more
Okolehao Trail (Hanalei): Best mountain views of Hanalei town and bay
Mount Makana: Bali Hai, calls to you
Maniholo Dry and Waikanaloa & Waikapalae Wet Caves (Haena): Trio of traversable roadside sea caves
Larks & recreation:
Kayak Kauai (Hanalei): Paddle the Hanalei River
Hoopulapula Haraguchi Rice Mill Tour (Hanalei): Tour the Hanalei taro fields
Waioli Huiia Church & Waioli Mission House (Hanalei): Hanalei history revealed!
Limahuli Garden & Preserve (Haena): A glimpse of early Hawaiian agriculture

2. Halfway there: Hanalei Town
Linger in this friendly, surf-and-beach town for lunch, shopping and exploring the lengthy expanse of crescent-shaped Hanalei Beach and Bay. Marvel at waterfall-dotted mountains Hihimanu, Namolokama and Mamalahoa, rising sentinel-like over the bay.
Necessary noshing:
Kilauea Fish Market (Kilauea): Our favorite lunch: seared ahi wrap, sesame ahi poke and cucumber kim chee
Kilauea Bakery & Pau Hana Pizza (Kilauea): Coconut crème eclairs for breakfast. Smoked ono pizza for lunch.
Bubba Burgers (Hanalei): Colbie Caillat flipped burgers here
Tahiti Nui Restaurant & Lounge (Hanalei): We imbibed here before Clooney did

3. End here: Haena State Park and Kee Beach
End your drive where the awe-inspiring Napali Coast begins, with a snorkel and swim in Kee Beach's crystalline, turquoise cove. Parking will be tough—the park and beach are among the most visited on Kauai. The 11-mile Napali coast-clinging Kalalau Trail begins here. But opt for an afternoon walk west along the beach for terrific views of the coast instead.
Brake for: Nene goose sanctuary/Hanalei National Wildlife Refuge
Hawaii's once endangered state bird now thrives in encouraging numbers at this Hanalei River Valley wildlife sanctuary, also home to other protected native waterbirds, including the aeo (Hawaiian stilt) and koloa maoli (Hawaiian duck). The wetlands are closed to the public, but you can catch glimpses of the birds from your car via the valley road.
Total distance: 17 miles
Roads taken: Kilauea Road, Kuhio Highway (Highways 56, 560)