6 Hawaii Christmas songs to deck your halls this season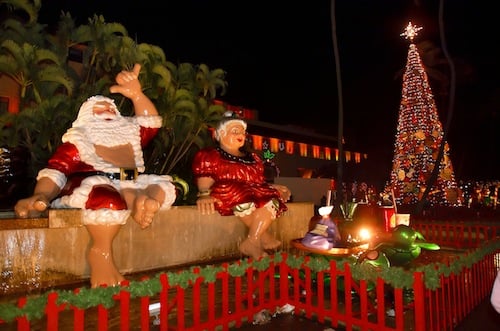 Whether it's a holiday classic with a Hawaiian spin or an original Christmas song from Hawaii, these jams will get you feeling hauoli (jolly) during the season.
1. "Christmas Luau"
Performed by Pure Heart
Originally written by Leonard Hawk, "Christmas Luau" is one of the most popular songs for backyard or garage jam sessions during the holidays in Hawaii.
2. "Kana Koloka" (Here Comes Santa Claus)
Performed by Na Leo
The Hawaiian, harmonizing trio of Na Leo sings this song in Hawaiian. This is such a fun song for when Santa enters a room wearing boardshorts and rubber slippahs.
3. "Mele Kalikimaka"
Performed by Bing Crosby and the Andrews Sisters
Most people remember this Christmas classic from the 1989, cult-comedy, "National Lampoon's Christmas Vacation," starring Chevy Chase as Clark Griswold. The song was recorded by Bing Crosby and The Andrews Sisters in 1950, but has been covered by numerous artists. "Mele Kalikimaka" is Hawaiian for "Merry Christmas."
4. "No Mo Christmas Blues"
Performed by Frank Delima and the Honolulu Boys Choir
Hawaii-based comedian, Frank Delima, sings humorously in Pidgin English about some young boys who are probably on Santa's naughty list. Super funny song, but kind of bummer for those boys from Waimanalo in the song that probably did not get what they wanted for Christmas.
5. "Numbah One Day of Christmas"
Performed by Ed Kenney and Honolulu Boys Choir
Another Christmas carol sung in Pidgin English, this song is spoof on "12 Days of Christmas." If you're a foodie you may recognize Ed Kenney's name. The Hawaiian singer is the father of celebrity chef, Ed Kenney, Jr. of Town restaurant and Mud Hen Water.
6. "O Holy Night"
Performed by Uncle Willie K
Maui's Uncle Willie K puts a subtropical spin on this quintessential Christmas carol about the birth of Jesus. The symphony accompaniment with Uncle's slack key guitar and singing in olelo Hawaii (Hawaiian language) makes this a favorite for all Hawaiian Christmas celebrations.