6 Hidden Shops on Maui You Need to Find
There's a lot to see on Maui, but more importantly, there's a lot to buy.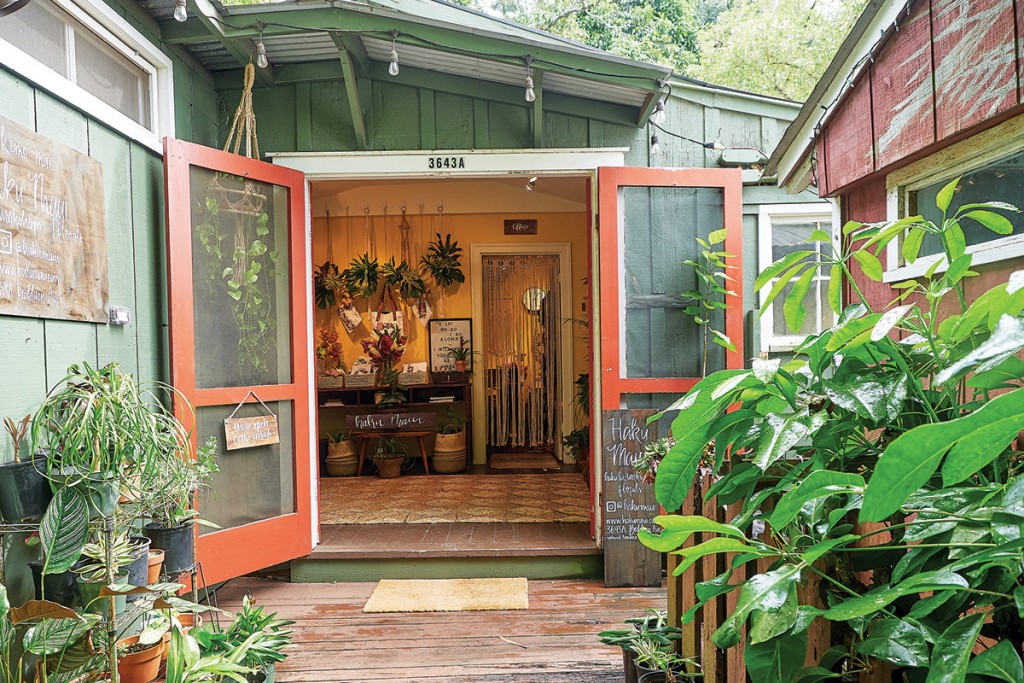 Is your wallet feeling a little heavy? Do you have the need to throw down a little cash and treat yourself to something nice? Then you'll want to check out these off-the-radar shops, from Makawao to Wailuku, which carry products ranging from old vintage records to bohemian luxe swimsuits.
Kula Gold Co., Lahaina
If you're in the market for a handcrafted piece of jewelry, a plucky ukulele or some artwork of Maui, then Kula Gold Co. has what you need. Hidden behind Hawaii Gelato in Lahaina, it's more likely you'll accidentally wander into this small shop than actually try to find it; however, owner, Mike Dougherty will immediately make you feel at home. A bit of a jack-of-all-trades himself, Dougherty also offers goldsmithing services—and the man can jam on an ukulele.
700 Front St., Lahaina, (808) 250-0486
Native Intelligence, Wailuku
Started by Jenny Molitau and her husband, Kapono, over a decade ago, this unique boutique curates and sells artistic works created by artists from Hawaii and Polynesia. The storefront is a mix of traditional woodworking creations and kapa (tree bark) pieces and modern works. It also sells hard-to-find hula supplies and fresh lei. In the corner of the shop are rows of books, providing artists the knowledge they need to work in the traditional Polynesian and Hawaiian mediums. Materials often sought after, such as feathers and kapa, can also be ordered from the shop.
1980 Main St. #2, Wailuku, (808) 249-2421, native-intel.com
Hot Island Glass, Makawao
About 7 miles from Paia toward Haleakala is the cowboy town of Makawao, now a thriving art community with glassblowers, wood-turners, painters and sculptors. Hot Island Glass is the island's first hot-glass facility, with owners and noted artists Chris Richards and Chris Lowry creating stunning works right in the gallery. Every one-of-a-kind piece, from translucent jellyfish suspended in crystal-clear glass—its best-sellers—to jewel-toned starfish, is meticulously made by hand.
3620 Baldwin Ave., Suite 101A, Makawao, (808) 572-4527, hotislandglass.com
Haku Maui, Makawao
Just over a year ago, Makawao-born Britney Texeira opened a small shop specializing in haku lei (flower crowns). It's located behind the storefronts on Baldwin Avenue, down a winding path and in a tranquil space that seems miles away from bustling Makawao. The 500-square-foot shop is incredibly welcoming, surrounded by plants and flowers. Here, you can pick up lei orders, buy fresh lei or take one of the lei-making workshops that Texeira holds monthly. "When our guests come to our haku lei workshops, they leave with their freshly made lei poo (head lei) and the hugest smiles on their faces," Texeira says. "It has been the coolest thing to see them all walk out the gate with their haku lei on and have people stop them and say, 'Wow, beautiful! Where did you get that?' and the guests say, 'I made this at Haku Maui!' It's an awesome feeling."
3643A Baldwin Ave., Makawao, (808) 385-5008, hakumaui.com
Holoholo Surf, Makawao
Julie Stone, who created the bohemian luxe swimsuit line Posh Pua sold in shops from California to Florida, wanted to be more creative, have more fun. So she opened a retail space, Holoholo Surf, in Makawao in November 2017 to produce and sell small-run prints and styles, to interact personally with customers and to support other Hawaii-made products. Her surf shack-esque shop on Baldwin Avenue carries coveted local lines including Plate Lunch menswear, Maui-made Oshan skin-care products and hand-shaped surfboards by Manuela Shapes in Waiehu. And yes, you can find Posh Pua swimwear here, too.
3621A Baldwin Ave., Makawao, (808) 572-2100, holoholosurf.com
Request Music, Wailuku
Never judge an album by its cover art—and definitely don't assume that Request Music, a Wailuku gem that has been around for more than 30 years, is just your average record shop. On the first floor you'll find newly released LPs and freshly pressed vinyl from contemporary artists, as well as rereleases and compilations of musicians from the '80s and '90s, vintage comic books, posters and movies. However, it's the basement where the real magic lies. After passing through a beaded curtain—which already says everything you need to know about this shop's aesthetic—and heading down a flight of stairs, you'll end up in a labyrinth of old, used vinyl records, all of which are priced dirt cheap. How many are down here is a mystery—even the shop clerks don't know the exact number—but you could easily spend hours digging through the packed shelves of records from every known musical genre, from New Orleans blues to Latin jazz. This underground treasure-trove also contains long-forgotten media formats, including eight-track tapes and VHS cassettes. Just remember to come up for air from time to time.
10 N. Market St., Wailuku, (808) 244-9315, requestshi.wordpress.com