6 Ways To Get Your Kids Outdoors in Hawaiʻi
Get out of the hotel room and into the reason you traveled to the Islands in the first place.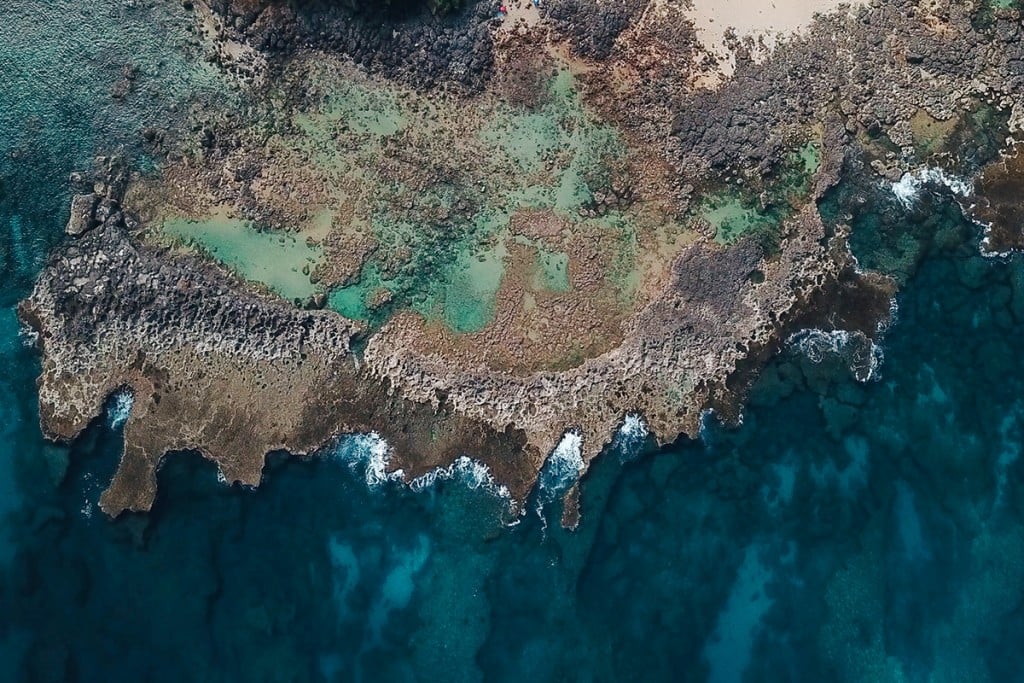 You're in Hawai'i! Who wants to stay indoors?
Definitely not your kids.
So here are six outdoorsy, sunshiney things you can do with your keiki on your next vacation to the Islands. Best part? Some of these are free!
1. Snorkel at Shark's Cove, O'ahu
This North Shore spot transforms into a snorkeling oasis in the summer, when the ocean settles down after months of winter swells. You can find a variety of marine life in this protected shoreline bay: triggerfish, mullet, butterflyfish, yellow tangs, Hawaiian green sea turtles, the occasional monk seal. Smaller kids can wade in tide pools or play in sandy spots; older, more experienced snorkelers can venture into the bay, which can get as deep as 15 feet. You'll have to bring your own snorkel gear and parking is tight, so go early. Bring reef walkers or water shoes, as the area bordering the cove is rocky.
2. Hike to 'Akaka Falls, Hawai'i Island
It's probably one of the easiest hikes to a cascading waterfall in Hawai'i. And you'll see two! The trail, which starts at 'Akaka Falls State Park, is less than half a mile, meandering through a lush rainforest filled with wild orchids, bamboo groves and draping ferns. Soon after you start along the paved footpath, you'll reach the 100-foot Kahuna Falls. Just around the bend, you'll see the second, more dramatic 'Akaka Falls, its waters plummeting 442 feet into a gorge below. The park has restrooms and water fountains; you'll have to pay $5 per car (or $1 per pedestrian, if you decide to walk in). Bring insect repellent and a rain jacket.
3. Surf at The Cove, Maui
Maui has more beginner breaks than any other island, and The Cove at Kalama Beach Park in Kīhei is the perfect surf spot for kids, even ones who are just learning. The waves are friendly and consistent, breaking in both directions in shallow water. You'll need to bring your own boards—or take a lesson from an outfitter that specializes in kids (our pick is Maui Surfer Girls). Your family can also enjoy the 36-acre park, which boasts athletic fields, tennis and basketball courts, picnic pavilions and a skate park.
SEE ALSO: Maui Surfer Girls Knows How To Make Surfing Run For Everyone
4. Zipline at Kīpū Ranch, Kaua'i
If your kids love adventure, ziplining on Kaua'i will likely be the highlight of their vacation. Outfitters Kaua'i offers a 400-foot zipline over Kīpū Ranch in Līhu'e. You'll fly over locations made famous by such movies as "Jurassic Park" and "Pirates of the Caribbean."
5. Tour Dole Plantation, O'ahu
What started as a fruit stand in 1950 is now an expansive attraction on O'ahu that lures more than 1 million visitors a year. While it doesn't cost anything to roam around the grounds of Dole Plantation on O'ahu's North Shore—you can feed koi (carp) in a fishpond or learn how to cut a pineapple—consider a tour on the Pineapple Express train, or a stroll through one of the world's largest mazes, which stretches over 3 acres and includes 2½ miles of paths. Don't forget to stop at the Plantation Grille after for a plate lunch and, of course, the famous Dole Whip frozen treat (above).
6. Ride a Horse at Kahuā Ranch, Hawai'i Island
There's no better way to explore a 12,000-acre working cattle and sheep ranch in Kohala on Hawai'i Island than on horseback. Na'alapa Stables offers two horseback adventures through Kahuā Ranch, one of the island's oldest (and arguably more beautiful) ranches. You'll enjoy panoramic views of the mountains and coastline, trot past cinder cones and through lush pastures and learn about Hawai'i's unique paniolo (cowboy) history.
SEE ALSO: Experience Cowboy Culture—and More—in Waimea, Big Island's Ranch Town