7 Streets in Waikīkī and What Their Names Mean
From Kealohilani Avenue to Lemon Road, the streets in Waikīkī on Oʻahu have some connection to the history of Hawaiʻi.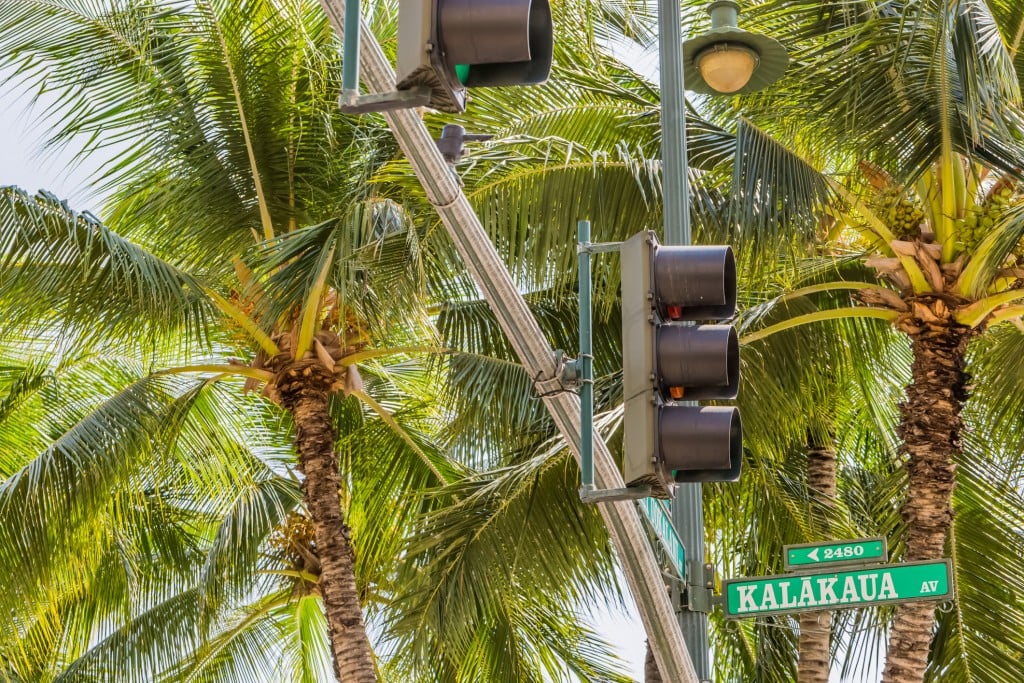 History lives all around us—even in our street signs. Yes, those light green indicators of where you are in the city also happen to be named after significant figures, places or people in Hawaiʻi's history. And in Waikīkī, once home to Hawaiian royalty, there are dozens of street signs all with their own fascinating tales. Here are a few of our favorites.
1. Nāmāhana Street
Lydia Pīʻia Nāmāhana was a significant wahine in her time. A wife of King Kamehameha I, Nāmāhana was also the daughter of Hawaiian high chief Keʻeaumoku Pāpaʻiahiahi, who played a significant role in putting King Kamehameha I into power. Her status was elevated further when she served as Governor of Oʻahu, before passing in 1829.
2. Keʻalohilani Avenue
When Hawaiian royalty had resided in Waikīkī, Queen Liliʻuokalani had a seaside cottage located across from Kūhio Beach. It was called Keʻalohilani, which in ʻōlelo Hawaiʻi translated to "the royal brightness,' and it was possibly named after a mythical land told of in Hawaiian moʻolelo (stories), that existed in the heavens and where a house of clouds was built for Keaomelemele, a daughter of the god of war Kū and goddess Hina, to live.
3. Duke's Lane
Who else could this street be named after than the man himself, Duke Paoa Kahinu Mokoe Hulikohola Kahanamoku. Olympian, sheriff, actor, an ambassador of aloha and just an all-around swell guy, the Duke's name has become synonymous with Waikīkī—and its beaches—so it's no wonder he has a lane named after him.
4. Kālakaua Avenue
One of the most prominent thoroughfares in Waikīkī, visitors will likely spend a lot of time walking up and down the perfect stretch of street known as Kālakaua Avenue. It's got everything: shops, restaurants, hotels and beach views. When you're there, you're merry—so it's no surprise that the avenue was named after the Merrie Monarch himself, King David Kālakaua, the last king of the Hawaiian Islands. His influence in promoting Hawaiian music and culture led to the first Hawaiian Renaissance, and his rule inspired pride and nationalism among many native Hawaiians.
5. Lemon Street
Did you ever think that Lemon Street was just named after … a lemon? Turns out, it is actually named after James Silas Lemon, a Frenchman who came to the Islands in 1849. So how did he get a whole street named after him in Waikīkī of all places? Well, he owned the unimaginatively named Commercial Hotel—which became somewhat notable as it was the first hotel to have a gas lamp lighting in its saloon.
6. Kaʻiulani Avenue
Another significant member of Hawaiian royalty, Princess Kaʻiulani was appointed the last heir apparent to the throne of the Hawaiian Kingdom, however, she had not reached her 18th birthday by the time the Hawaiian Kingdom was overthrown and was not able to take the throne despite much protest. She and Liliʻuokalani boycotted the 1898 annexation ceremony and both mourned the loss of Hawaiian independence, and she went on to make public appearances and speeches in the United States denouncing the overthrow of her government and the injustice toward her people.
7. ʻOlohana Street
The literal translation of ʻolohana can be defined as "all hands,' something sailors would shout to one another, especially John Young, adviser and aide of Kamehameha the Great. As a boatswain, he must have said it quite a bit as ʻolohana became his given Hawaiian name, and it has now been cemented in history as the name of this street in Waikīkī.