8 breakfast spots in Hawaii that you have to try
From Kauai to Maui, Hawaii's got some great takes on breakfast favorites.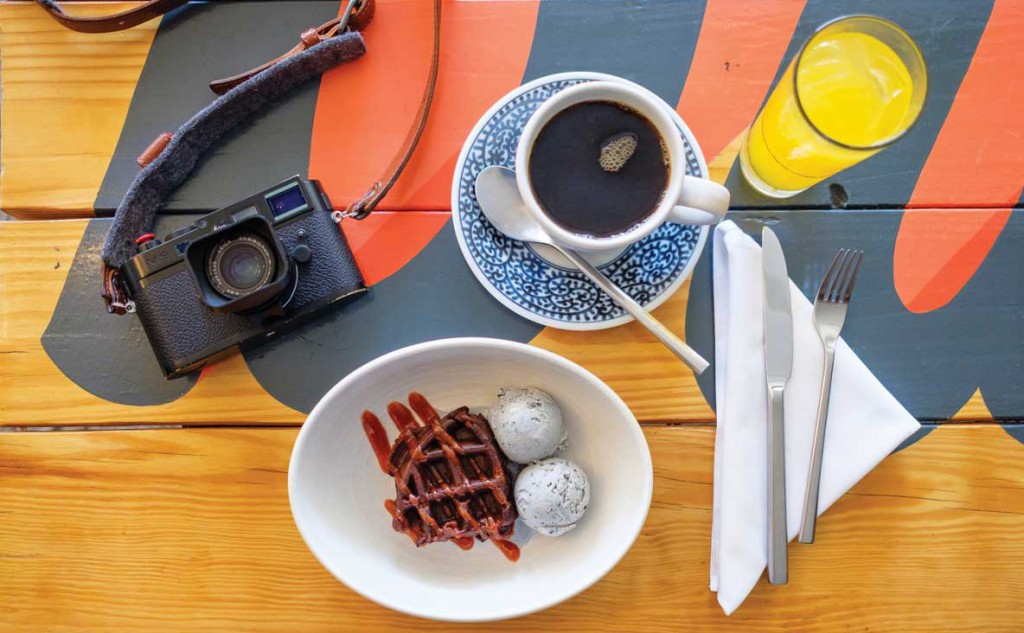 The smell of bacon. The sweet taste of syrup soaked pancakes. Coffee, black, complementing golden brown toast and a side of scrambled eggs. For those of you who think breakfast is the best meal of the day, you'll want to add these restaurants to your itinerary.
Oahu
Café Kaila
There's always a wait, so expect it. You can show up in the afternoon on a Tuesday and see a row of people standing outside of this neighborhood diner. It's just that good. Opened in 2007 by Chrissie Kaila Castillo, this café has taken home numerous restaurant awards for Best Breakfast, and for good reason, with its buttermilk pancakes and Belgian malted waffles bringing in the crowds daily. The real winner here, though, is Café Kaila's eggs Benedict—perfectly poached eggs on English muffins topped with creamy hollandaise sauce. Mix it up with a smoked salmon or juicy kalua pig, and see what the wait's all about. 2919 Kapiolani Blvd., Honolulu, (808) 732-3330, cafe-kaila-hawaii.com.
Koko Head Café
An unassuming off-white building situated on Waialae Avenue is home to a melting pot of Pan-Asian styled breakfast cuisine. Breakfast congee (rice porridge), a miso-smoked pork and onion omelet and kimchi-bacon-cheddar scones are just a few of the unique menu items thought up by former "Top Chef" contestant Lee Anne Wong, who spearheads Koko Head Café. Look for the loco moco on the menu—the Koko Moco's construction features a tender Maui Cattle Co. beef patty sitting neatly atop garlic fried rice and topped with a sunny-side up egg, mushroom gravy and—here's the twist—tempura kimchi. 1145 12th Ave C., Kaimuki, (808) 732-8920, kokoheadcafe.com.
Mahina & Sun's
Located in the hip Surfjack Hotel & Swim Club, Mahina & Sun's is equally as cool and casual as the hotel. Pair the pork adobo fried rice bowl and ulu (breadfruit) pancakes with a boozy cocktail, such as the Lady Lavender, a mix of prairie vodka, rosemary, lemon and tarantas cava. Or consider ordering the flagship food of the millennial generation: avocado toast. It's Instagram-ready, presented on a thick slice of whole grain toast, with avocado, tomato jam, dukkah, aleppo peppers and pea shoots. 412 Lewers St., Waikiki, (808) 924-5810, mahinaandsuns.com.
Maui
Nalu's South Shore Grill
A south Kihei staple, Nalu's South Shore Grill excels in breakfast, lunch and dinner. If you're looking for something that's got a little bit of both savory and sweet, the fried chicken and Belgian waffle is covered with brown butter maple syrup that's been infused with sage. This saccharine snack is then topped with organic raised fried chicken and crispy brown bacon. Other options include acai, pitaya and fruit bowls, corn flake crusted French toast and a Big Kahuna Omelet. 280 S. Kihei Rd., (808) 891-8650, nalusmaui.com.
Gazebo Restaurant
Big and fluffy, that's how pancakes should be, and Gazebo's come topped with a large portion of the chef's secret sweet cream, sprinkled with macadamia nuts. Up the ante by pouring on the coconut syrup, and try not to eat it too quickly. Fair warning: The line to be seated at Gazebo is almost always a 45-minute minimum, however, they do offer takeout and pickup options at the back of the restaurant. 5315 Lower Honoapiilani Rd., Napili, (808) 669-5621
Kauai
Olympic Café
There are a lot of great kalua pig burritos in the Islands, but none are as large and filling as the ones at Olympic Café. Roughly the size of a small house cat, a large tortilla is mercilessly filled with kalua pig, Spanish rice, black beans, cheese and lettuce topped with sour cream, avocado and fresh salsa. Bring a friend, or two, as it takes a team to chow down on one of these monstrosities. In fact, all of the serving sizes here are large, so be hungry. 4-1354 Kuhio Hwy., Kapaa, (808) 822-5825
Kalaheo Café & Coffee Co.
A routine morning stop for locals, Kalaheo Café is on the south side of Kauai, and its selection of omelets can't be beat. The Lawai Farmer's Omelet has sautéed mushrooms, bacon, tomatoes, onions, spinach and melted feta cheese, but if you feel like something different, you can build your own. With "coffee company" in the name, you can expect to have an exceptional cup of coffee to complement your meal. 2-2560 Kaumualii Hwy., Kalaheo, (808) 332-5858, kalaheo.com/breakfast.
Hawaii Island
Frenchman's Café
In Kailua-Kona, seek out the Croque Madame served at this cute French café and creperie. We think you'll agree it's pretty magnifique. Boiled ham is sandwiched between two slices of multigrain bread, coated in melted Emmental cheese and topped with a fried egg. You'll also find smoothies, egg and cheese croissants and lots of crepés, such as the French Caribbean crepe, glazed with caramel sauce, coconut shavings, banana slices and coffee ice cream. 75-5729 Alii Dr., Kailua-Kona, (808) 365-2671, facebook.com/frenchandvegetarianveganglutenfree.