8 chic Oahu boutiques worth discovering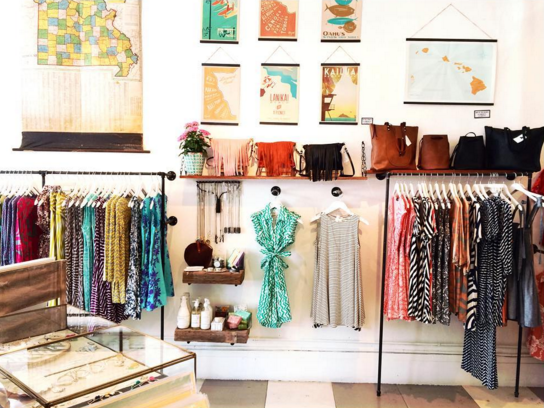 Away from the island's malls and rows of chain stores, these modern and vintage shops are the perfect place to find a unique Hawaii souvenir.
Roberta Oaks
The real stars of this shop are the close-fitting aloha shirts designed by local artist Roberta Oaks. Beloved by residents, the unique and colorful floral designs give off a retro-cool vibe, and are made for both men and women. Peruse the store for bags, hats, jewelry, home decor and more at this lifestyle boutique. Mon. through Fri. 10 a.m. to 6 p.m., Sat. 10 a.m. to 4 p.m., Sun. 11:30 a.m. to 4 p.m. 19 N. Pauahi St., Honolulu, (808) 526-1111, robertaoaks.com.
Kailua General Store
While exploring Kailua, step inside this store, which features cool local products, novelties and souvenirs. Pick up everything from fishing poles and T-shirts to toys and paintings. And, don't forget to order a ginger, mango or green-tea shave ice before you leave. Mon. through Sat., 10 a.m. to 5 p.m., 171 Hamakua Dr. Kailua, (808) 261-5681, kailuageneralstore.com.
Hungry Ear
If you're looking for vintage Hawaiian music on vinyl from the 1960s and '70s; classic Kaaau Crater Boys or Israel "Iz" Kamakawiwoole CDs; and Rap's Hawaii DVDs, here's where you go. By the way, this record store is Hawaii's oldest, founded in 1980. Mon. through Sat. 10 a.m. to 6 p.m., Sun. noon to 5 p.m., University Square, 2615 S. King St., Honolulu, (808) 262-2175.
Aloha Beach Club
Known for its popular aloha Beach Club menswear label manufactured in the Islands, this store carries products that are surf-inspired. You'll find tailored aloha shirts, soft T-shirts, board shorts and even home goods. Daily 10:30 a.m. to 6 p.m., 131 Hekili St., Kailua, alohabeachclub.com.
Manuhealii
Hawaiian designs meet contemporary fashion at this go-to store for local TV hosts, musicians and, yes, even us writers. The store's sassy collection of clothes for men, women and children are comfortable to wear and available in vibrant colors and earthy tones. The attire is perfect for wearing to a Hawaiian music concert, hula competition or just to work. Locations in Honolulu and Kailua, manuhealii.com.
Fitted
If you're looking for a cool hat from Hawaii then you have to stop by Fitted near Ala Moana Center. It takes Native Hawaiian culture and incorporates it into contemporary and avant-garde designs. Fan-favorites include an outlined image of King Kamehameha and the Hawaiian flag. True hat aficionados follow the company on Instagram @fitted, for news on the latest releases. Mon. through Sat. 11 a.m. to 7 p.m., Sun. 11 a.m. to 5 p.m., 1438 Kona St., Honolulu, (808) 942-3100, fittedhawaii.com.
Fighting Eel
This Hawaii-grown boutique is a favorite for stylish women who love versatile clothing with pops of color and comfortable fabrics. Its fun line of graphic tees that say "Ho Brah Howzit Aloha HI," "Shakaloha" and "Pineapple Ice ice baby" are perfect souvenirs. The stores also have a fantastic selection of locally-made jewelry from both established and up-and-coming designers. Four locations, including the Royal Hawaiian Shopping Center, (808) 738-9295, fightingeel.com.
Number 808
A hipster's surfing haven, Number 808 carries brands like Saturday's NYC, Aloha To Zen, Matuse wetsuits and Travis Reynolds surfboards. You can also find the hard-to-find local brand Quality Peoples here, one of the few truly unique boutiques on the North Shore. Daily 11 a.m. to 6 p.m., 66-165 Kamehameha Hwy., Haleiwa, (808) 312-1579, number808.com.
More shopping opportunities…
Honolulu Night Market fills Cooke Street in Kakaako the third Saturday of every month (honolulunightmarket.com) and Art & Flea's creative collective takes over a stretch of Auahi Street in Honolulu's Ward Village the last Thursday night of each month (artandflea.com).