8 Hawaii-Made Products to Pack in your Beach Bag
What are the form-meets-functional components that make your beach bag swell? Here's how we hit the shores in style.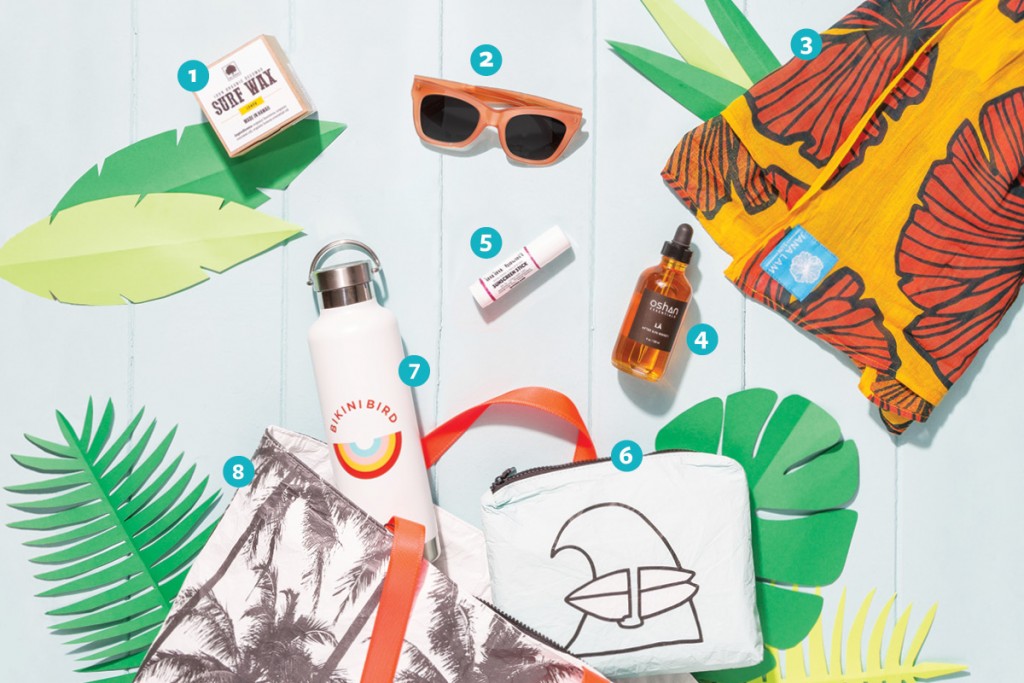 Headed down to the beach for some surf, sand and sun? Then you'll want to make sure you've packed your beach bag with the essentials, and we've compiled a list of eight locally made products that will turn a good beach day into a great beach day.
1. Surf Wax
The husband and wife duo behind My Manoa whip up all-natural handmade goods from their kitchen in Mānoa, which they finish up with design-forward labels and cheeky packaging. $15, mymanoa.com.
2. Sunglasses
A good pair of sunnies is a staple in every beach bag, and these gorgeous apricot ones by D'Blanc absolutely scream summer. $125, bikinibird.com.
3. Floral Pareo
This pareo is the perfect seaside cover-up, from local designer Jana Lam, known for her bright, tropical prints. $48, janalam.com.
4. After-Sun Oil 
Show your skin some after-sun love with Maui-based brand Oshan Essentials' LA After-Sun Manoi, designed to combat sun damage and scarring. $29, oshanessentials.com.
5. Sunscreen Stick 
Au Au Hawaii makes an all-natural—and reef-safe—version in handy stick form, perfect for face touch-ups. $15.20, auauhawaii.com.
6. Wet Bags 
Keep your sopping swimsuit separate from your other gear with this locally made bag with a surfboard design (a collab with local-grown musician Jack Johnson), which doubles as a cute multipurpose pouch. $28, guavahawaii.com.
7. Canteen 
Skip single-use plastic bottles and refill a cute BikiniBird canteen instead. $32, bikinibird.com. 
8. Waterproof Tote 
We love how this edgy tote from Samudra has a black-and-white-meets-neon-color-blocking look that gives a hip, new twist to the tropical aesthetic. $64, guavahawaii.com.