8 Jaw-Dropping Maui Hikes
These Hawaii trails for the adventurous reveal some of Maui's most incredible natural wonders.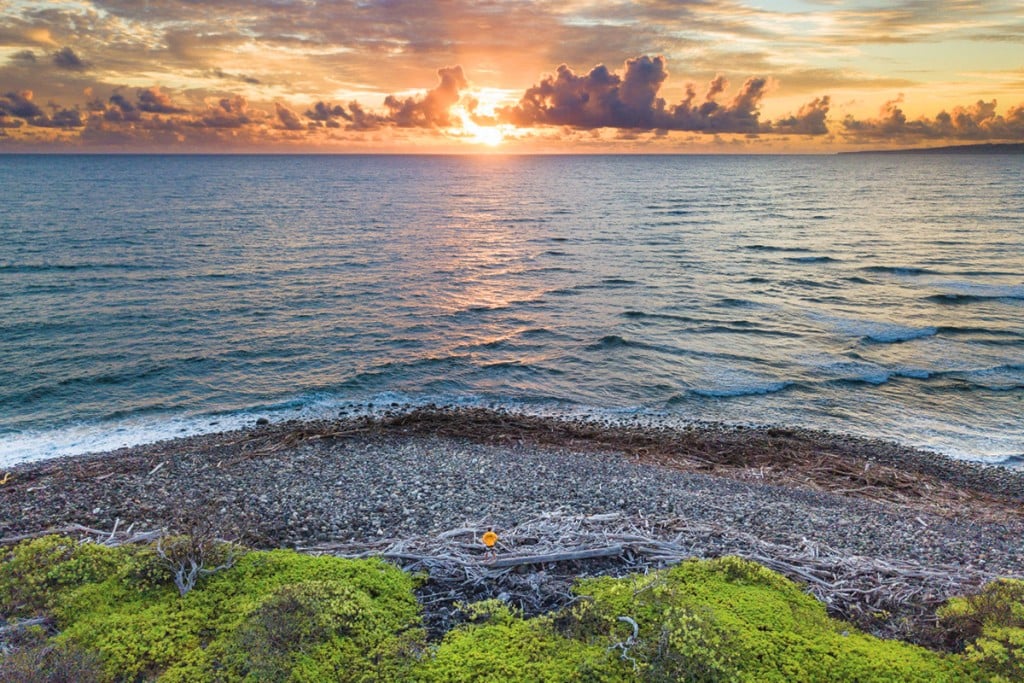 Grab your camera, water bottle, sunblock and snacks, these trails aren't messing around when it comes to seriously amazing views.
Peahi Overlook
Peahi. Jaws. Where the wave heights can reach 60 feet and big-wave surfers put their skills to the ultimate test. And for a place so revered and well-known, Peahi's strangely difficult to find. I'm on a mission to find the path to Maui's iconic big-wave surf spot—the site of the World Surf League's annual Jaws Challenge—and after passing Valley Isle Memorial Park & Cemetery (heading toward Hana) on Maui's North Shore, I see what I'm looking for: Hahana Road, which runs through a small residential area before transforming into a dirty, bumpy trail, should take me to Peahi. Parking on the side of Hana Highway, I grab my bag full of water bottles and snacks and start my 3-mile round-trip journey to Jaws.
Although I know the reward at the end of the trail will be worth it, after walking for 20 minutes, the actual sights on the way to Peahi are nothing to write home about. The path is lined with wild California grass, abandoned vehicles and patches of wet dirt so deep I could easily imagine my economy rental car getting stuck in the mud. After a bit more walking, I reach a fork in the road. Go right. (Trust me on this.) I'm immediately met with a grand view of North Maui's untouched outback. Waves crash against massive cliffs and without any civilization in sight, it feels like my 20-minute jaunt has transported me to an entirely new, untamed world.
Although the waves have some size, Peahi is relatively calm. The sets rolling in give me some insight as to where the main break would be; however, the swell is just not big enough to create those iconic, monstrous, barreling mountains of water. Before starting my journey back—much of the return trip is uphill—I take a moment to rest under a large, shady pine tree. Shutting my eyes, I briefly imagine what it must be like when Peahi is going off, when the ocean is ferocious and the waves are like skyscrapers. Suddenly, I can't wait to return.—Kevin Allen
Turn left onto Hahana Road, which is between mile marker 13 and 14. Do not attempt to drive the road unless you have a vehicle with four-wheel drive.
Polipoli Spring State Recreation Area
I realize something once I lace up my boots and take my first steps down the trail: The poor visibility isn't from fog—it's because I'm inside of a cloud.
Here, at 6,300 feet in Polipoli Spring State Recreation Area about 10 miles from Kula on the slopes of Haleakala, midday clouds have consumed the forest to the point that wispy puffs of white are dancing in the treetops. I've come up here to commune with nature, hike amid forest birds and plod down a trail that visitors—and locals—rarely take time to explore.
I'm headed down the Boundary Trail, which is part of the network of hiking paths that wind through the Kula Forest Reserve on Haleakala's southwestern flank. When the clouds part, you can see Maui's southern shoreline, but while hiking through groves of redwood and Monterey pine planted in the 1930s, you'd be forgiven for thinking the trail has led you to Northern California.
Though the path descends steeply from Waipoli Road (which is only accessible via four-wheel drive), it levels off at a fence line where trees give way to rolling green pastures. A ring-necked pheasant squawks in the distance, and I pass by native ohelo berries growing free and wild on the bush. When I reach a ramshackle hunter's cabin and peer inside to see four narrow wooden bunks, I reflect on how this place must have looked when the Civilian Conservation Corps helped plant this forest and blazed these trails all those years ago. It must have been quiet, removed from man, and a place for listening to songbirds, which is really the same way you'll find it today—a hidden escape from the crowds.—Kyle Ellison
From Kahalui, take Highway 37 past Pukalani to the second junction of Highway 377. Turn left for 0.3 mile, then right on Waipoli Road.
SEE ALSO: The Polipoli Trail in Upcountry Maui induces a dream-like state
Waihee Coastal Dunes and Wetlands refuge, Waihee
Tucked away in Central Maui, this historic coastal wetlands refuge spans 277 acres of undeveloped shoreline. Much of the trail is buried beneath ili ili, smooth black stones that have been washed by waves that break on the offshore reef. You can scour the coastline for driftwood and shells or follow the 2-mile hiking trail to the site of ancient Kapoho Village, where Native Hawaiians flourished for centuries in the days before Western contact.—K.E.
Halewaiu Road, Wailuku
Waihou Spring Trail, Makawao
When hiking this trail in upper Olinda at 3,800 feet, it's hard to know what's more impressive: the neck-craning rows of perfectly placed pines or the caves that pockmark the side of a cliff that's home to Waihou Spring. The water that trickles out of these caves flows past moss-covered rocks that form a natural hidden amphitheater in the forest. Though much of this 1.8-mile hike is on easy, flat terrain, the switchbacks leading down to the springs can be challenging for those with bad knees.—K.E.
Olinda Road, Makawao
Ke Ala Loa O Maui Trail, Hana
Hugging the coast in Waianapanapa State Park, the Ke Ala Loa O Maui, or Piilani Trail, is often overshadowed by the park's black sands and famous freshwater caves. Should you make the 3-mile hike, however, you'll walk through groves of hala trees and pass ancient Hawaiian temples, or heiau, and gaze over cliffs where local fishermen still source their meals from the sea. Since the rocky terrain is tough on the feet, adequate shoes are a must.—K.E.
Waianapanapa State Park, Hana
Olivine Pools, Kahakuloa
Considered one of the more dangerous places on Maui, the emerald-green tide pools off Kahakuloa, Maui—commonly known as Olivine Pools—can be safely viewed from the rocky ledge above. The start of the trail is right off Kahekili Highway at mile marker 16, about 18 miles north of Kahului Airport. There are no sandy beaches or easy access to the ocean here—just a steep hike down a rocky coastline with several tide pools that we don't recommend entering (though you'll find this spot in guidebooks and on travel sites). Several people have drowned here, including a 46-year-old father visiting from Montana last year, who jumped in the ocean to save his 15-year-old daughter. She had been swept away by a wave but survived. But what we do recommend is the drive through the sleepy town of Kahakuloa, just north of Kahului. It's reminiscent of the twisting Road to Hana, with harrowing hairpin turns and one-lane bridges. Stop for banana bread—considered some of the best on the island—or fresh lilikoi (passion fruit) butter at Julia's Best Banana Bread, a bright green roadside stand at mile marker 13. Directly across the street from the stand is a parking area, with a hiking trail down to the shoreline.—Catherine Toth Fox
Mile marker 16, Kahakuloa
Fagan's Cross, Hana
On a hill overlooking Hana, across from the Travaasa Hana resort, stands one of the rural town's most visible landmarks: a large cross made of lava rock that was erected in the early 1960s in memory of Paul Irving Fagan Sr., who owned the 14,000-acre Hana Ranch and founded the original Kauiki Inn, Hana's first hotel. (It later became Hotel Hana Maui, then Travaasa Hana.) The 20-minute uphill hike to the cross is on a paved path through pastureland dotted with cows (watch where you step). From the top, panoramic views of the East Maui coastline are breathtaking at any time of the day, although going early to watch the sunrise is a treat.—Tracy Chan
Across the street from Travaasa Hana Resort, 5031 Hana Highway
SEE ALSO: How to See the Sunrise at Fagan's Cross, Hana, Maui
Pipiwai Trail
Visitors who make the trek down the winding Road to Hana are often looking for two things: waterfalls and bamboo forests. (We look for banana bread, to be honest!) There's one hike in East Maui that has it all. The Pipiwai Trail offers a maintained trail that's easily accessible—there's even a parking lot!—with large pathways that are easy to follow. The idyllic 4-mile roundtrip trail runs alongside a string of pools and waterfalls before transitioning into a zen-like ohe (bamboo) forest. The finale is Waimoku Falls, a 400-foot natural waterfall. Stay on the trail and heed warning signs.—C.T.F.
Haleakala National Park, Kipahulu
SEE ALSO: Hiking the Pipiwai Trail to Waimoku Falls at Haleakala National Park