8 Local and Independent Book Shops You Need to Visit in Hawaii
You don't have to be a bookworm to appreciate these locally owned treasures.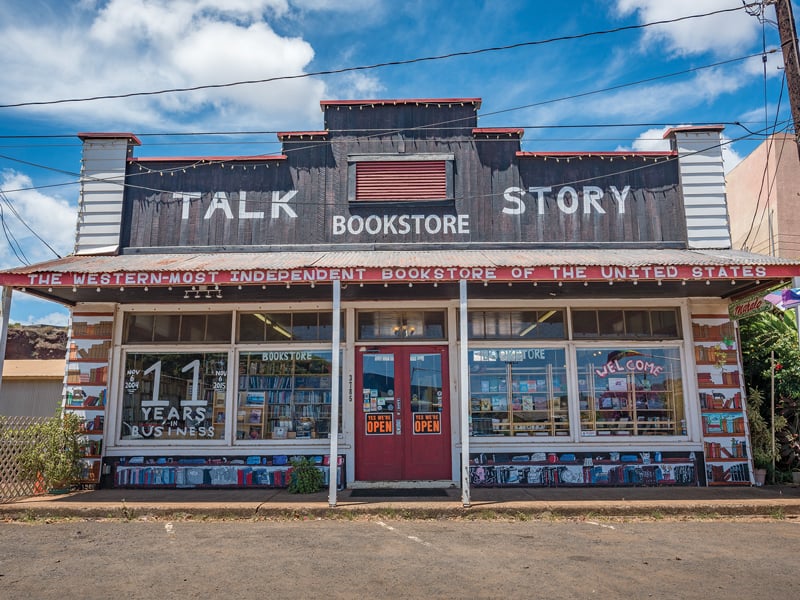 It doesn't matter where I'm visiting—Kenosha, Wisconsin or Kyoto, Japan—I seek out independent bookstores. I love browsing the shelves, running my fingers along tattered spines or finding something unexpected in the not-always-organized rows of books. And you can learn a lot about the place you're visiting from these locally own shops, too, which often showcase staff picks and boast curated sections of local books.
So next time you're in the Islands, check out one of these indie bookstores—and find that book you'll get lost in while lounging on the nearest beach.
OAHU
1. Da Shop, Kaimuki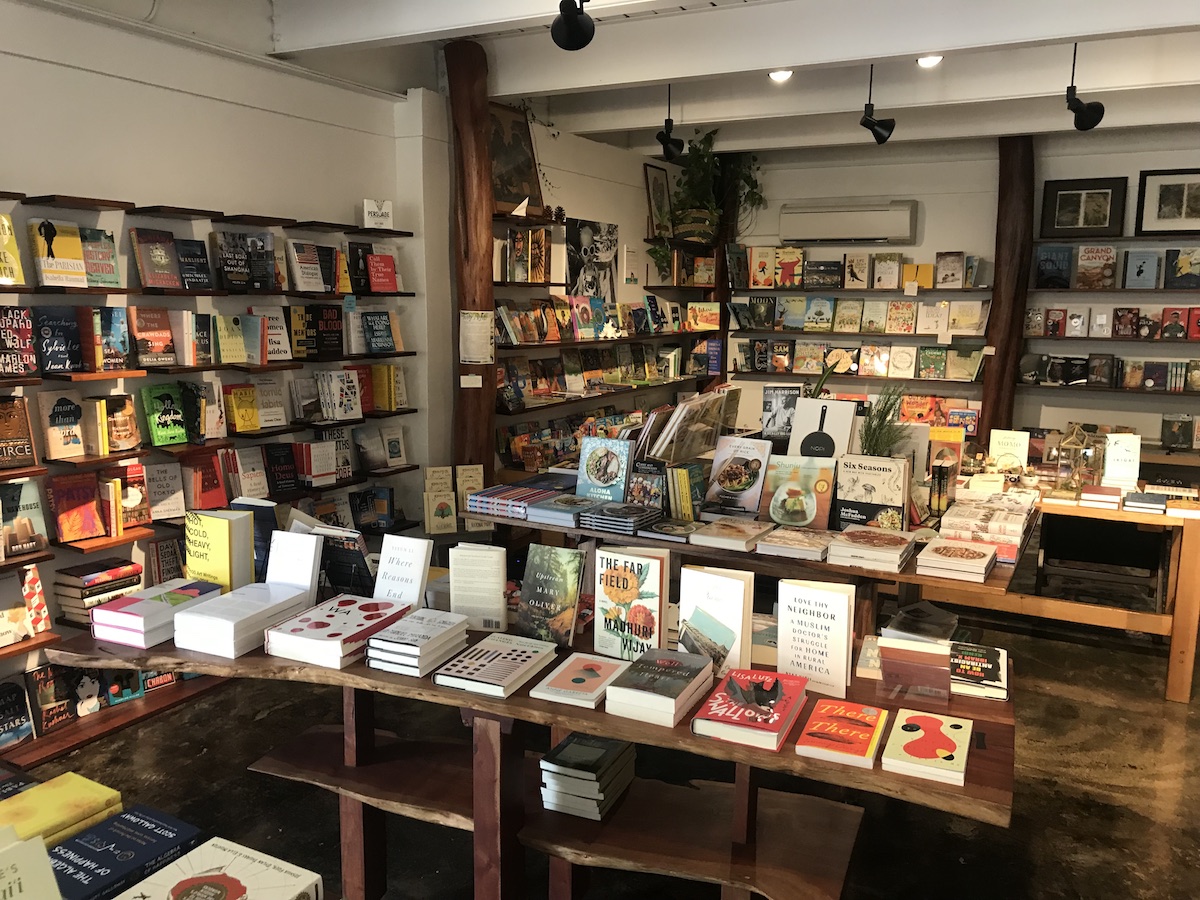 Tucked in a small building in the business district of Kaimuki—less than three miles from Waikiki—this hip new community bookstore, run by local publisher Bess Press, offers a variety of locally published books alongside national best-sellers and international titles. It also boasts a nice selection of keiki (kids) books, lounge seating and an event space that hosts read-alouds, lectures and live performances. Can't find what you want? Da Shop's easy-access digital database boasts more than 1 million titles, any of which can be purchased in store and shipped directly you.
Da Shop, 3565 Harding Ave., (808) 421-9460, dashophnl.com
2. BookEnds, Kailua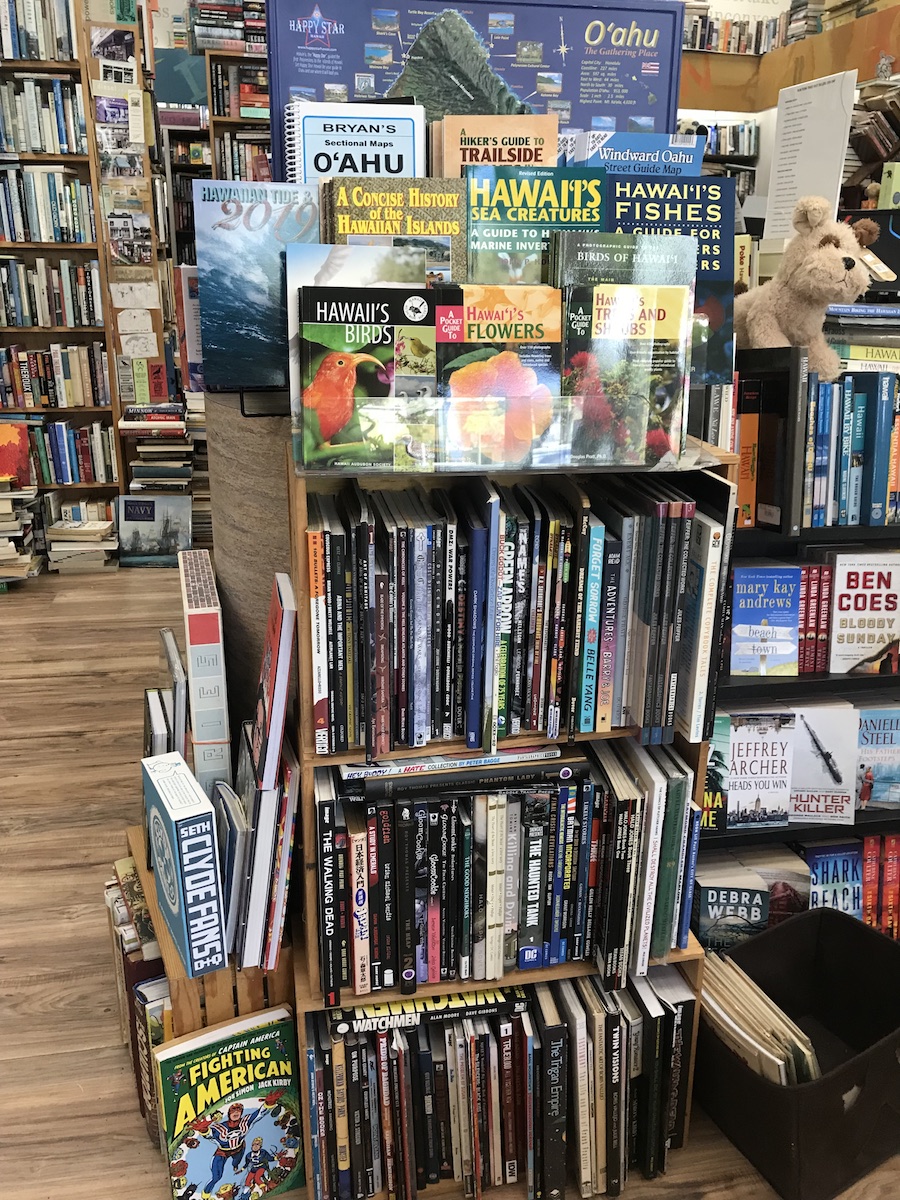 This family-run bookshop has been beloved by Kailua residents and book lovers for more than 20 years. Located near Kailua Beach, BookEnds has an extensive selection of new and used books, and an incredible array of reads on Hawaiian history and culture. (Fair warning: It's organized chaos in there.) It's the perfect place to grab a cheap book for the beach or get recommendations from the helpful staff.
600 Kailua Road #126, (808) 261-1996
3. Na Mea Hawaii, Ala Moana
View this post on Instagram
If you're interested in all things Hawaiiana—language, culture, history—head to Na Mea Hawaii in Ward Village. This well-respected store is the premier spot for books on Hawaii. Its diverse collection includes books on Hawaiian mythology, marine life, ethnic cooking, hula, Polynesian voyaging, music and more. Find novels by local writers and keiki books here, too. The shop also sells locally crafted gifts, from shell jewelry to clothing to koa wood carvings, and hosts crafting classes and live music events.
1200 Ala Moana Blvd., #270, (808) 596-8885, nameahawaii.com
MAUI
4. Maui Friends of the Library Bookstore, Various
This nonprofit, cash-only bookshop has three locations on Maui—Kahului, Lahaina, Puunene—staffed entirely by volunteers. Prices are donation-based and all proceeds fund programs for Maui County public libraries. This concept solves two problems: keeps books out of the landfill and provides inexpensive books—some are 25 cents!—to you. Find used CDs and DVDs here, too.
Visit its website here.
KAUAI
5. Talk Story Bookstore, Hanepepe
Talk Story Bookstore has become a book lover's destination in Hanepepe since it opened in 2004. Not only is it the westernmost bookstore in the U.S., it boasts more than 150,000 tities in its massive selection of new, used and out-of-print books, in addition to Hawaiian vinyl records, sheet music, old magazines and comic books. For decades, visitors have been flocking to this plantation-era structure in the old sugar town from around the world; it's now the only bookstore on the island. Another perk: You might get to meet the owner's cat, Celeste, the unofficial mascot of the shop. She's even got her own Instagram!
SEE ALSO: Talk Story Bookstore on Kauai is a Bibliophile's Dream
3785 Hanapepe Road, (808) 335-6469, talkstorybookstore.com
HAWAII ISLAND
5. Big Island BookBuyers, Hilo
Located in Downtown Hilo, this bookstore specializes in used and out-of-print books and DVDs, though it does offer new materials, including books on Hawaiiana, guide books and novels written by local authors. You can trade and sell books, too, whenever a buyer is available.
14 Waianuenue Ave., (808) 315-5335, bigislandbookbuyers.com
7. Still Life Books & Vinyl, Hilo
This basement book shop survived serious flooding last year from Hurricane Lane. Though owner Royce Wilson had to move the store—it's now on higher ground, though half the size at 420 square feet—it still has a great array of books and vinyl records, with enough rarities and collectibles that keep fans coming back.
235 Waianuenue Ave., (808) 334-2904 stillifebooksvinylart.com
8. Kona Stories Book Store, Kailua-Kona
Find this community bookstore, which opened in 2006, in Keahou Shopping Center. It focuses on Hawaiiana and keiki books, though you can find gifts and greeting cards, too. Kona Stories also offers consignment for local, self-published writers looking to promote their work, and hosts book clubs and wine events. And keep a eye out for Chloe, the shop's resident cat.
Keahou Shopping Center, 78-6831 Alii Drive, (808) 324-0350, konastories.com