8 More Awesome Land Formations You Love in Hawaii, Explained
The stories behind the popular nicknames of natural landmarks across the Islands.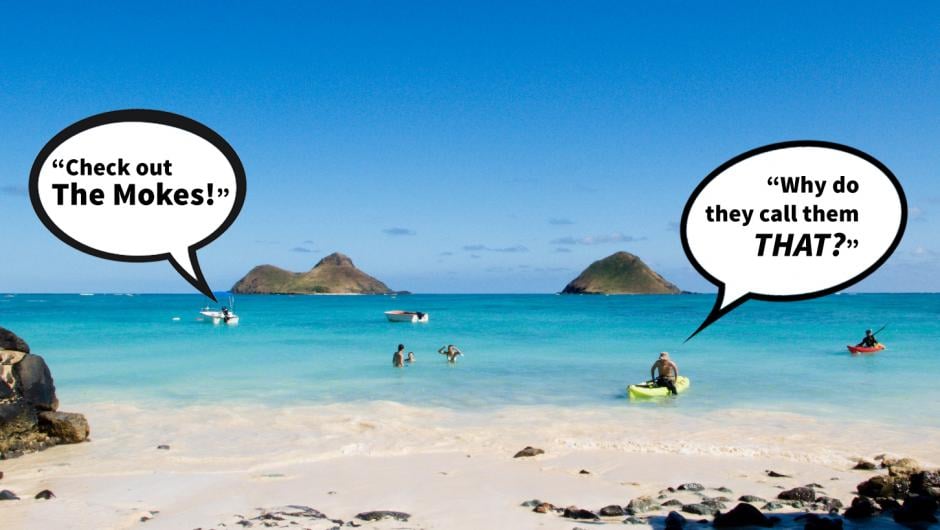 Hawaii has so many distinctive land formations with interesting backstories to their popular nicknames we couldn't just limit it to one post.
Here are eight more alluring natural landmarks…
1. Dragon's Teeth on Kapalua
Sink your feet into this unique rock formation on Maui's Makaluapuna Point, a result of one of the island's last lava flows. As the lava poured from the West Maui volcano, fierce winds and waves swept the flow upward until it hardened into what looks like jagged teeth from a massive jaw hence "Dragon's Teeth."
2. Sweetheart Rock (Puu Pehe)
One of Lanai's most recognizable sights is what locals refer to as Sweetheart Rock located off the island's southern Manele Bay. It's proper Hawaiian name is Puu Pehe, which takes its name after a beautiful Hawaiian girl of the same name. The ancient Hawaiian story behind it is one of the most dramatic and tragic you'll hear. Basically the 80-foot islet is a tomb named after Puupehe as its her final resting place.
According to the legend, her love was won in a war where Makakehau, a Lanai warrior, was the victor. His name literally means "misty eyes" because it's said he would tear up over the beauty of his lover Puupehe.
Afraid other warriors would try to take her from him, the two lived in this remote area of Lanai. One day he hid her in the Malauea Cave at the base of this land formation while he went to fetch fresh spring water. However, an intense storm swept through while he was absent, drowning Puupehe. When he returned he built her a grave at the top of the islet (because of the steep overhang, those who witnessed Makakehau doing this believed an akua, or god, heard him crying and helped lift him and her body to the top).
After laying Puupehe to rest, a deeply heartbroken Makakehau leapt from the rock to his death below.
3. Mokes (Na Mokulua)
These two iconic islets less than a mile off of Oahu's windward coast are best viewed off Lanikai in Kailua. The nickname "Mokes" (pronounced like "smokes") is a shortened version of its proper Hawaiian name, Na Mokulua, which literally translates to "two islands."
Individually, the larger one (on the left when viewed from Lanikai Beach) is Moku Nui ("big island") and the smaller one is Moku Iwi ("little island").
4. Elephant Rock (Mokuhooniki)
Best viewed from above, you can make out why this rock formation located to the north of Molokai gets its popular nickname. This visually amazing islet resembles that of an elephant—trunk, ear, body, tail and all.
Its ancient Hawaiian name is Mokuhooniki, literally meaning "pinch island." The book, "Place Names of Hawaii," is clear to point out that this pinch isn't meant to be mean, but a playful one—the way you'd pinch a lover.
5. Barking Sands Beach (Keonekani o Nohili)
At Polihale Beach on Kauai, south of Queen's Pond, is a beach often called Barking Sands. That's because the sand grains here have a very unique quality to them: each individual grain possesses small microscopic, porous holes that produce a noise that supposedly sounds like a barking dog when rubbed together. The friction causes this phenomenon, but only when the sand is dry.
While that was a nickname given by early English speakers, ancient Hawaiians also made a similar observation. This area is referred to as Keonekani o Nohili—translation: "The Sounding Sands of Nohili"—in Hawaiian mele (song) and oli (chant).
6. Pele's Chair (Kapaliokamoa)
View this post on Instagram
You can find this land formation on Oahu's Leeward Side near Makapuu Lighthouse. It's above Awawamalu Beach, or what locals simply refer to as Alan Davis, after Alan Sanford Davis, a former Campbell Estate trustee who lived and owned 3,000 acres in the area in the 1930s and '40s.
The name Pele's Chair is a modern interpretation of what the rock looks like—simply, a chair that the goddess of fire and lava must've created. The Hawaiian name Kapaliokamoa translates to "the cliff of the chicken" and from its profile you can make out the resemblance of a chicken and the comb at the top of its crown.
7. Spouting Horn of Poipu
Once you venture over to the Poipu district of Kauai's south shore you'll immediately see how this waterspout got its common name. Poipu, which means "crashing waves," feeds this natural lava tube with surf that shoots nearly 200 feet into the air, making this a popular point of interest on the island. There's no Hawaiian place name attached to this specific landmark; Hawaiians most likely just called it puhi, meaning blowhole.
8. Electric Beach (Kahe Point Beach)
When locals say they're going to Electric Beach they're talking about a narrow stretch of beach in Nanakuli on Oahu's west side. Also known as Kahe Point Beach, it derives its nickname because it's located across the street from an electric power plant.
Now that doesn't sound so picturesque, but because the plant outflows clean water offshore, it warms up the water in the area attracting a diverse amount of marine life, from butterfly fish to the humuhumunukunukuapuaa, making this a favorite for snorkelers with intermediate and above experience. The warmer temperatures also make it a popular haven for Hawaiian spinner dolphins in the early mornings.