8 Must-Try Hawaii Snacks Full of Island Flavor
Here's a roundup of the latest packable—and affordable—Hawaii snacks that make great gifts for yourself or others.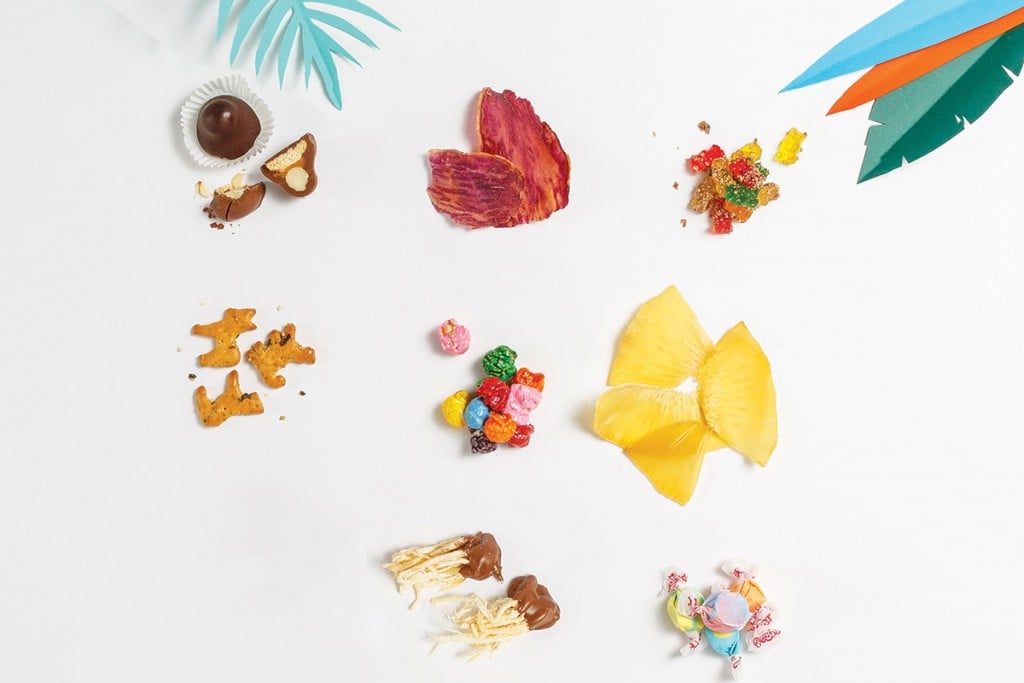 Locals love to nosh on small bites that deliver big island flavors. Here's a roundup of the latest packable—and affordable—snacks from Oahu, Maui, Hawaii Island and Kauai that make great vacation gifts for family and friends—or yourself. The order goes clockwise from top left.
Yummy Gummy
Gummy candies are ubiquitous, but only in Hawaii can you get them punched up with lemon peel (dehydrated lemon). Carousel Candyland at Kahala Mall in Honolulu takes chewy bears, strawberries and sour peaches and tosses them in ground lemon bits. The result? Sweet-meets-tangy-meets-sour deliciousness. carouselcandyland.com
Yoo-hoo Ulu
Our favorite way to eat breadfruit? In chip form, of course. Poi By the Pound on Maui, known for its authentic Hawaiian food, sells bags of fried ulu chips that are crunchy, salty and healthier than potato chips. poibythepound.com
Sticky Fun
Surprise! We have our own version of saltwater taffy: Maui's Big Wave Taffy's sweet selection of tropical flavors includes pineapple, piña colada, passion fruit, mango, tropical punch and banana. bigwavetaffy.com
Purple Potato Eaters
Taro Ko Farm on Kauai isn't a farm but a chip factory in Hanapepe. Owner Dale Nagamine uses local taro for his thin, crispy and decidedly delicious chips. Our advice? Buy a couple of bags to eat in the car. (You'll regret it if you don't.) (808) 335-5586
Rainbow Bites
It makes sense that Primo Popcorn's rainbow-coated popcorn is aptly named kalakoa—Hawaiian for a mix of colors. It looks like gumballs in fruity flavors: banana, watermelon, coconut, orange, strawberry, grape, apple. primopopcorn.com
Here, Fishy Fishy
Cuttlefish's briny, oceany flavor and chewy texture pairs nicely with beer—and, yes, chocolate. Big Island Candies on Hawaii Island dips it in smooth milk chocolate for an adventurous sweet-salty snack that surprises—and delights. bigislandcandies.com
Mound Bites
At Kauai Chocolate Co., don't let the opihi candy's brown appearance fool you. Under its silky milk chocolate coating is a winning Twix-like stack of guava cookie, mac nut and buttery caramel. (808) 335-0448
Cracker Snacker
J & R's Lollipops & Things in Hilo on Hawaii Island went a little wild when it sprinkled furikake (a seaweed seasoning) on animal crackers. Think creamy, sweet biscuits balanced with salty umami-ness and pops of nutty sesame seeds. (808) 938-2565.