8 Running Routes on Oʻahu for Every Runner
Lace up your shoes and hit the pavement—or trail—on your next vacation to Oʻahu.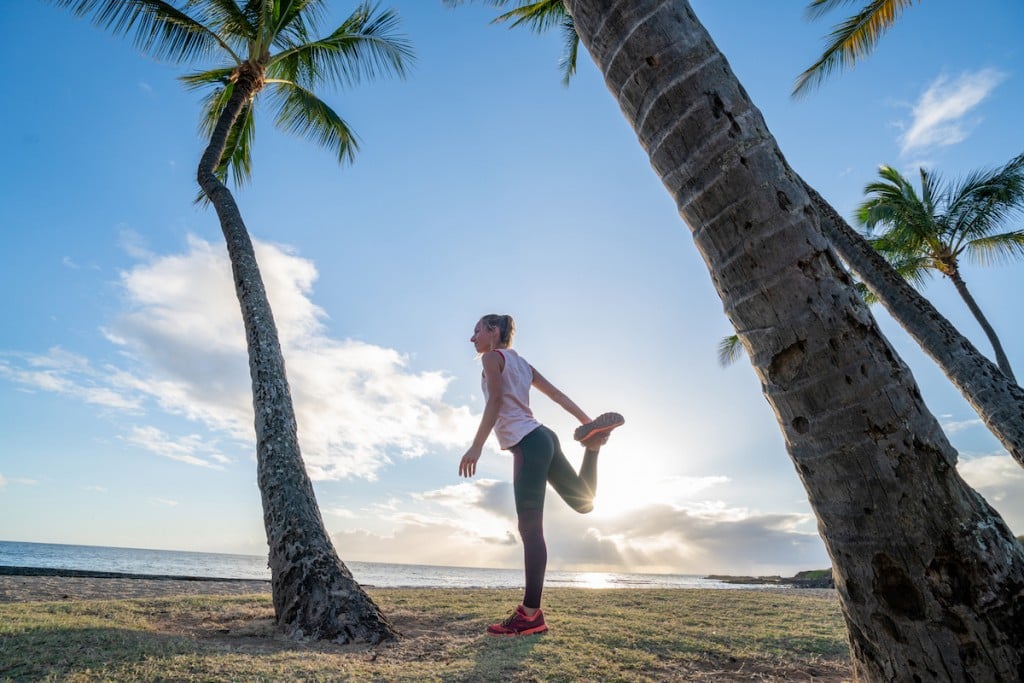 Running on vacation may not sound like a vacation. But sometimes it's the best way to experience a new place—or even a place you've been to many times before. You're able to look around, take in your surroundings, even venture into areas only accessible by a pair of shoes.
Plus, you're burning the calories you woofed down at the breakfast buffet.
Oʻahu has a number of running routes for every kind of runner, from the casual jogger to the advanced marathoner.
So today, on Global Running Day, we wanted to share some of the island's diverse pathways, trails and routes. Bookmark these for your next visit.
1. Around Lēʻahi, 4.6 miles
This 4.6-mile route encircles Honolulu's most iconic landmark, with stunning views of the island's southern coastline. Start at Kapiʻolani Park, where there's lots of metered parking, and head east toward the lookout, where you can watch surfers or, in winter months, see migrating humpback whales. The route is hilly in parts—a 200-foot elevation gain—so you'll definitely get a workout. (This section is also part of the annual Honolulu Marathon route.) Circle around the crater, down Monsarrat Avenue and back to Kapiʻolani Park. If you want to toughen the workout, add a hike to the top of the crater. It's $1 per person to walk (or run) into the Diamond Head State Monument to hike to the top of the 760-foot volcanic tuff cone.
2. Ko ʻOlina Lagoons, about 3 miles
The 642-acre Ko ʻOlina Resort on the leeward coast of Oʻahu, about 17 miles west from Honolulu, sits on 2 miles of coastline that includes four man-made lagoons with sandy beaches and a jogging path the connects them. This down-and-back run can start at either end of the resort, though we like the larger public parking lot on west end, which also happens to have a nice restroom. You'll run along a flat, paved path past the area's four hotel and vacation-club resorts. Add a quick swim in one of the lagoons for an extra calorie-burn—and a cool-off, too.
3. Ala Moana Regional Park, 2 miles (3 with Magic Island route)
This 76-acre beach park, situated along a sandy beach between Waikīkī and Downtown Honolulu, is a popular spot for walkers and runners—and for good reason: lots of free parking, public restrooms and safe, paved pathways within the park. All day long you'll see people using this space for exercise, from stand-up paddleboarders and swimmers in the calm waters to fitness boot camp and yoga classes in the park. (The stretch along Ala Moana Boulevard is part of the Honolulu Marathon course.) If you want an additional mile of running—plus views of the Pacific Ocean and Lēʻahi—add the route around Magic Island, a man-made peninsula at the east end of the park.
4. Lanikai Loop, about 3 miles
Start this loop run at Kailua Beach Park on Windward Oʻahu, where there's free parking and restrooms. Head east along Mokulua Drive toward the beachfront enclave, where you follow the 2-mile loop around the neighborhood. It's flat and paved, but there aren't any sidewalks here. You won't be able to see the picturesque Lanikai Beach on this route, but you can head down any of the beach access pathways to relax on the postcard-perfect shoreline with views of the Mokulua Islands.
5. Makapuʻu Lighthouse Trail, 2 miles
On the easternmost point of Oʻahu is a trail that leads up a 600-foot sea cliff to the historic Makapuʻu Point Lighthouse. The 2-mile paved trail is great for runners looking to get a cardio workout—it's a 500-foot elevation gain—with sweeping ocean views. (Who needs Pelaton?) During winter month, this is a great spot to see humpback whales, too. There's free parking, but no restrooms. (The closest one is at nearby Makapuʻu Beach Park.) It can be hot and dry on this trail, so bring water, and plan to go early as this hike gets crowded by mid-day.
6. Tantalus, 10 miles
Hardcore runners like this loop course, which circles around an extinct cinder cone above Honolulu and reaches 2,014 feet at its summit. It's a brutal uphill run along a windy roadway with no sidewalks. This route takes you up Tantalus Drive and down Round Top Drive through tropical rainforests and groves of fragrant eucalyptus trees. Park at the Makiki Pumping Station—a small park on Makiki Heights Drive—and walk about a mile to the start of Tantalus Drive. Bring lots of water and be aware of cars as this is residential neighborhood.
7. ʻAiea Loop Trail, 4.8 miles
This nearly 5-mile loop trail, located about 14 miles west of Waikīkī, is a great option for runners who want to venture off-road and into the forest. The trailhead starts—and ends—in the Keaīwa Heiau State Recreation Area, with lots of parking and restrooms. The course runs along the ridge of the west side of Hālawa Valley and you'll catch views of the island's southern coastline, Pearl Harbor, the Waiʻanae Mountains and even Lēʻahi. Slow down to notice native koa and ʻōhiʻa trees—and maybe remnants of a B-24 bomber that crashed in 1944. There are some gradual uphill climbs, sections with exposed tree roots and a stream crossing at the end. Wear sturdy shoes and bring water.
8. Kaʻena Point, about 5 miles
This trail follows a dirt road—actually, a former railroad on which the Oʻahu Railway and Land Co. transported sugar cane—on the island's westernmost point. Start at the end of Farrington Highway (on the Waiʻanae side of the island), where there's parking and restrooms. It's a mostly flat course, with no switchbacks or inclines. But the views through this protected bird sanctuary are incredible: the rugged coastline, pristine ocean, tide pools, sand dunes. And if you're lucky, you'll see some of Hawaiʻi's wildlife, including Laysan albatrosses, Hawaiian monk seals and humpback whales in winter months.