8 Things to Do in Hawaii During the Holidays
It's beginning to look a lot like Christmas in Hawaii, so here are some activities to get you in the holiday mood.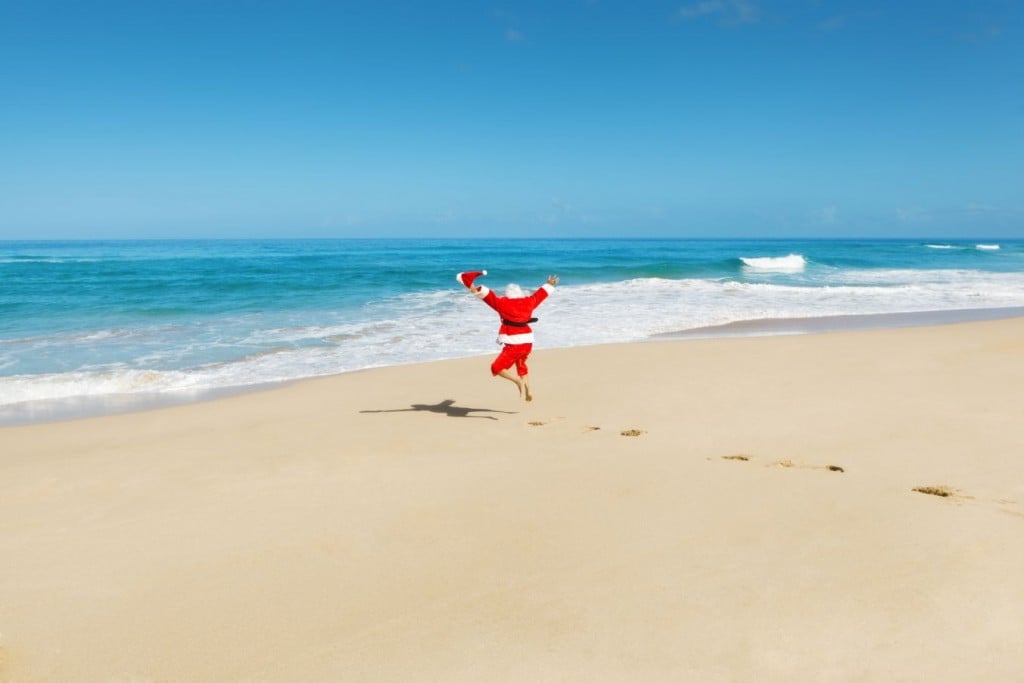 Hawaii is unique in so many ways, from our always-tropical weather to the blending of diverse cultures. We celebrate the holiday season a little differently, too. For starters, our year-round sunshine means we can don board shorts and bikinis and go surfing on Christmas morning—and maybe even catch Hawaiian Santas throw shakas from outrigger canoes. Here are a few activities that you can only do in the Islands during the holidays.
1. Wait for (Big) Waves
If you look on any surfer's Christmas wish list, witnessing (if not riding) the famously huge surf on Oahu's North Shore would probably be somewhere near the top. And it's not just because they want to surf the XXL swells that hit the northern shores of the Hawaiian Islands every winter. They also want one of the premier big-wave surf contests to go off, such as the Peahi Big Wave Championships (which actually ran in December), Red Bull's Queen of the Bay and the Eddie Aikau Big Wave Invitational. Seeing as how 30-foot waves and calm conditions are required to run a big-wave event, everything coming together can be a real Christmas miracle.
2. Grab a Hawaiian Christmas Tree
Helemano Farms in the central Oahu town of Wahiawa is known for its Norfolk pines. Dubbed "Hawaiian Christmas trees," these tropical pines will stay healthy and green for three to four months and disperse less pine needles compared to your average Douglas fir. During December, the farm is abuzz with local families trying to find the perfect tree to take home, and it's worth taking a stroll through the farm even if you aren't in the market for a Christmas tree. For more information, hours and prices, visit helemanofarms.com.
3. Check Out a Hawaii Lights Display
While both Oahu and Kauai are best known for their Hawaii-themed Christmas lights displays, like the Honolulu City Lights and Kauai Festival of Lights, Maui and Hawaii Island get their glow on as well. Lahaina residents have been welcoming in Christmas for the past 22 years by adorning their historic banyan trees in festive lights. Hawaii Island also gets in on the fun, albeit in its own way. Stanward Oshiro, an electrical engineer for the Hawaii Electric Light Co., draws thousands of Big Island residents to his home in lower Puna every year by setting up a grand lights display—dubbed Puna Lights—that's synced to its own FM radio station.
4. Watch for Whales
It's not just Mainland visitors who flock to the Islands for warmer weather. North Pacific humpback whales also migrate to Hawaii during the winter months, to mate and birth calves in warmer, safer waters. Oahu locals will often head to Makapuu Lookout for a chance to spot breaching whales; Maui residents have a much easier time, as these gentle giants often appear in the waters off Lahaina. If you want to get up close and personal, consider a whale-watching adventure with one of many Lahaina tour groups.
5. Spend Time Outdoors
Hawaii is just about as sunny in the winter as it is in the summer. The wind might be a little cooler—we're talking low 70s here—but that doesn't mean you can't enjoy the outdoors to the fullest, even during the holidays. Makapuu Lighthouse on Oahu is a popular hike for those looking to welcome in the New Year, and the lack of waves on any of the Islands' southern shores makes it a great time to learn how to surf—or at least get your feet wet.
6. Throw a Christmas Luau
While most local families gather for a Christmas meal, you can get into the
mele kalikimaka
 (Merry Christmas) mood with a Hawaii-style luau. The classic Hawaii Christmas carol, "Christmas
Luau
," written and composed by Leonard Hawk, is
a great manual on how to throw a festive Hawaiian feast
. According to its lyrics, you'll need "opihi and salmon and steaming hot laulau,"as well as "papa in his malo and me in muumuu." OK, the second one may be optional, but you get the idea.
7. See Santa Arrive in an Outrigger Canoe
Keiki (kids) will love this one. Every year, Santa makes his way to Oahu shores, sans sled. Instead, he uses more traditional methods, like an outrigger canoe. Jolly old St. Nicholas always makes time for his biggest fans, and after making his way to the beach, is available to take pictures with children for free in the lobby of the Outrigger Waikiki Beach Resort.
8. Make Your Very Own Sandman
Unless you're at the top of Hawaii's tallest volcanoes, there make a snowman. Fortunately, we've got sand. Crafting a sandman is easy, but if you want to see
a real sandy masterpiece
, visit the Sheraton Waikiki, which employs professional sand-sculpting business Sandsational Sand Sculpting to put together two massive holiday-inspired sand sculptures.
For more information, visit sheraton-waikiki.com or call (808) 922-4422.